Resident Events: How to Improve Attendance and Resident Retention?
A Humans + AI approach to event marketing increases event attendance and resident retention through automated RSVPs, waitlists, email reminders, QR code attendance tracking, and easy-to-resend invites.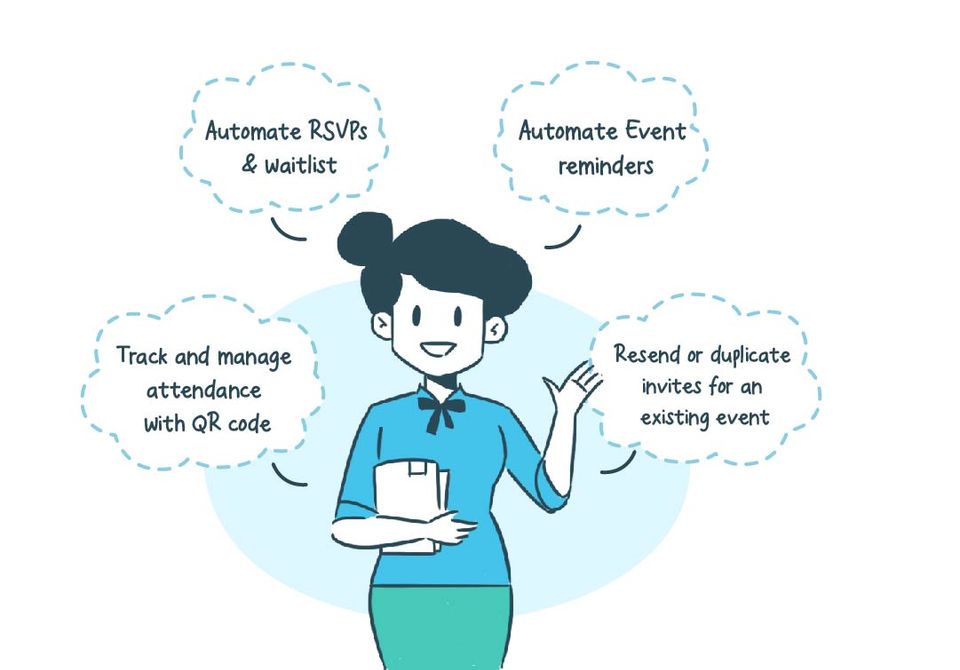 Summary
Resident events are a fun and effective way to create a sense of community and value among the residents. But overworked agents and outdated marketing strategies struggle to drive event attendance. A Humans + AI approach boosts event attendance and encourages resident retention.
This article covers the following:
Why should properties host resident events?
How to host resident events that drive high attendance?

How a Humans + AI approach increases resident event attendance?
What does the Humans + AI Resident Event Journey look like?

What are the types of resident events in multifamily?
Event Calendar: 12 Events to Keep Residents Engaged Throughout the Year
What does the series include?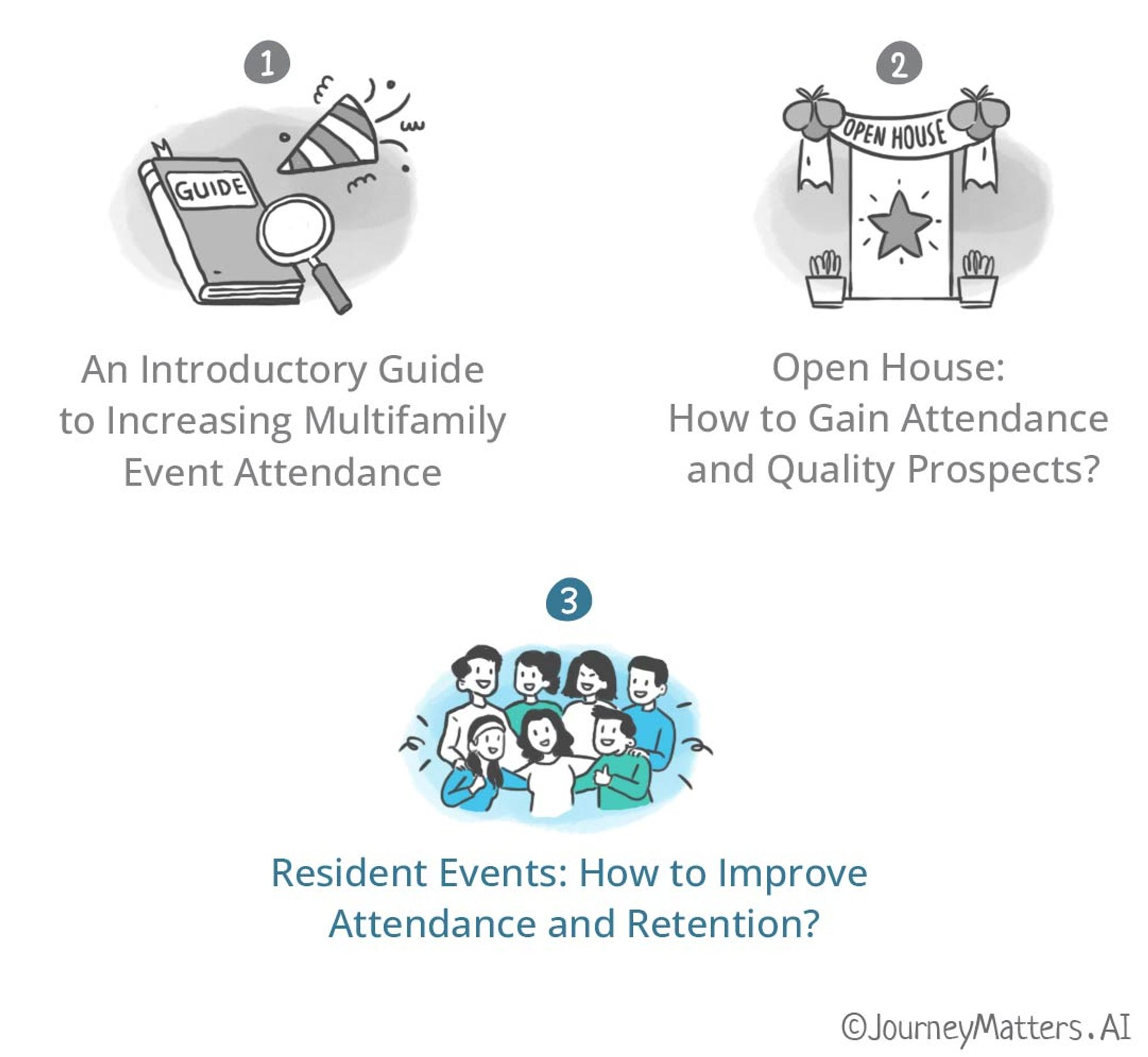 Resident Events: How to Improve Attendance and Resident Retention?
Hosting resident events foster a sense of community and increases resident retention. But planning and executing events is a tedious task for agents and marketers. A Humans + AI approach streamlines event marketing and creates engaging experiences for residents.
Let us begin by understanding the benefits of resident events for multifamily.
Why Should Properties Host Resident Events?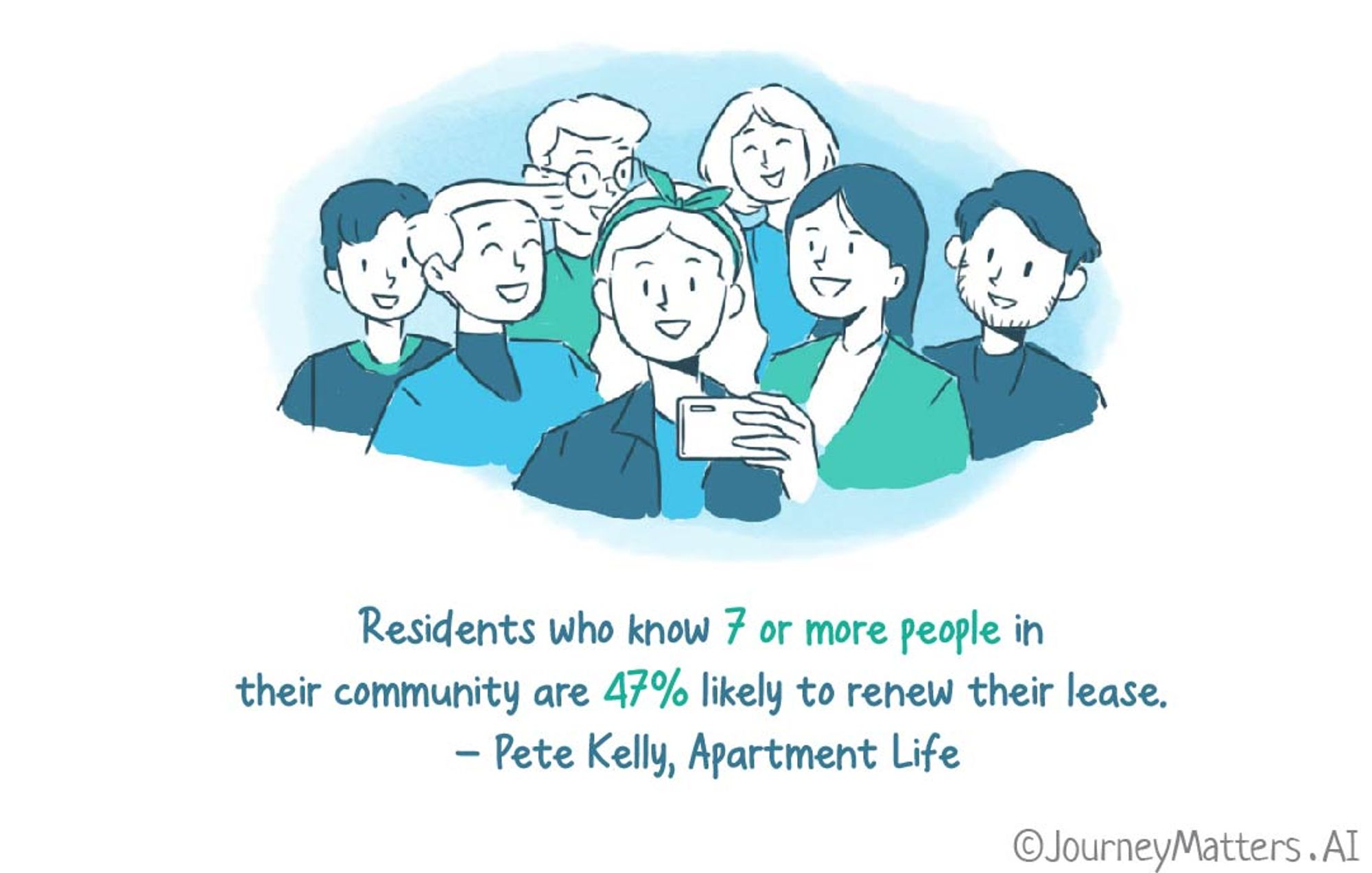 Hosting resident events offer several benefits for properties & residents alike. Here are the primary advantages of resident events:
To create meaningful engagement & sense of community: Resident events increase meaningful engagement and give residents a chance to bond with their neighbors. Studies show that residents with seven or more friends in their community are 47% [1] more likely to renew their lease.
To show appreciation for the resident: By hosting events, the property management demonstrates that they appreciate the residents and their decision to choose the property as their home.
To create a sense of value: Events are the number 1 driver [2] for the perception of value among residents. Thus, well-planned events help agents to build a positive relationship with the residents and make them feel more valued.
How to Host Resident Events that Drive High Attendance?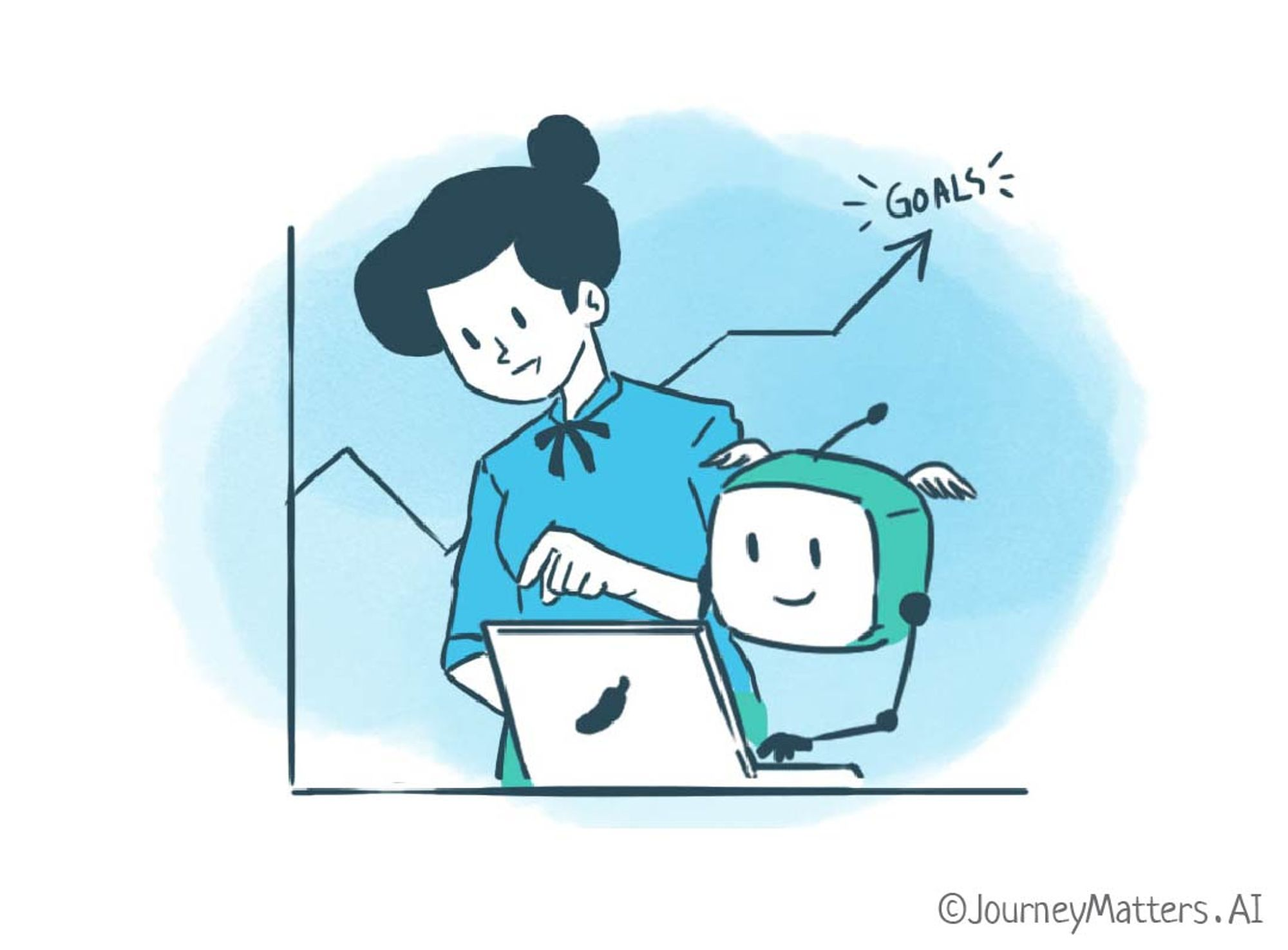 A Humans + AI resident event journey helps in increasing attendance at events. By automating the invitation and reminder process, properties can ensure that all residents receive timely and accurate information about the event. This frees up time for agents to focus on building relationships with prospects.
How does a Humans + AI resident event increase attendance?
A Humans + AI resident event increases attendance by:
Automating RSVPs and waitlist: Instead of manually tracking RSVPs, Marketers can leverage AI to automate the RSVP and waitlist process. This saves time and allows property managers to focus on creating an enjoyable event experience.
Sending event reminders: Automated event reminders ensure that marketers or agents do not miss sending an invite, and neither residents miss out on important events.
Tracking attendance through QR code: Residents can check in to an event using a QR code, thereby eliminating manual attendance tracking by the agents. This saves time and provides valuable attendance-tracking data to draw insights.
Resending an event invite easily: Automation has made duplicating an existing event and resending invites fairly easy.
Strengthening agent-resident relationship: Since automation reduces the burden on agents, they have more time to focus on building relationships with the residents.
What does the Humans + AI Resident Event Journey look like?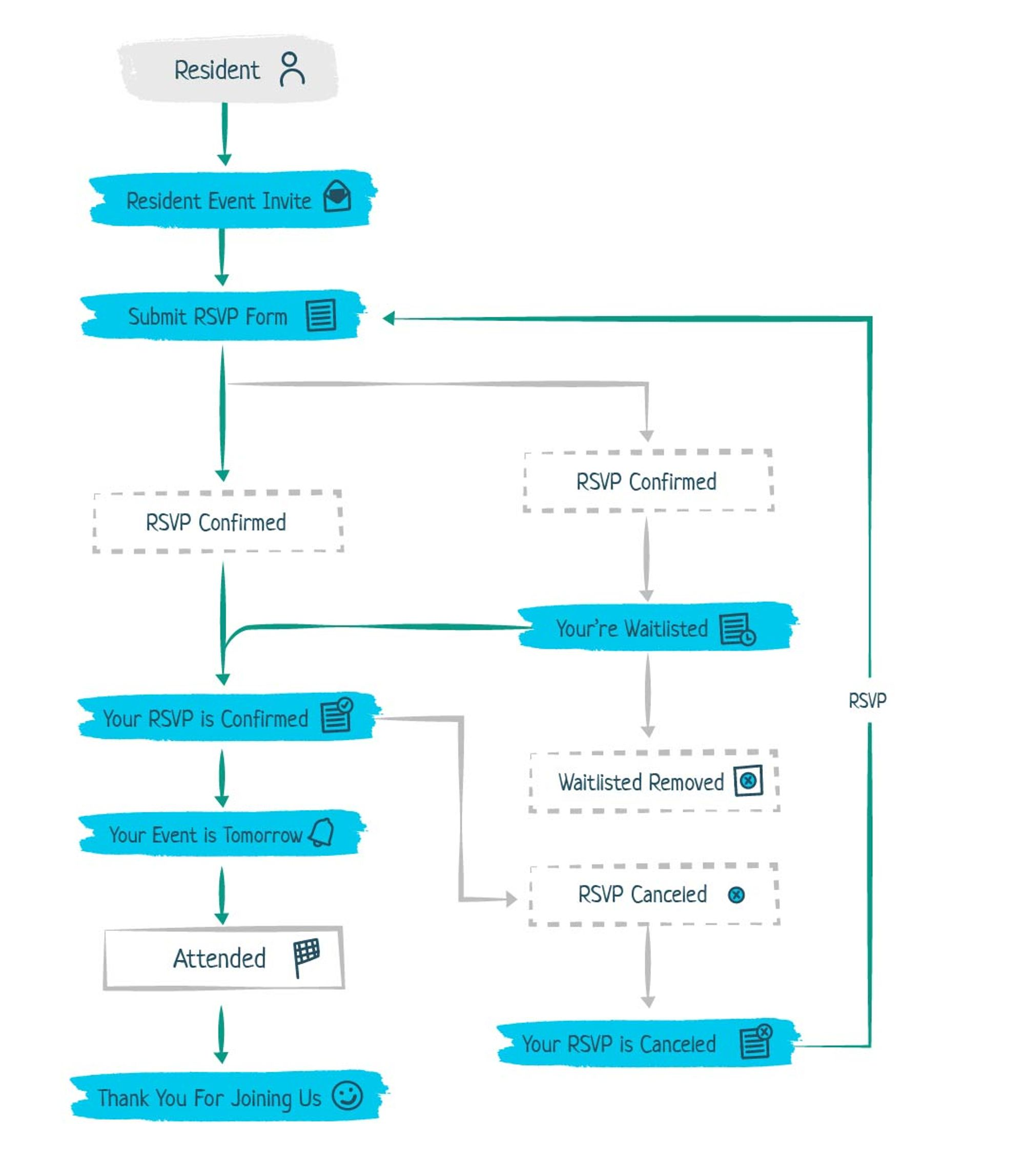 Here is what a Humans + AI Resident Event Journey looks like:
Step 1: Resident Receives the Event Invite
The Resident receives an invitation to the event via email, SMS, or Facebook
Step 2: Submits RSVP
The resident submits the RSVP form.
After RSVP submission, either of the three things happens:
RSVP is confirmed
RSVP is waitlisted
RSVP is canceled
a. If RSVP is Confirmed
Step 3: Receives RSVP confirmation
Residents receive an RSVP confirmation email.
Step 4: Day-before reminder
A day before the event, the resident receives a reminder email for the event due the next day.
Step 5: Resident attends the event
With timely reminders, the resident visits the event on the designated day.
Step 6: Attendance tracked
The attendance is marked for future reference.
Step 7: Receives an appreciation email
The resident receives a thank you email after the event.
b. If RSVP is waitlisted
Residents receive an email informing them of their waitlist status. If the waitlist is confirmed, they go back to step 3.
c. If RSVP is canceled
Residents receive an email informing them of their RSVP being canceled. They need to go back to step 2 to re-submit RSVP.
Type of Resident Events in Multifamily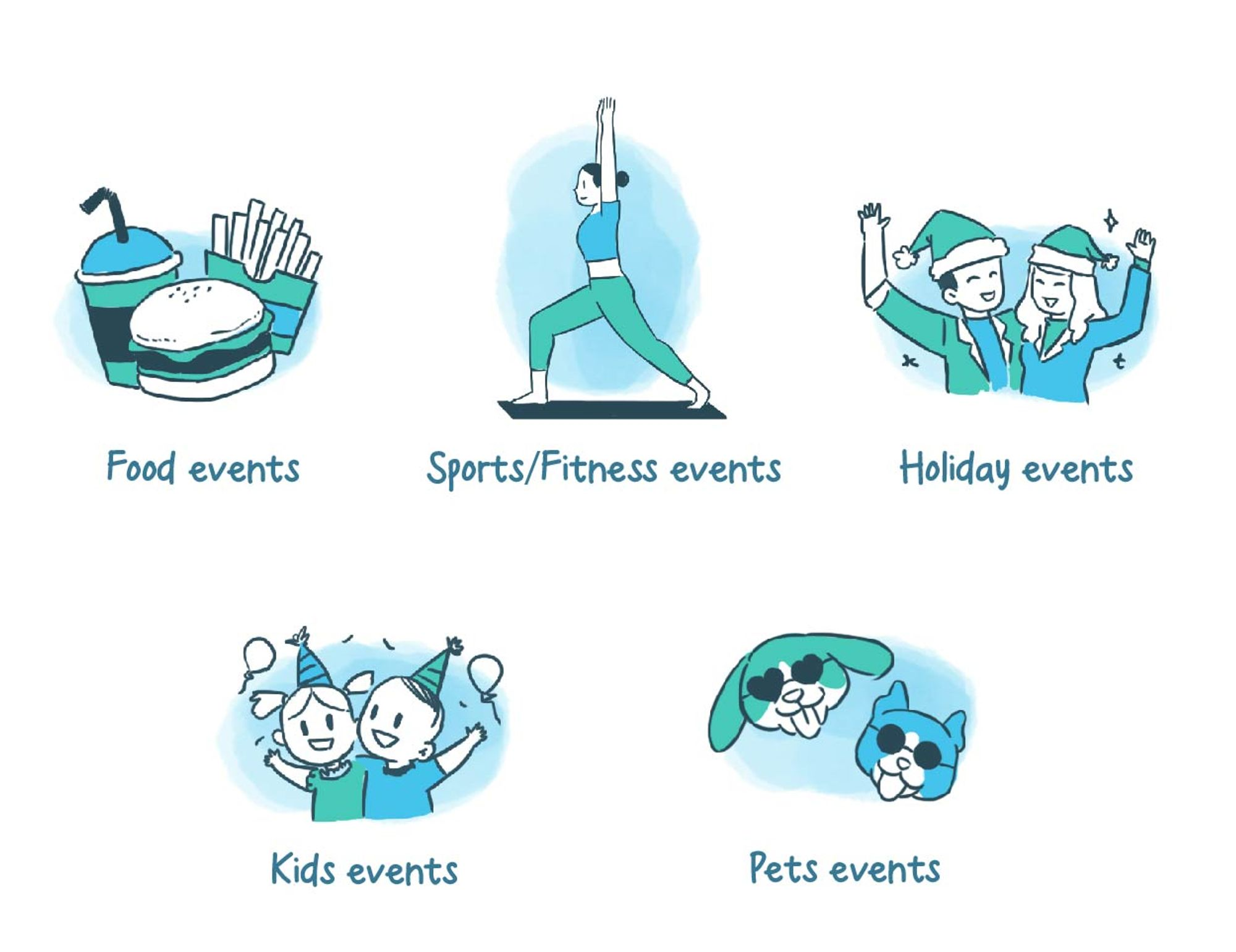 A Human + AI approach increases event attendance by improving marketing and resident experience. But it can all go in vain if the event theme doesn't excite the residents enough. So let's have a look at some of the preferred events types based on resident interest:
Food events: In 2022, 63%[3] of residents' top interest was food, making it the obvious theme for hosting an event. Examples of food events include a BBQ Pool Party and Breakfast on the Go.
Sports/Fitness events: At 52%[4], the residents' second interest in 2022 was fitness. Some fitness events to host are outdoor sports and fitness classes such as Yoga, Pilates, etc.
Holiday events: Holidays are an evergreen way to engage residents and increase retention. From Thanksgiving potluck to Father's day card-making, there are a plethora of holiday events to choose from.
Kids events: Kids events are another way to show you care for your residents' families. Happy kids = happy parents. And Happy parents = increased resident retention! An example is a Kid's pool party with characters.
Pets events: The Pets event provides an excellent chance for pet owners and furry friends to socialize and for their furry friends to interact with other furry companions. Hence, a Yappy Hour is a must-include event on your list.
Event Calendar: 12 Events to Keep Residents Engaged Throughout the Year
Having a well-planned event calendar, combined with ready-to-go event marketing templates, goes a long way in achieving resident retention goals. Here is a downloadable library of the top 12 resident events that will keep your community engaged all year round.
Conclusion
Hosting resident events regularly will help properties to keep their residents engaged and happy. By using a Humans + AI resident event journey, properties can drive high attendance and encourage resident retention.
Like what you read? Subscribe to journeymatters.ai and get multifamily articles directly to your inbox.
Resources