Open House: How to Increase Attendance and Gain Quality Prospects?
Hosting open houses lets you expose your lease-up property to potential residents. But you will get results only when you drive high attendance.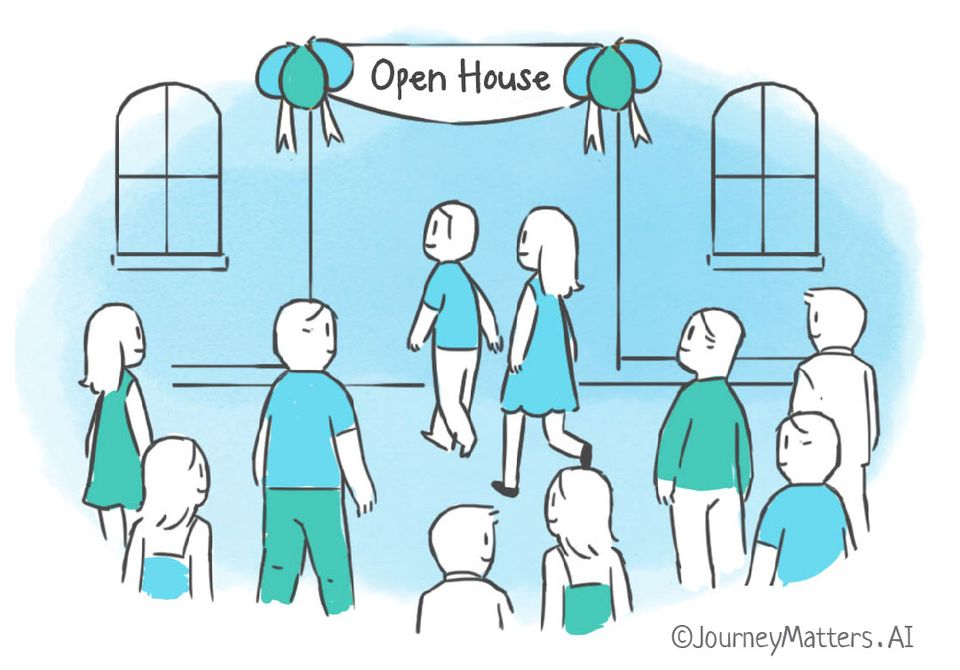 Summary
Hosting an open house is an effective way to expose a lease-up property to potential residents. But the current multifamily event marketing strategy needs to work on driving attendance. A Humans + AI approach to event marketing can ensure increased event attendance and better quality prospect acquisition.
This article answers the following questions:
What is an open house?
Why should you host a multifamily open house?
How to host an open house event that drives attendance?

How Humans + AI approach increases event attendance?
What does the Humans + AI Prospect Event Journey look like?

How do Journeys Help in Marketing Your Multifamily Events?

Pre Event
During Event
Post Event
What does the series include?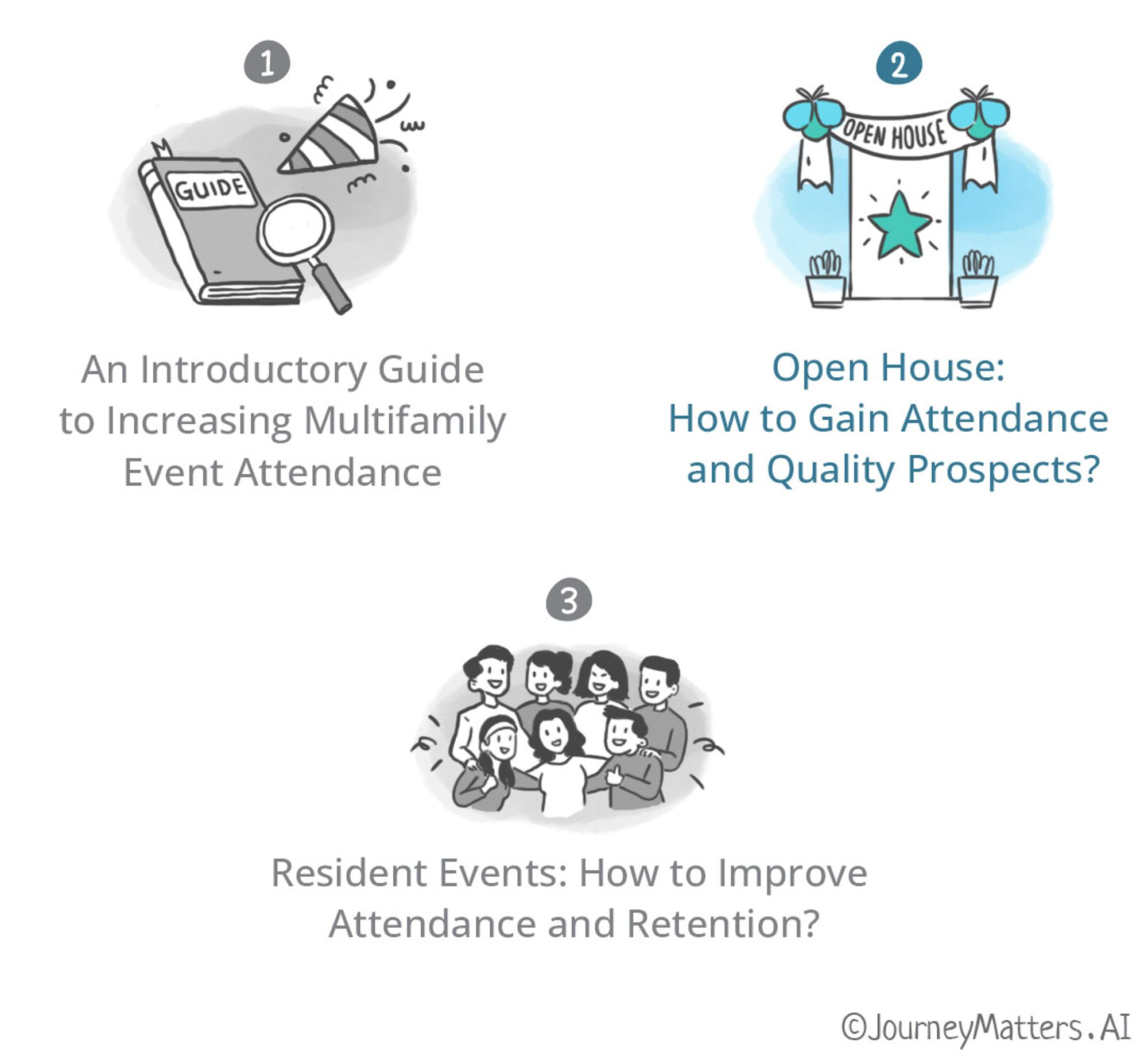 Resident Events: How to Improve Attendance and Retention?
Increase Attendance and Gain Quality Prospects at Open Houses
Open houses let you expose your lease-up property to potential residents, thereby generating more leads, tours, and increased occupancy rates. But hosting an event requires marketers and property managers to invest time, money, and effort. It can all go in vain when the invitees don't show up!
So how do you ensure a boost in attendance?
By using a Human + AI approach to event marketing.
To begin with, let's first understand what an open house event is.
What is an Open House?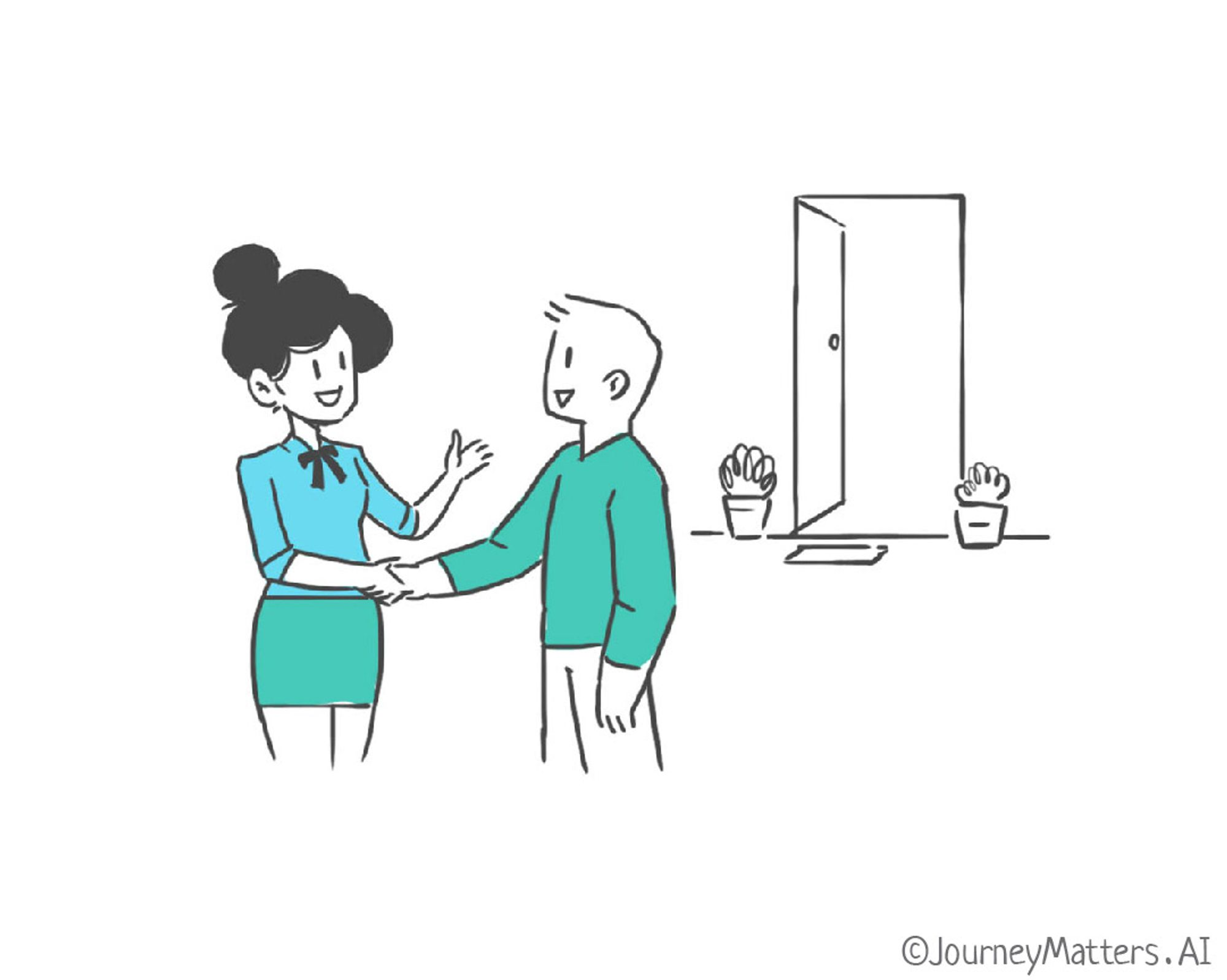 An open house is a marketing event where property managers invite potential residents to visit the community and see the available units. During the open house, prospects can ask questions, look around the community, and get an idea of the quality of life there.
Open houses are commonly used in the real estate industry but are less widely used in multifamily properties.
According to Top Agent Insights Q4 2019 Report by HomeLight, 52% of real estate agents always recommend an open house to their seller clients.
It's time multifamily should consider open houses as a crucial aspect of its marketing strategy.
Why Host a Multifamily Open House?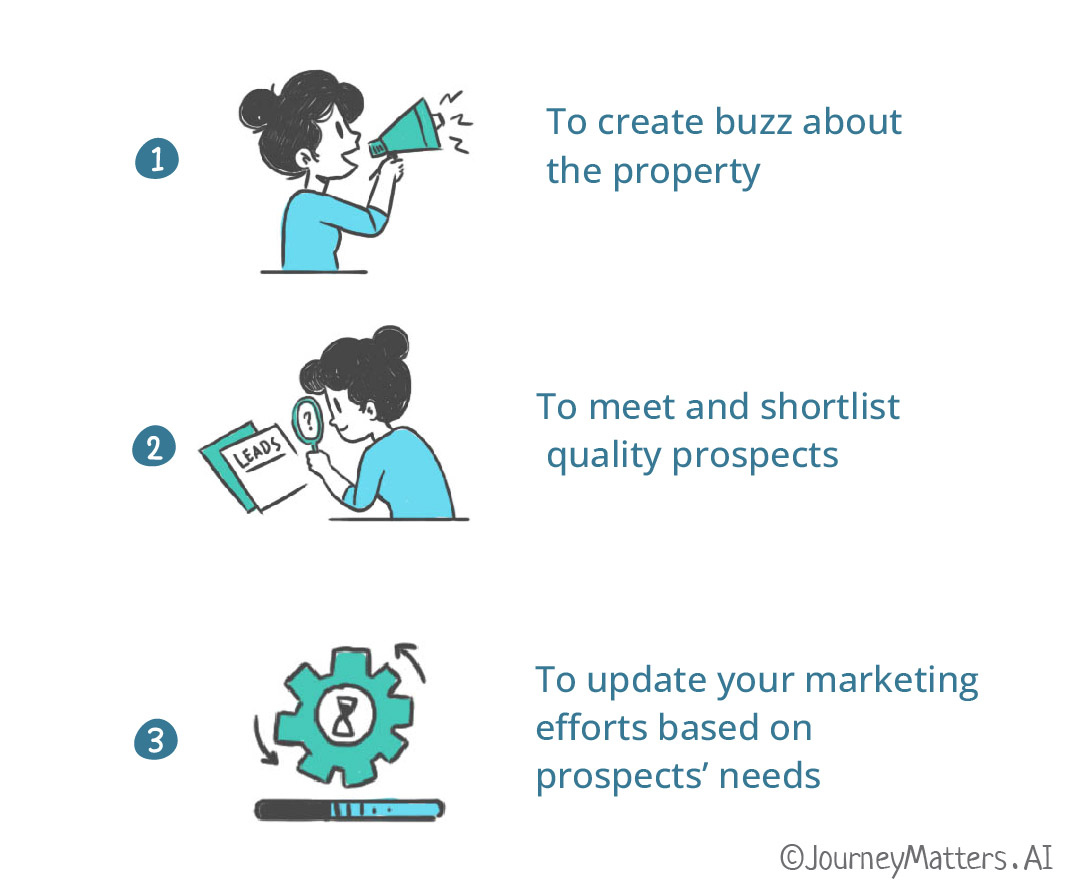 Hosting a multifamily open house is a valuable marketing opportunity for lease-up properties for the following reasons:
Create a buzz: Open-house events provide a platform to create buzz and exposure for a lease-up property and attract potential residents.
Shortlist quality prospects: Understanding the prospect's property requirements, preferences, the area they are interested in, and their budget, will help you shortlist quality prospects for your property.
Update your marketing efforts based on prospects' needs: Hosting an open house will allow your property to meet potential residents in person, understand their needs and preferences, and update your marketing efforts based on their feedback.
How to Host an Open House Event that Drives Attendance?
Hosting a successful open house event that drives attendance requires combining Human + AI efforts.
Maximize attendance using a Humans + AI approach by: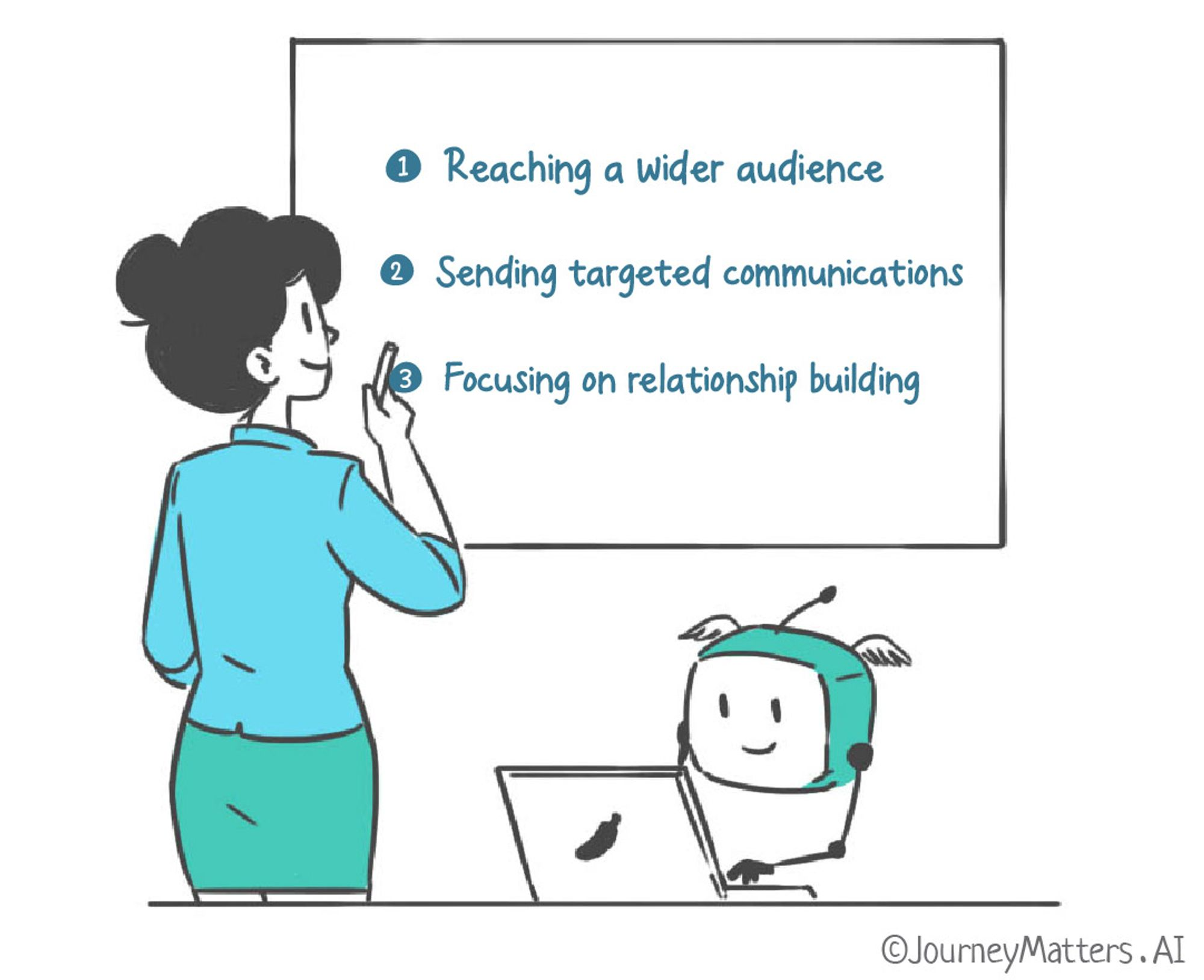 Reaching a wider audience: Unlike traditional door-to-door flyers, automation will enable marketers and agents to send invites to a broader range of potential attendees. They can utilize different digital means such as social media, email, sms, etc. for invitations.
Sending targeted communications: By using automated tools, you can send reminders, confirmations, and day-before reminders to registered attendees. This will help to increase attendance and reduce no-shows.
Focusing on relationship building: By freeing up time and resources through automated tools, agents can focus on creating better relationships with prospects. The personal touch can lead to higher attendance and increase the chances of lead acquisition.
Prospect Open House Journey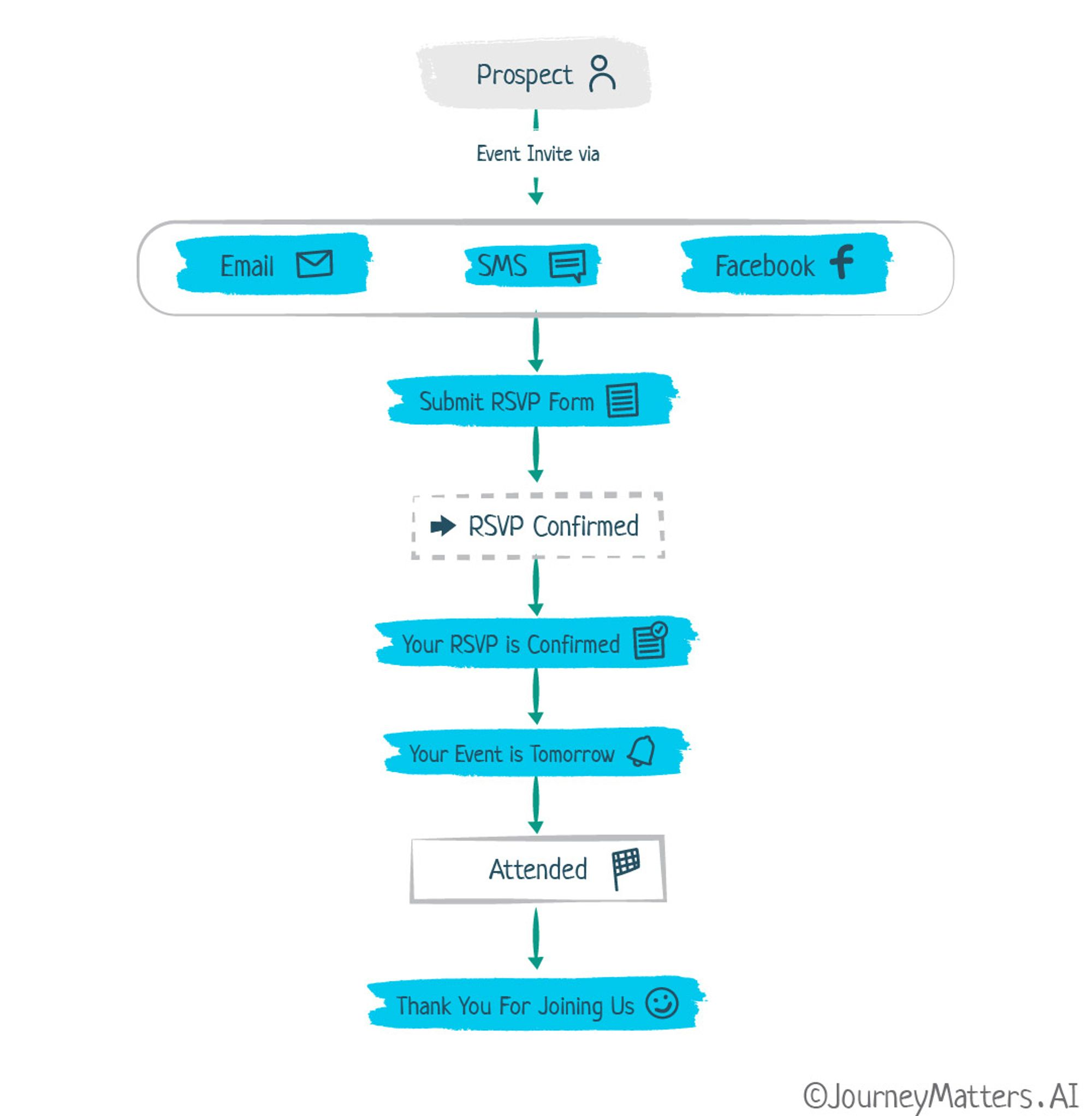 Here is what a prospect open house journey looks like with a Humans + AI approach:
Receives event invite: Prospect receives an invitation for the event via email, SMS, or Facebook
Submits RSVP: Prospect submits the RSVP form.
Receives RSVP confirmation: Prospects receive a confirmation email after their RSVP is confirmed.
Day-before reminder: A day before the event, the prospect receives a reminder email for the event that is due the next day.
Prospect attends event: With timely reminders, the prospects visit the open house on the designated day.
Attendance tracked: The attendance is marked for future reference.
Receives an appreciation email: The prospect receives a thank you email after the event.
How do Journeys help in Marketing Events at Every Phase?
A Human + AI approach to event marketing can help you at every stage of the open house event, whether before, during, or after the event.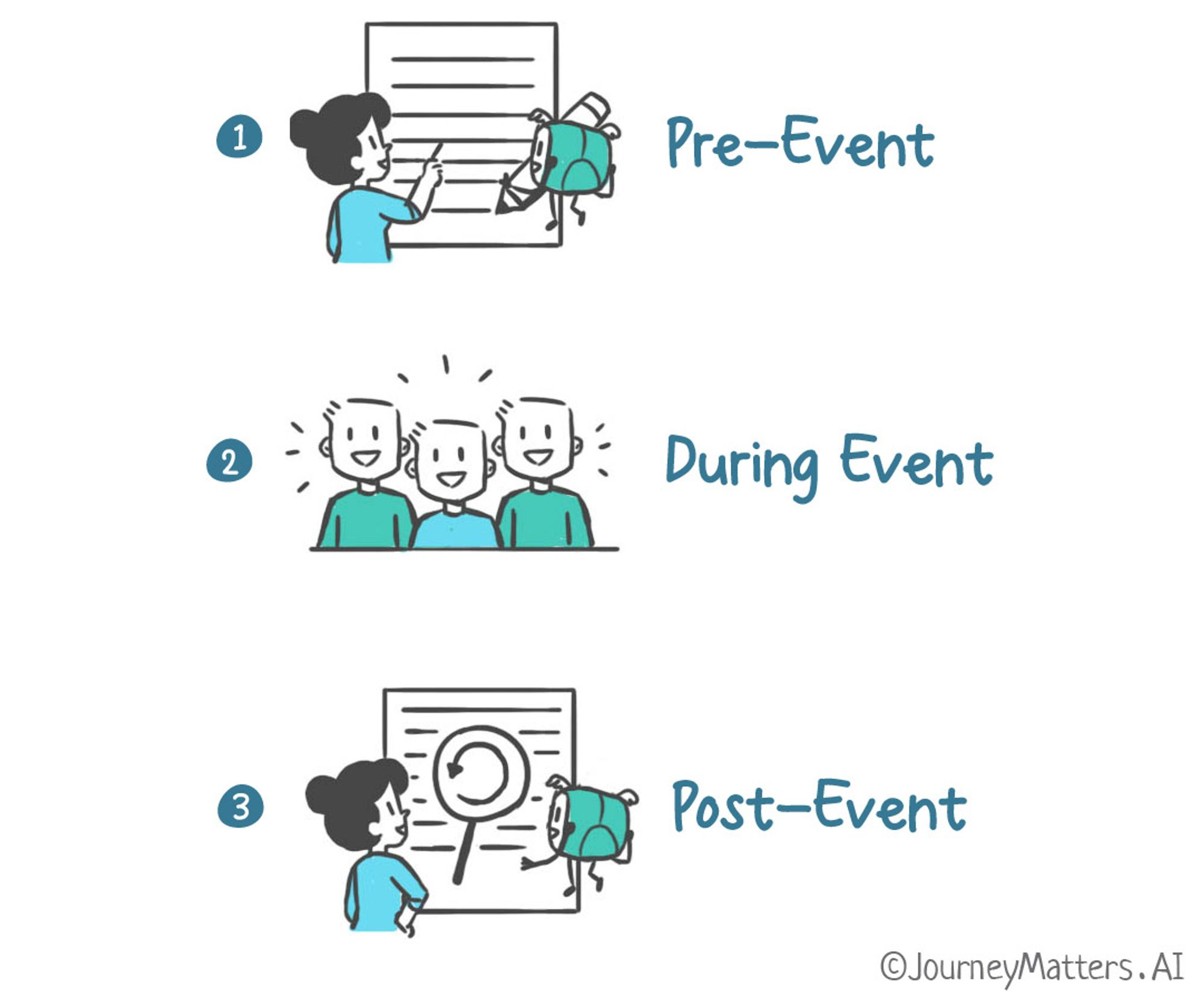 Pre-Event
The below table shows the various tasks that the Humans ( marketers & agents) and AI (Event Journey) take care of in the pre-event phase.  AI does a large part of marketing through digital means. Thus, agents no more need to paste the flyers door-to-door!
Pre Event
Humans
AI
Identify event type: virtual, in-person, or hybrid
Add a Zoom link or physical location to the invite
Identify audience & collect email lists
Event promotions through flyers, social media, emails, and website
Send omnichannel invites
Easy RSVP management
Event reminders
During the Event
During the event, the humans (agents & marketers ) focus on creating a good experience for the prospects by engaging and building relationships with them.
During Event
Humans
AI
Engage with audience
Track attendance (Attendance management)
Create good experience
Record the event
Post-Event
After the event, the marketers use insights from the attendance data that AI collected during the event. AI takes care of sending thank you emails to the attendees.
Post Event
Humans
AI
Use insights to improve prospect experience
Gain event reporting insights
Showcase the event (photos/videos) on social media
Send appreciation emails to attendees
Conclusion
Poorly marketed open houses struggle to drive attendance, resulting in a poor ROI. A Human + AI approach can make open house events successful through increased attendance and higher leads.
How often do you conduct open houses for your lease-up property? Do you leverage automation and AI to market your open house events? We would love to hear your thoughts and go-to marketing strategy for the open houses in the comments.