An Introductory Guide to Increasing Multifamily Event Attendance
The current multifamily event marketing strategy fails to drive attendance. A Humans + AI event journey can boost attendance, retain residents and acquire more prospects.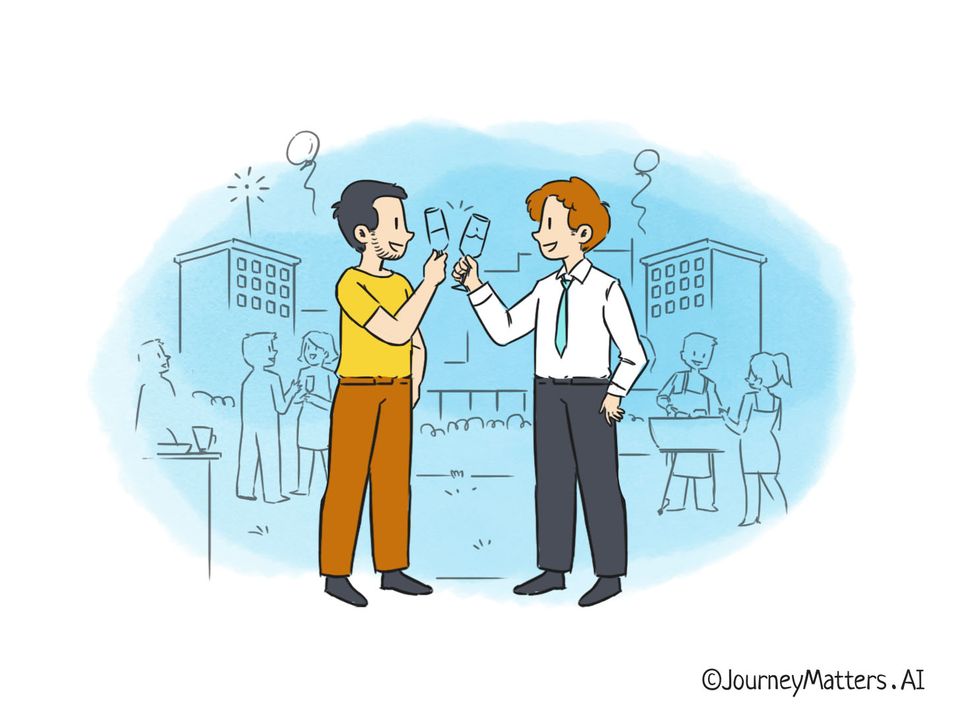 Summary
Events are an important tool for building a sense of community and value among residents. They are also a great way to help properties reach their lease-up goals. When combined with automation, events enhance the experience for agents, residents, and prospects alike.
Given the benefits, we compiled a series on multifamily event marketing.
The first one is an introductory article that answers the following:
Why do we need events in multifamily?
How can events help you achieve multifamily goals?
Why do events have low attendance?
How do Humans + AI event journeys improve agent experience?
How do Humans + AI event journeys improve prospect and resident experience?
The coming articles will focus on increasing attendance, retaining residents, and acquiring prospects through events.
Achieving multifamily journey goals through Events
In multifamily, resident retention and prospect acquisition are two critical factors impacting the bottom line. If you are a property manager looking to improve both, consider hosting events.
Events in multifamily can include a wide variety of activities such as community gatherings, social events, educational workshops, open houses, fitness classes, etc.
Read on to know why your property needs to conduct more events.
Why do we need events in multifamily?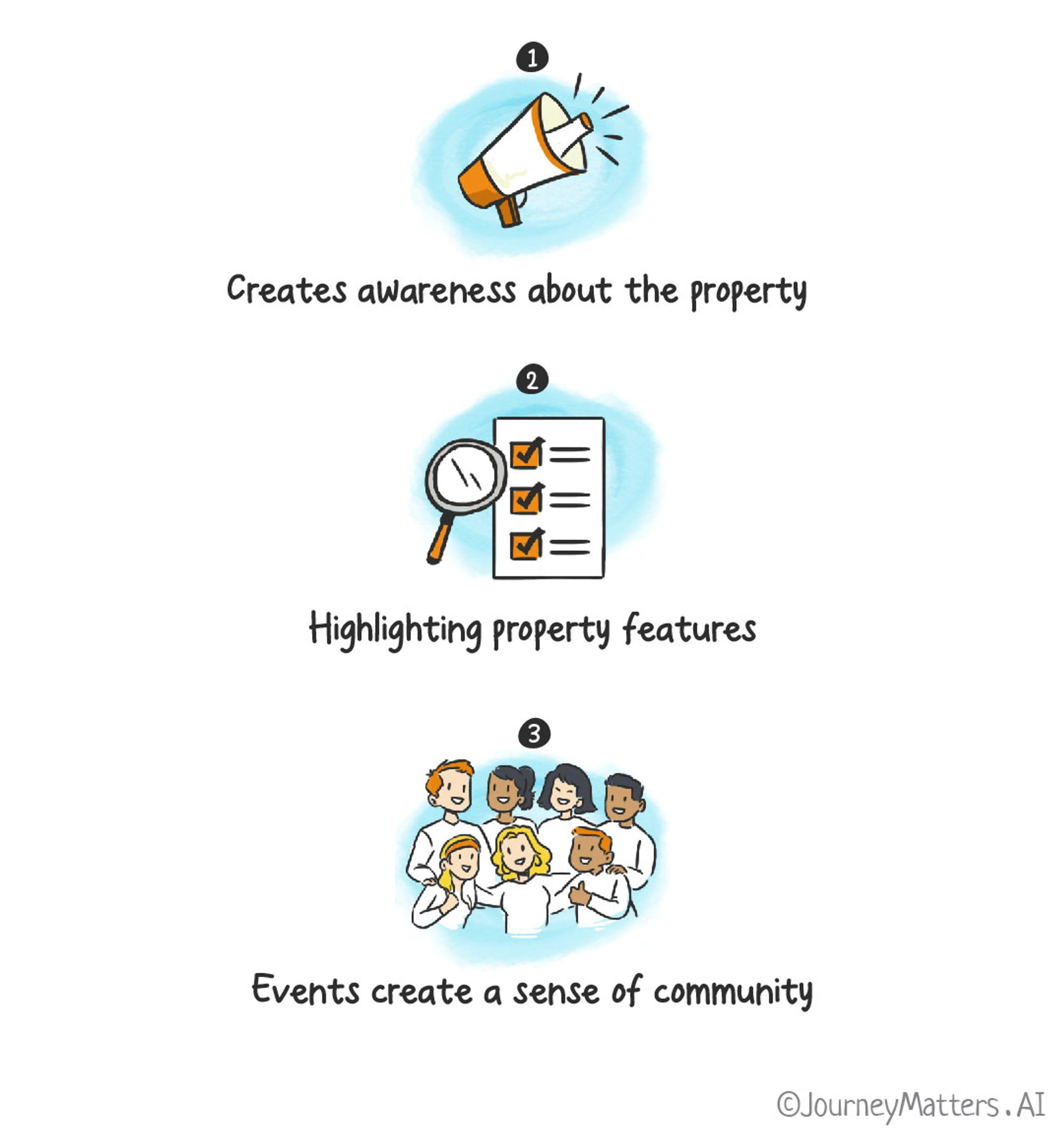 Events are a powerful marketing tool to attract prospects and residents. Below are the benefits of using events in multifamily:
Events create awareness about the property: Events are a great way to create interest in the property and attract prospects during the lease-up. By hosting an event such as an open house or grand opening, property owners give guests a chance to ask questions and learn more about the property.
Highlighting property features: Events can provide opportunities to showcase the property's features, amenities, and neighborhood to prospects and capture their interest.
Events create a sense of community: Hosting events such as BBQs, fitness or recreational activities, etc., provide opportunities for residents to interact with each other. This helps them build relationships, and feel a sense of belonging within the community. And residents who know 7 or more people in their community are 47% [1] likely to renew their lease.
Despite of the benefits, properties can't make the most of events due to low attendance.
Why do Multifamily Events have low attendance?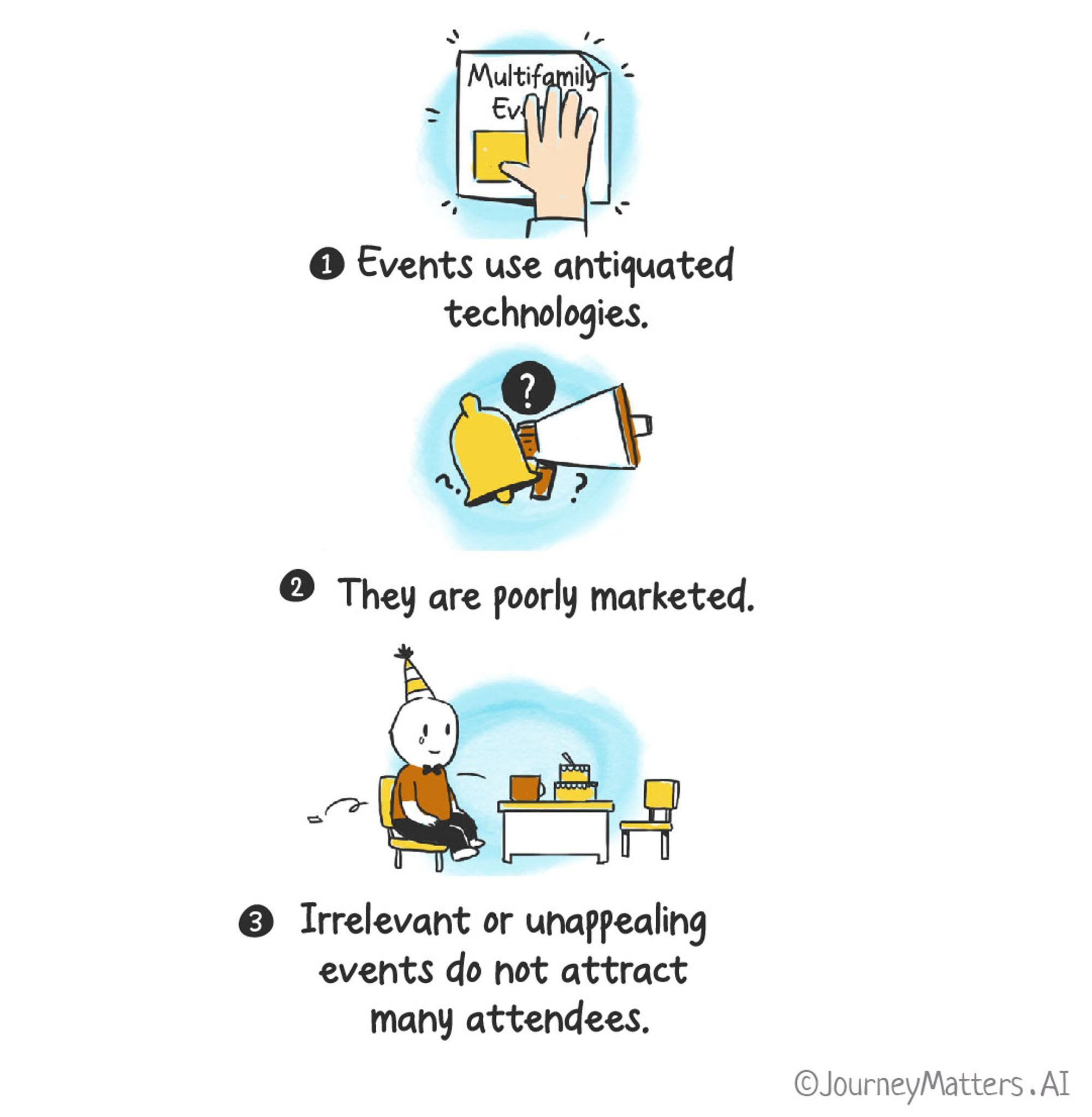 Unfortunately, the current multifamily event marketing strategy fails to drive attendance.  This happens because of the following reasons:
The existing event marketing strategies are antiquated: The outdated marketing strategy does not help in reaching your goals. For instance, posting event flyers and distributing brochures door-to-door will limit your property's reach.
The events are poorly marketed:  The current event software lacks multifamily marketing workflows, confirmation, and reminders.
The events are boring or irrelevant: Events that do not appeal to the prospects or residents will only attract a few attendees.
Apart from low attendance, other reasons can discourage property managers and agents from further hosting events.
Why don't properties host events often?
Throwing an event is an amazing way for property managers to connect with residents and prospects. However, property managers often shy away from hosting events on their property for the following reasons: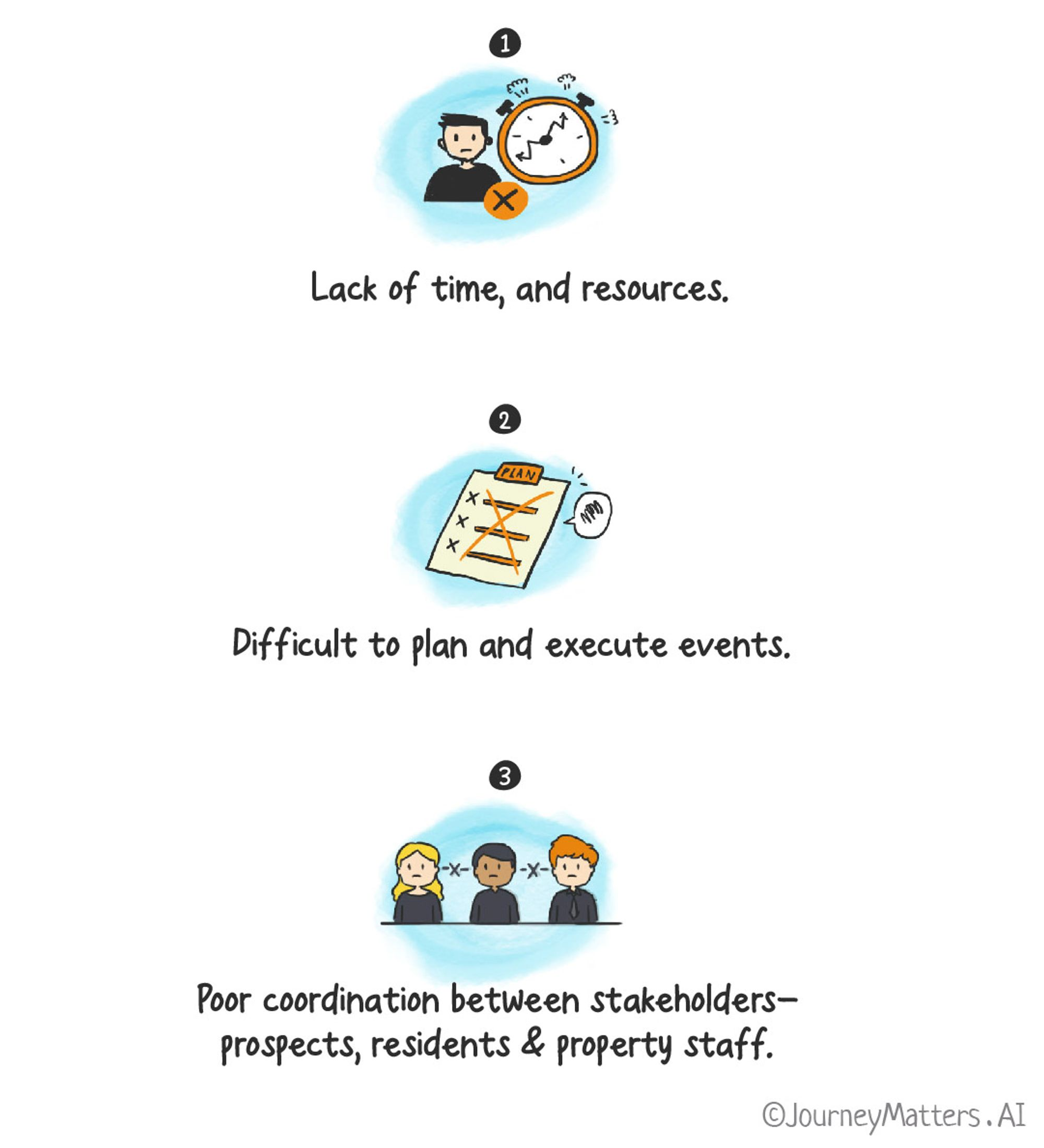 Lack of time and resources: Hosting an event consumes a lot of time and resources and properties may lack the required budget or staff.
Difficult to plan and execute: Every property may not have the experience and expertise to plan and execute an event.
Difficulty coordinating with stakeholders: Another challenge in events is to coordinate with all stakeholders including prospects, residents & property staff, and share timely information and reminders with them.
Time to see how the Humans + AI approach can considerably improve event attendance.
How can events help you achieve multifamily goals?
Let's see what are the goals for a lease-up and stable property and how events help in achieving them.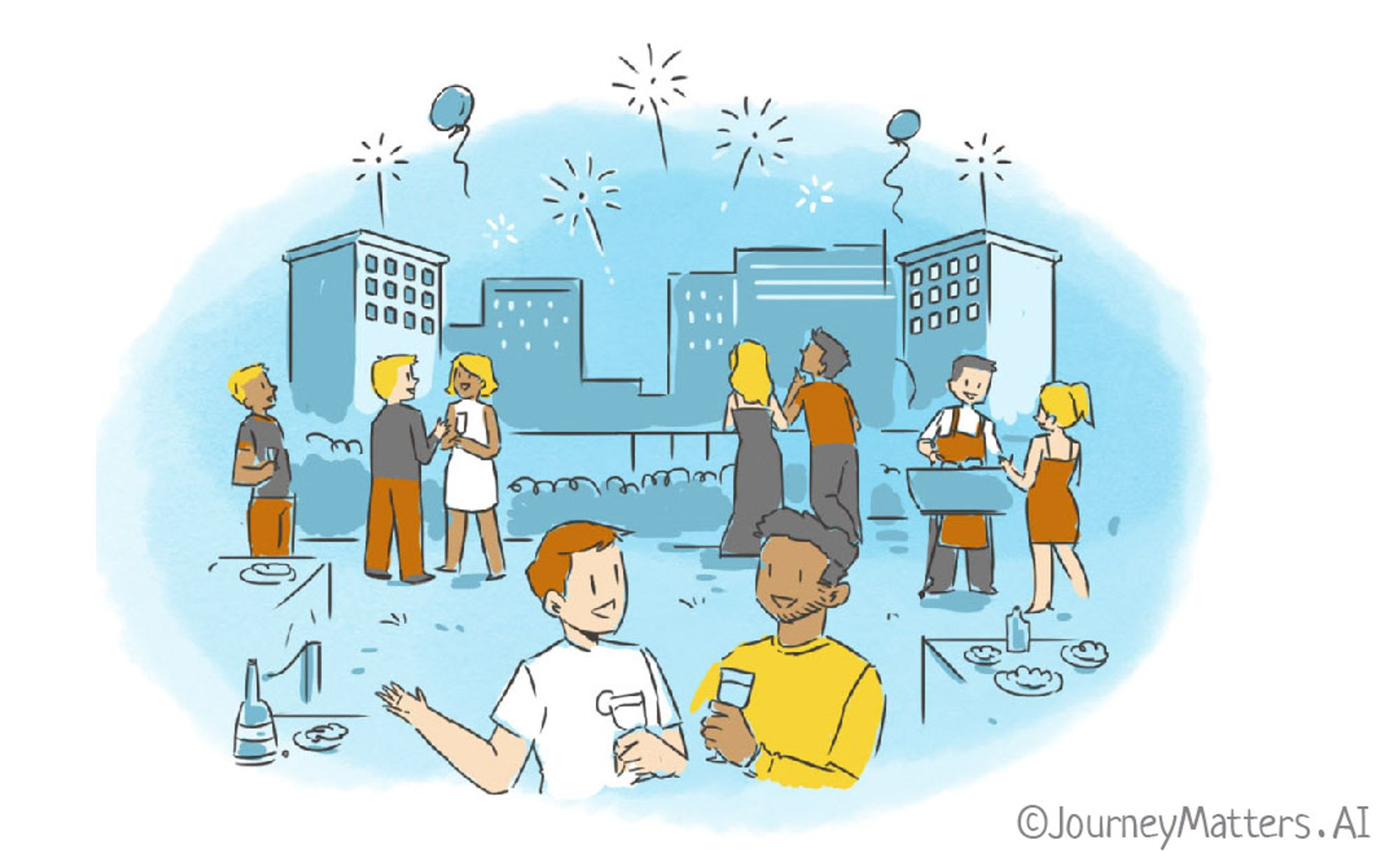 Lease-up
For a lease-up property, agents and marketing managers want to achieve pro forma rents and reach stable occupancy goals within the first year.
🎯Prospect Acquisition
The life of leasing agents is already hectic, and apartment lease-ups make things more stressful. For new construction, events such as open houses and grand openings will give agents a chance to showcase the property around to potential residents.
Stable Property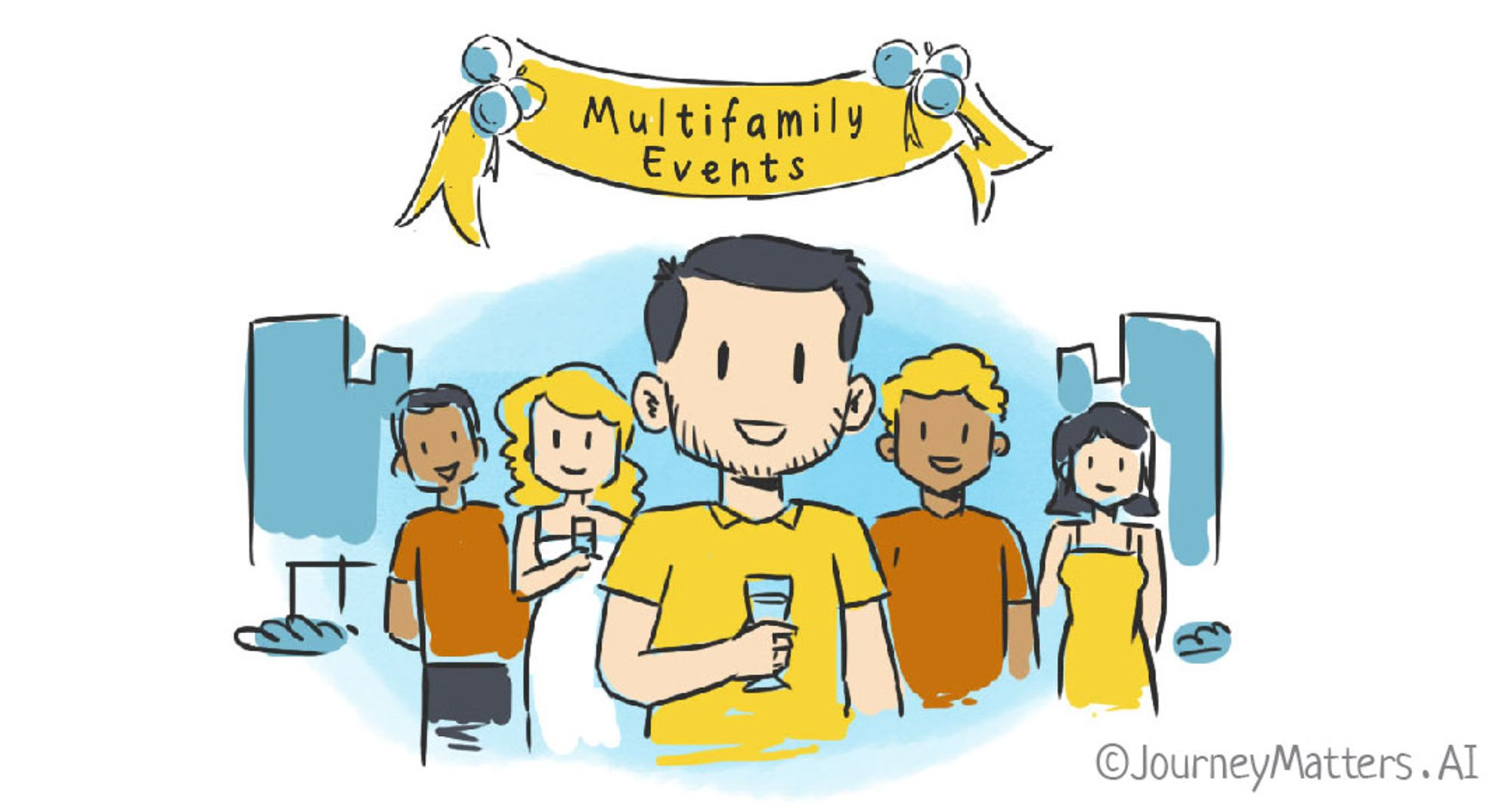 Stable properties typically use events to retain existing residents. However, events are a great way for prospect acquisition too.
🎯Prospect Acquisition
In the prospect journey, events can drive referrals and help with brand building. When property staff invests time and energy in organizing events, prospects will feel valued. It will also demonstrate the community's quality of life.
55%[2] of prospects say that the staff caring about them is a crucial factor in choosing an apartment.
💡
Allowing residents to invite their friends and family to events exposes the community to a wider group of potential residents.
🎯Resident Retention
Events are the number 1 driver [3] for the perception of value among residents. Thus, well-planned and well-hosted events will create a sense of value among residents and will eventually retain them.
💡
Perception of Value: The resident's or prospects' perception of value revolves around their belief that a certain property can meet their needs or expectations. This belief impacts resident retention and prospect acquisition.
The secret to high retention is high engagement and happy residents. Holiday events & renewal events in multifamily help properties engage with residents.
How do Humans + AI event journeys improve user experiences?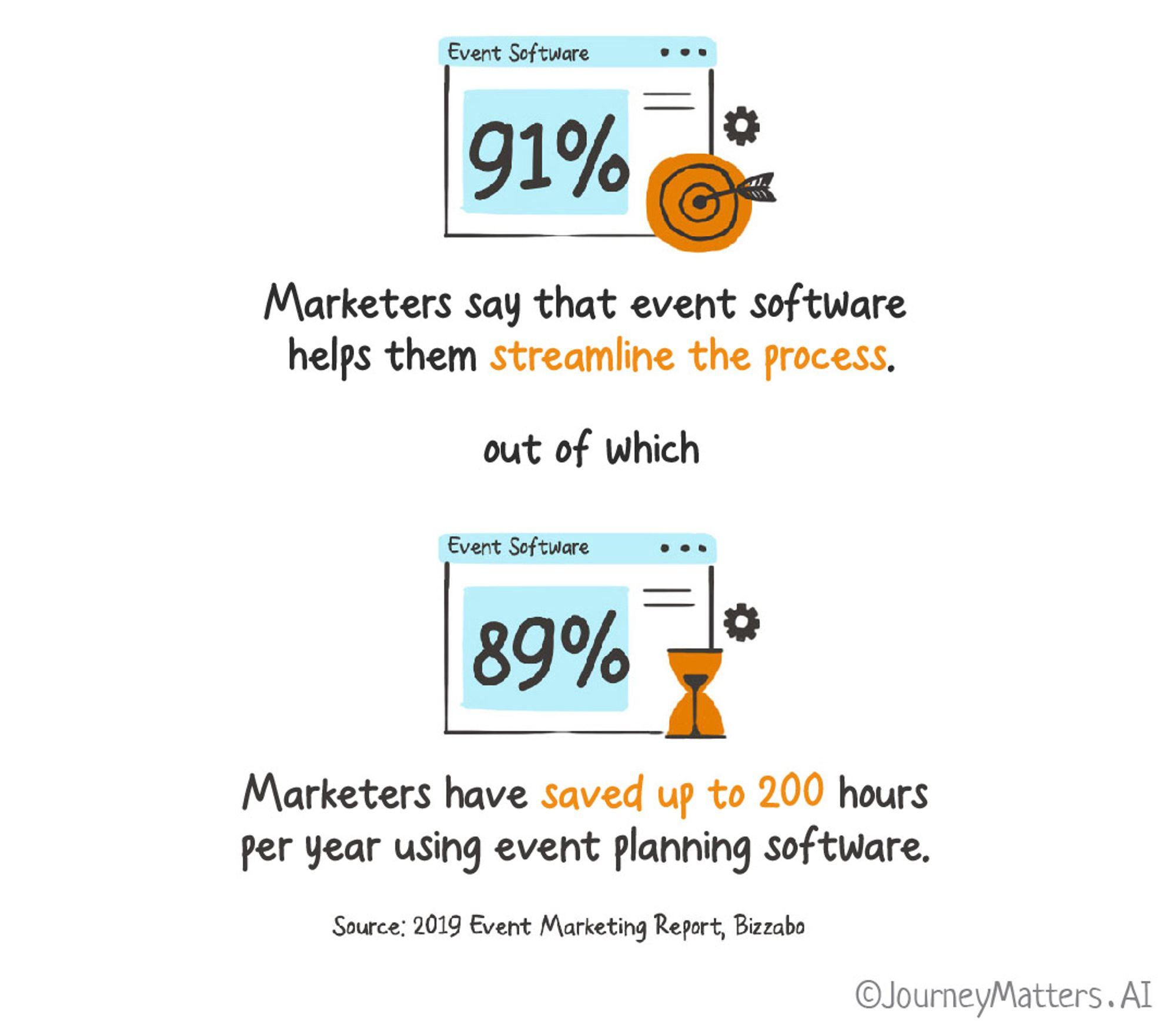 91% of marketers[4] say that event software helped them reach their business goals. Out of which, 89%  of marketers have saved up to 200 hours [5] per year using event planning software.
So let us dive in to see how Humans + AI event journeys can improve experiences for agents, prospects, and residents alike.
For Agents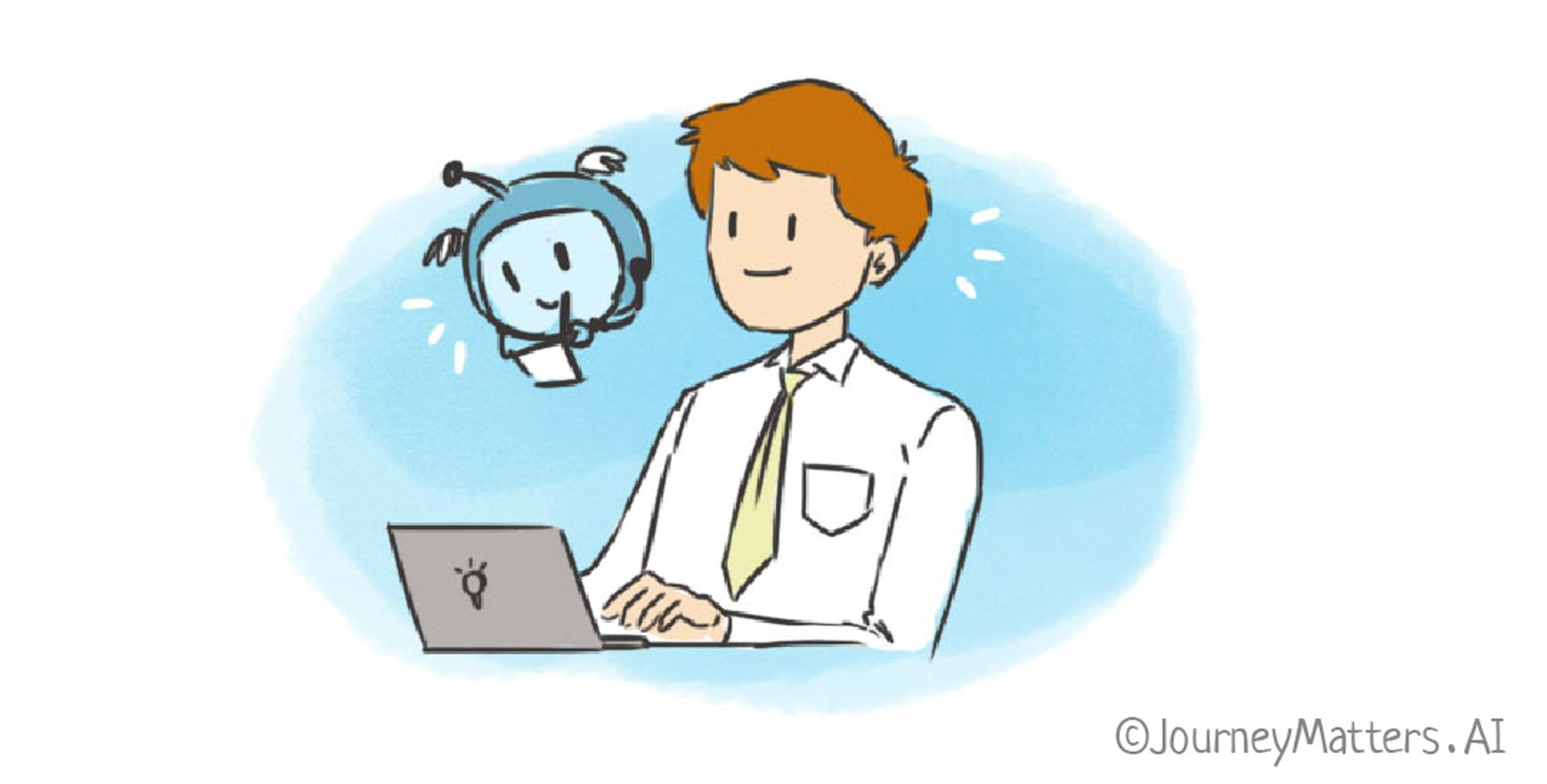 With so much on their plates, agents are often overworked. Below are some ways in which event automation can make their lives easier:
Easy to design events: Multifamily event automation software can provide readymade templates and predefined workflows. Even a non-marketer property staff can easily plug the templates into the workflow according to their needs.
Takes care of reminders and rescheduling: Automation can send all event-related communication, from invitations to reminders. Agents can take a respite from sending emails or SMS. This also reduces the chances of human error like missed invites, late updates about postponed events, etc.
Boost employee morale: A well-designed event will result in a high turnover, which in turn will boost employee morale.
For prospects and residents

Events combined with automation offer the following benefits for residents and prospects:
Better relationships with neighbors and community staff: Well-organized events offer a better chance for residents to meet and bond with their neighbors. Automation enables the community staff to manage and market events more efficiently with less effort. Hence, they get more time to build relationships with the residents.
The event showcases the community in a better light: Events, whether virtual or in-person, provide prospects with a chance to view the community. How an event is conducted will give the prospects an insight into the community's living experience.
Creates a good property experience and a sense of value: Events help in instilling a sense of value and remind the residents why they choose this property.
A Humans + AI approach covers all aspects of the event journey from pre, post, and during events.
Endnote
95% of marketers[6] believe that events offer a chance for real-life connections. But getting residents and prospects to attend events can be a challenge. A Humans + AI approach can create a better event experience for agents, prospects, and residents.
Like what you read? Subscribe to journeymatters.ai and get multifamily articles directly to your inbox.
Resources