Multifamily Lead Nurturing: Anatomy of an Email
To effectively nurture your multifamily leads, you need to know the anatomy of a perfect nurture email that gets prospects to schedule a tour.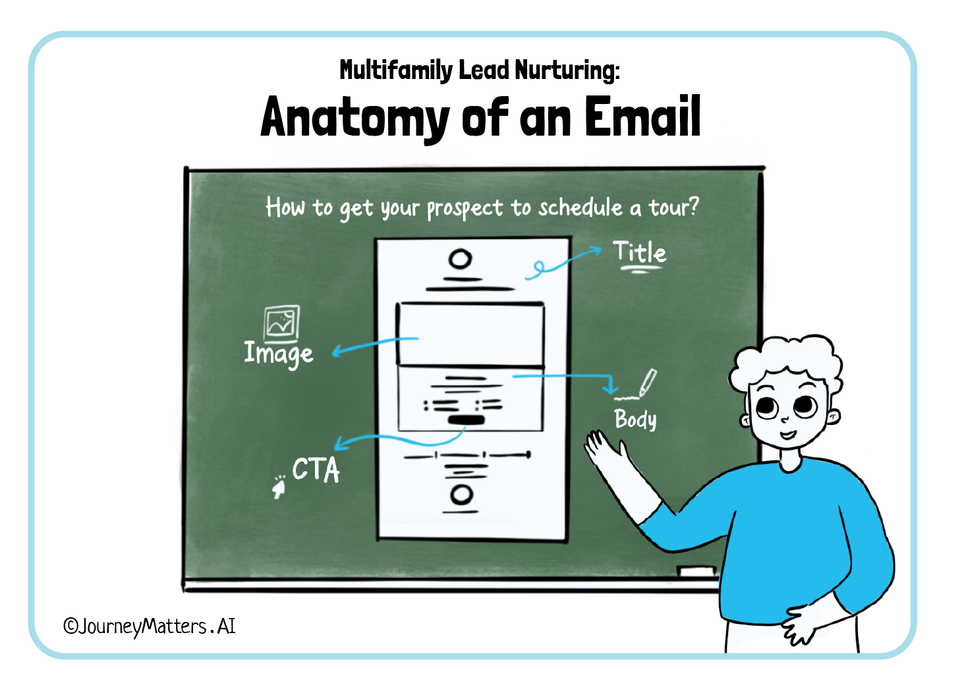 Summary
Understanding all the elements of the email helps you nurture your leads more effectively. In multifamily, the best email anatomy focuses on getting prospects to schedule a tour.
This article from the Multifamily Lead Nurturing series describes the anatomy of a lead nurture email.
This post answers the following two questions:
What is the anatomy of a perfect lead nurture email?
How to write effective copy for lead nurture emails?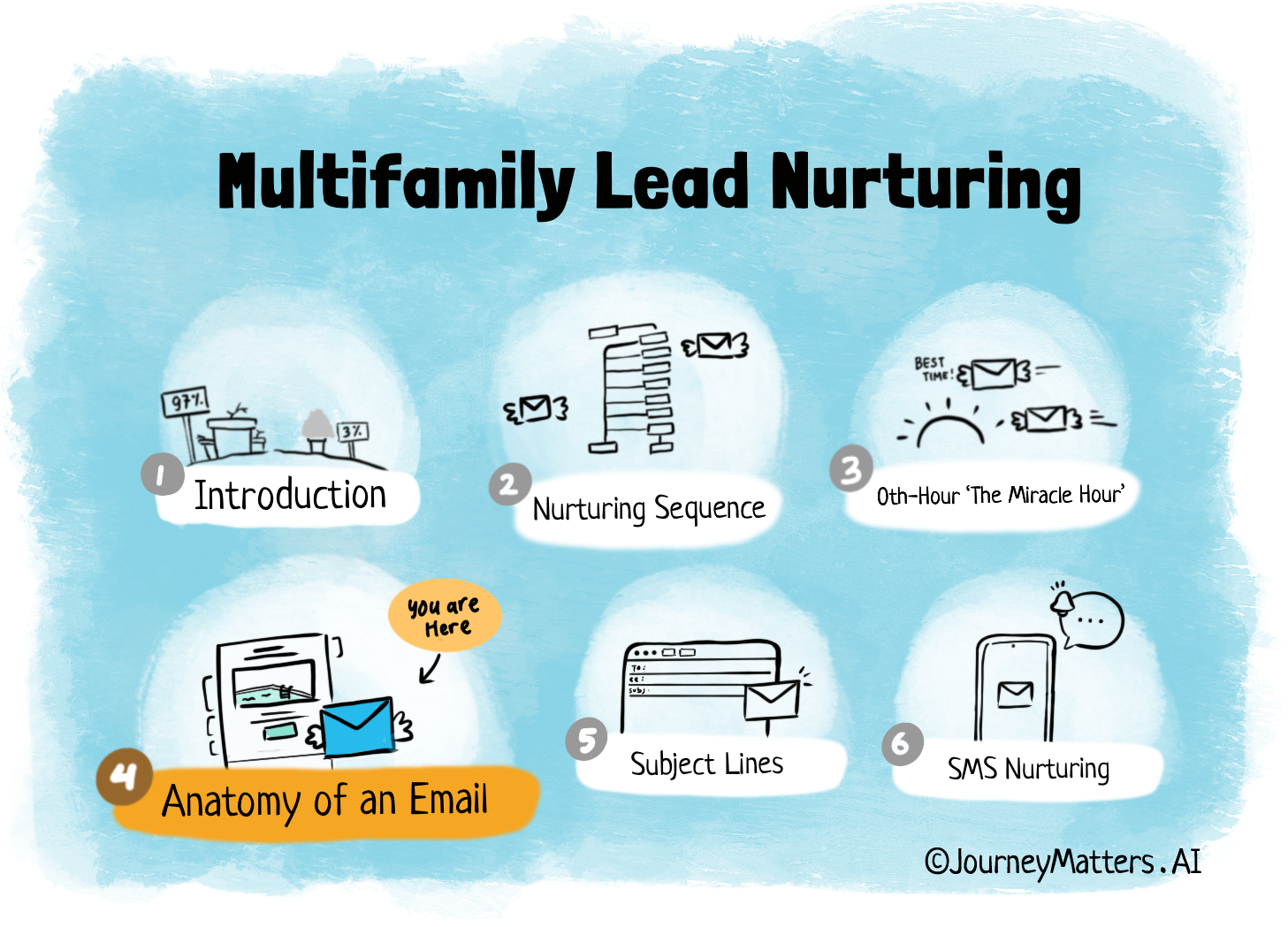 What does the series include?
Multifamily Lead Nurturing: Anatomy of an Email
For every $1 spent, email marketing generates a return of $36[1]. This high ROI makes it one of the most efficient marketing strategies.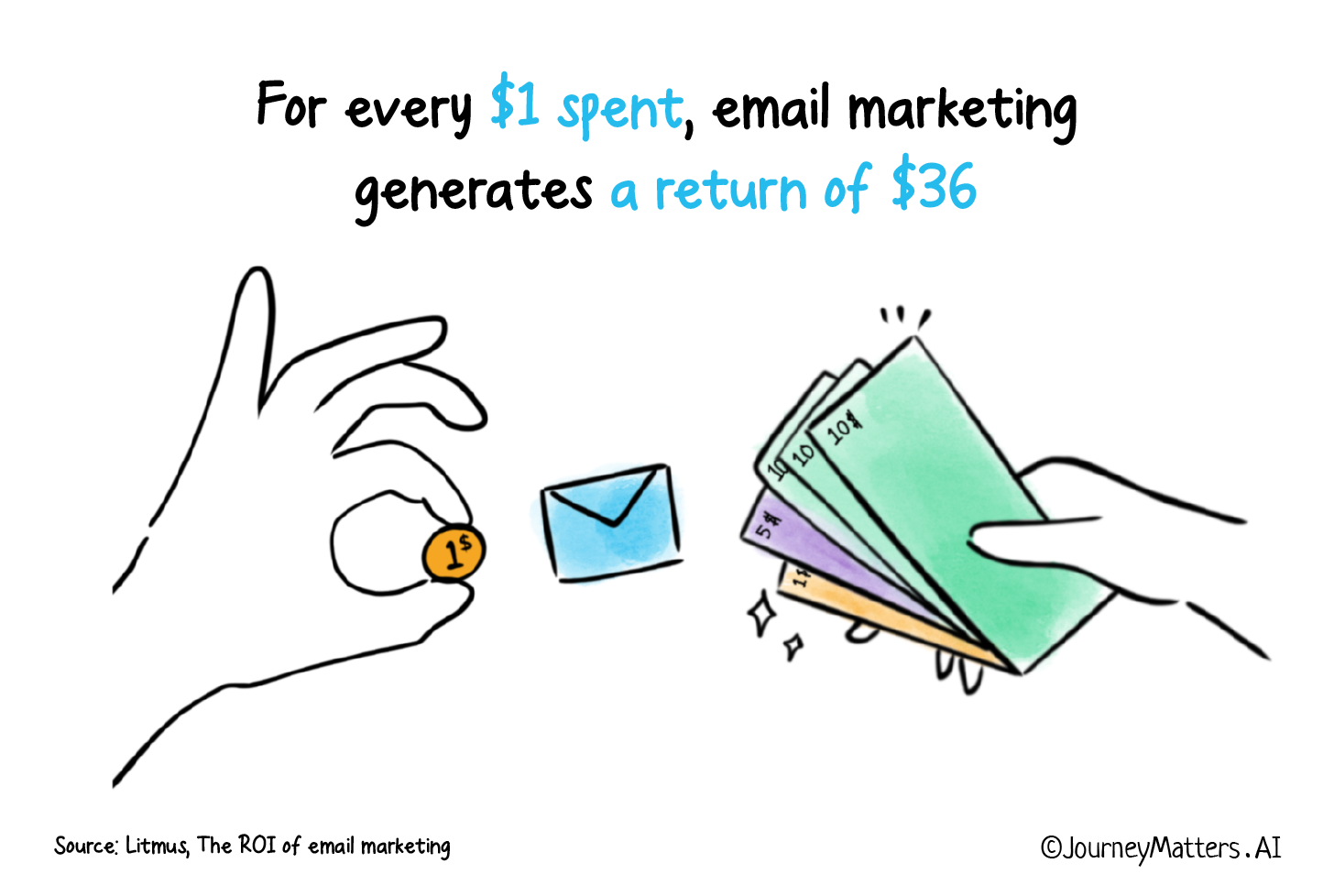 Perfecting your lead-nurturing emails brings you a step closer to higher returns.
This article walks you through the correct sequential flow of multifamily lead nurture email closing with the perfect CTA.
What is the anatomy of a multifamily lead nurture email?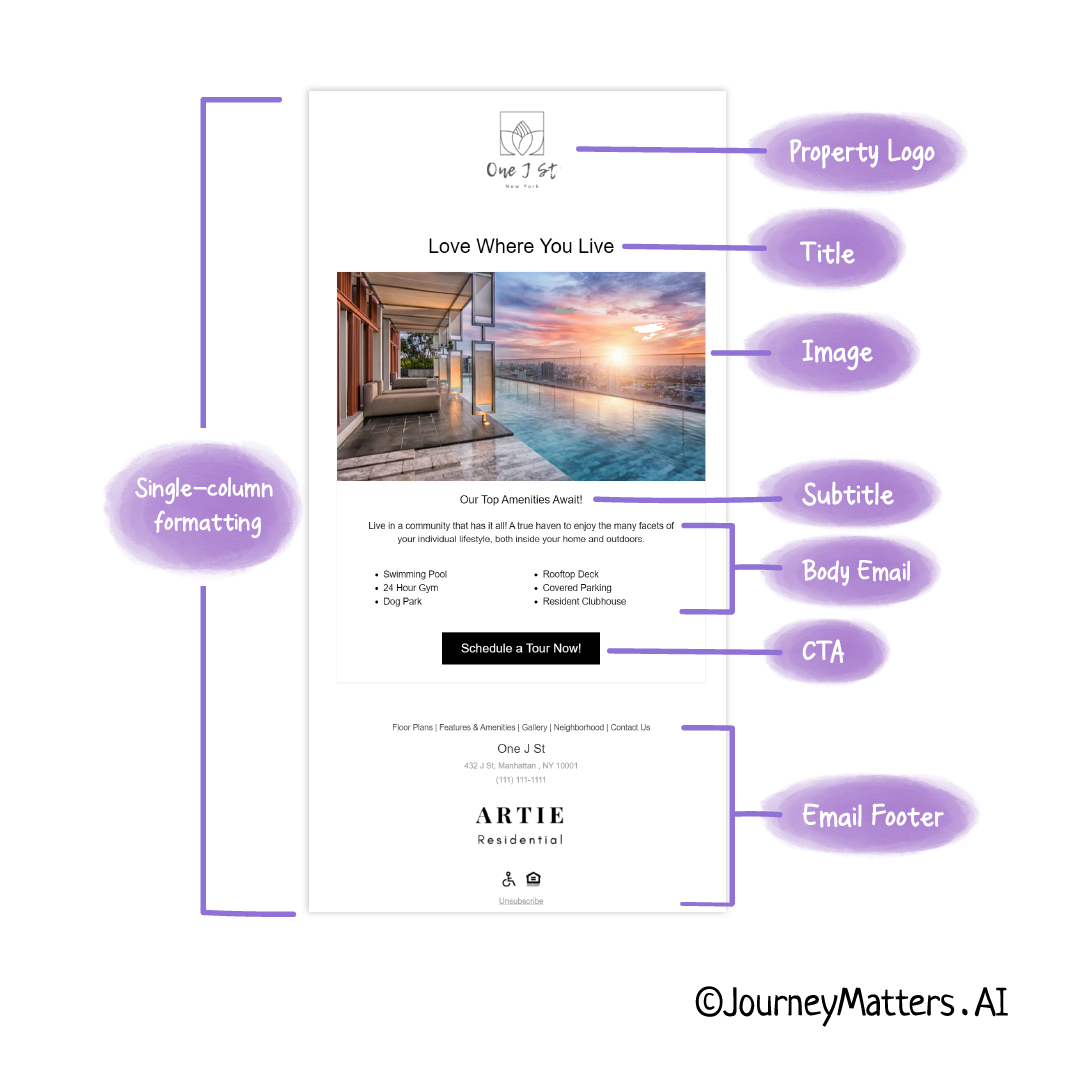 Every marketer wants to use nurturing emails that prospects open, read and engage with. Multifamily lead nurturing emails encourage prospects to consider a property until they schedule a tour.
Perfectly woven nurture emails increase the chances of a prospect scheduling a tour. Hence, structure your nurture emails using our below email anatomy that works wonders:
Time to see each email component in detail.
Subject Line
The subject line is a line of text that people see in their inbox when they receive an email.
We need to pay special attention to the subject line as it determines whether the prospect opens the email. There is a lot that you need to keep in mind while creating perfect subject lines. So, we will discuss them in detail in the next article.
Let's discuss the other components in the email anatomy.
Single-column Formatting
A lot of lead nurturing happens on mobile as at least 50% of recipients open emails on their phones[2]. So if you don't mobile-optimize your emails, they are likely to be deleted within 3 seconds[3].
As multifamily marketers, we recommend single-column emails that are mobile-friendly and easy to swipe up, irrespective of the email client.
Title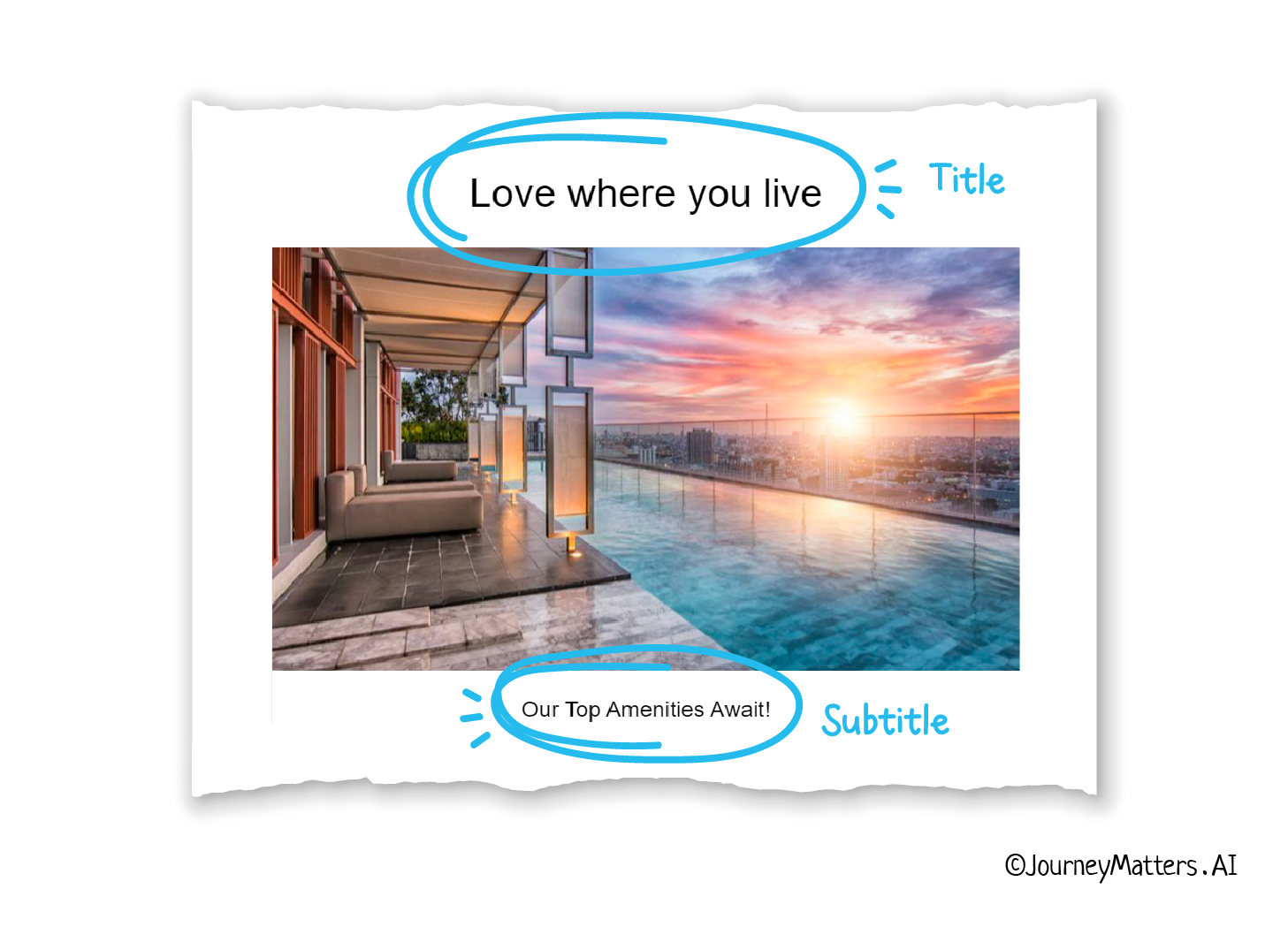 The title is the first piece of text the recipient sees after clicking the email.
The title is followed by an image, which in turn is followed by a sub-title. A subtitle complements the title and builds more context to the email. Thus, the purpose and best practices for title and subtitle remain the same.
Why do we need a title in an email?:
The title communicates to the prospect what the email is about.
It encourages prospects to read further.
Best practices to create titles:
The title should be short, crisp, and intriguing.
It should be engaging and make the prospects read further.
The title should align with the CTA and encourage prospects to follow it.
Example of a good title/bad title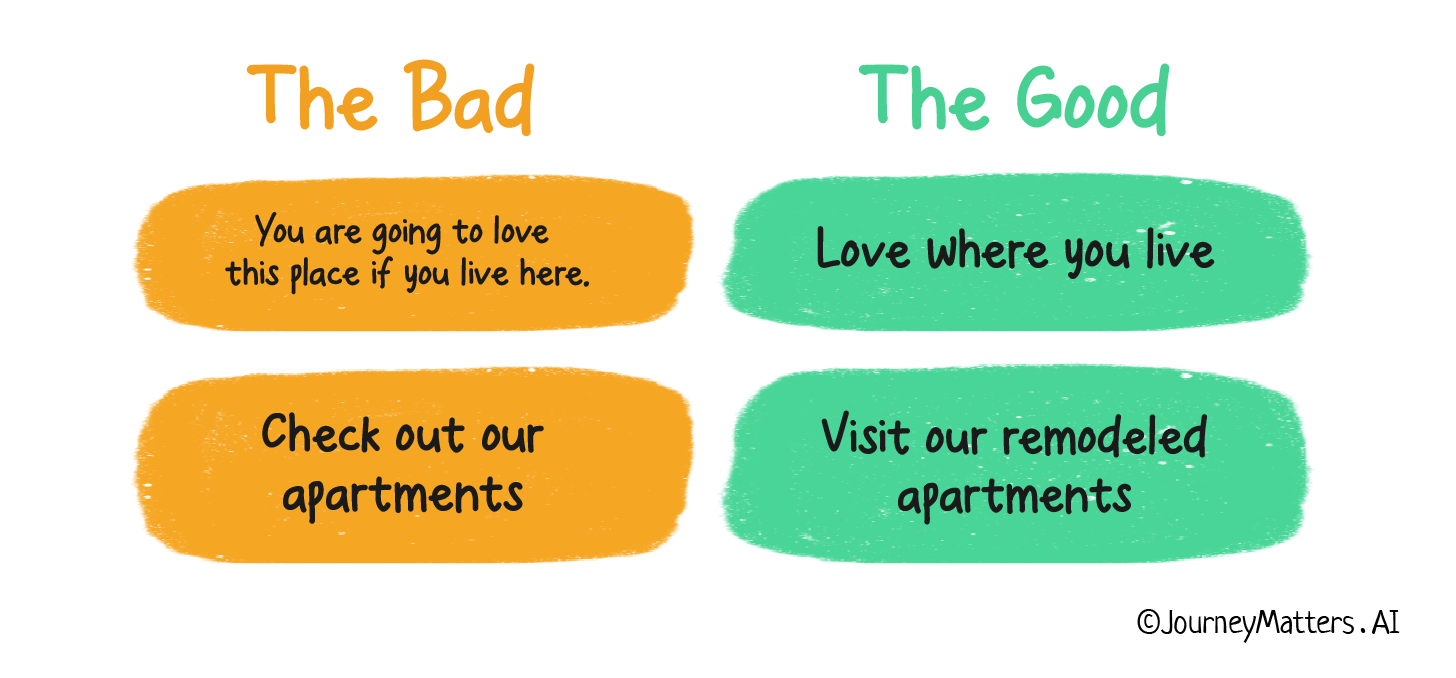 Bad title 1: 'You are going to love this place if you live here' v/s Good title 1: 'Love where you live'
The above title is bad because it is too long, direct, and boring. On the contrary, the above good title has a short and crisp copy, and it makes the prospects want to know more about the property.
Bad title 2: 'Check out our apartments' v/s Good title 2: 'Visit our remodeled apartments'
This bad title, though short, is generic and fails to convey an emotion, grab attention or create engagement with the prospects. Whereas a good title is short, action-oriented, and offers something new to the prospects.
Images
The image in a lead nurture email is placed right below the title. The images should be relevant to the lead nurture email they are being sent in.
Why should you include image(s) in an email?

Email campaigns that include images have a 42% click-through rate[4] compared to campaigns without images.
Images add visual appeal to emails, and they communicate things that text can't.
Here are the best practices for including images in a nurture email:
Use high-quality images: The images should be of high quality and should not appear blurry.
Don't rely on email clients: Every email client handles images differently. So don't rely on them to keep your image size intact. Instead, use the exact size of the image that you want prospects to view.
Use alt-text for email images: Want to make your email accessible to all? Make sure you add alt-text for every image you include in your email.
Hyperlink the images: Although the email images aren't direct CTAs, it is a good practice to hyperlink them to your property website.
Use the right image format: Ensure you are using the right format according to your images. For instance, PNG is good for high-resolution images, while JPEG is ideal for photos or images without text.
The next component is the email body.
Body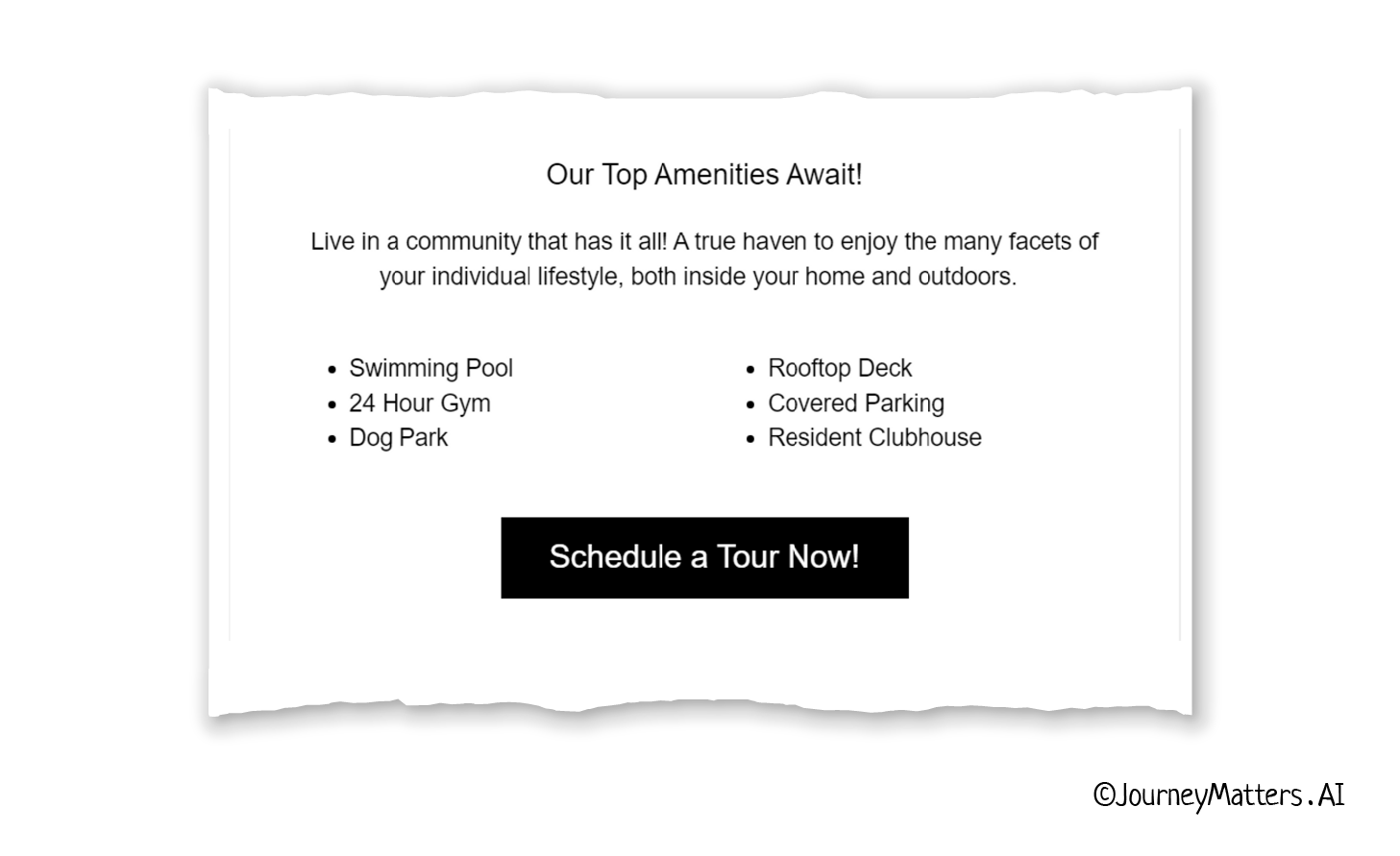 The email body is where you build up the story using the title, subtitle, and images. The CTA forms the climax of the story.
Here are the best practices for writing email body text:
Show what you offer:  You need to make the email relevant to the reader. It should be something they are looking for or a problem they are facing.
Write in the second person: Lead nurturing emails should talk to the prospects directly and hence use second person pronouns like you and your.
Be brief: Keep your email body short and simple. Explain what you are offering in limited words and include bullets or number lists wherever possible.
Use a friendly tone: The emails should be welcoming, making the prospects read them entirely.
CTAs
A call-to-action or CTA encourages users to take a specific action. It can be in the form of buttons or hyperlinks.
Typically, a multifamily lead nurturing email uses a button CTA.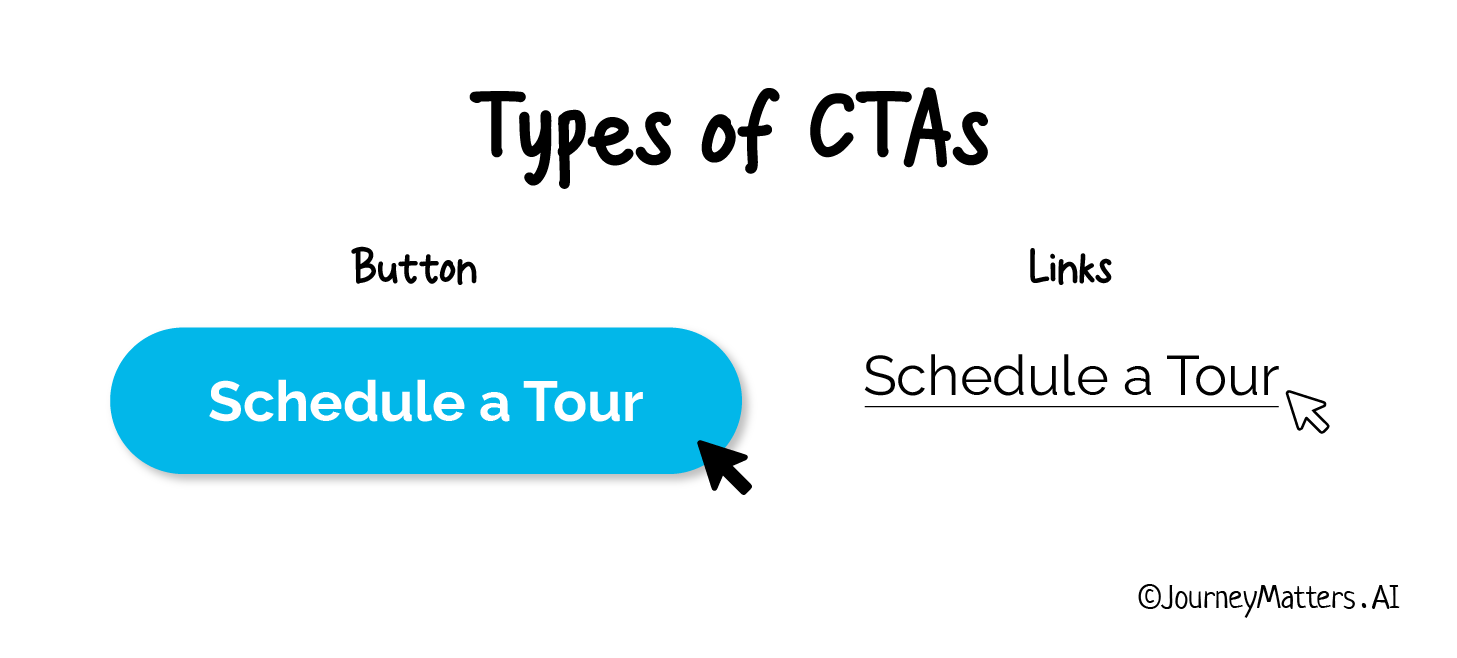 Why are CTAs important?
CTAs in multifamily lead nurturing are important because:
They guide the prospects to the next step, i.e., to schedule a tour.
CTA helps you keep the content aligned with your overall multifamily lead nurturing goal.
Below are the best practices for CTAs in the lead nurturing emails: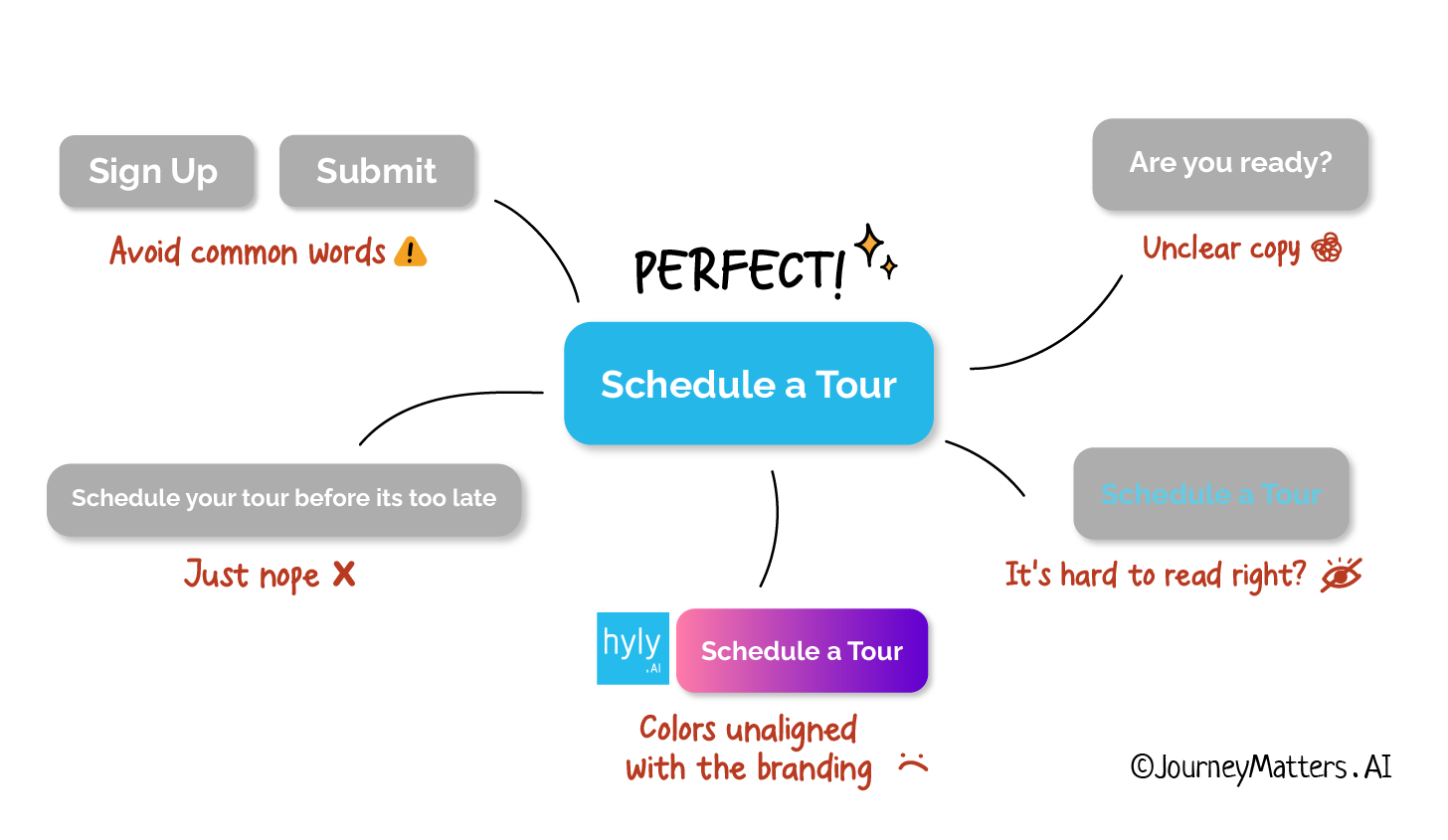 CTA copy: The CTA buttons should use short, direct, and action-oriented text.
CTA button: Use colors in your CTA button that align with the brand. Also, ensure that the button text is legible.
Placement of CTAs: Place them where they are easily visible and are likely to be clicked by the prospects.
CTAs to avoid: Avoid using vague text and common words like submit, sign up, etc.
Number of CTAs in an email: While your email should focus on a single CTA, placing the same CTA at least twice in the email generate a higher Click-through-rate.
Inclusion of non-CTA links: Along with the primary CTA, your email should include hyperlinks to additional property info. Hyly.AI Data Science Team discovered that users click a lot on property logos and floor plans even though they are not the objective of the email.
💡
In multifamily, the CTA is always 'Schedule a Tour' because that is the action we want the prospect to take
Email footer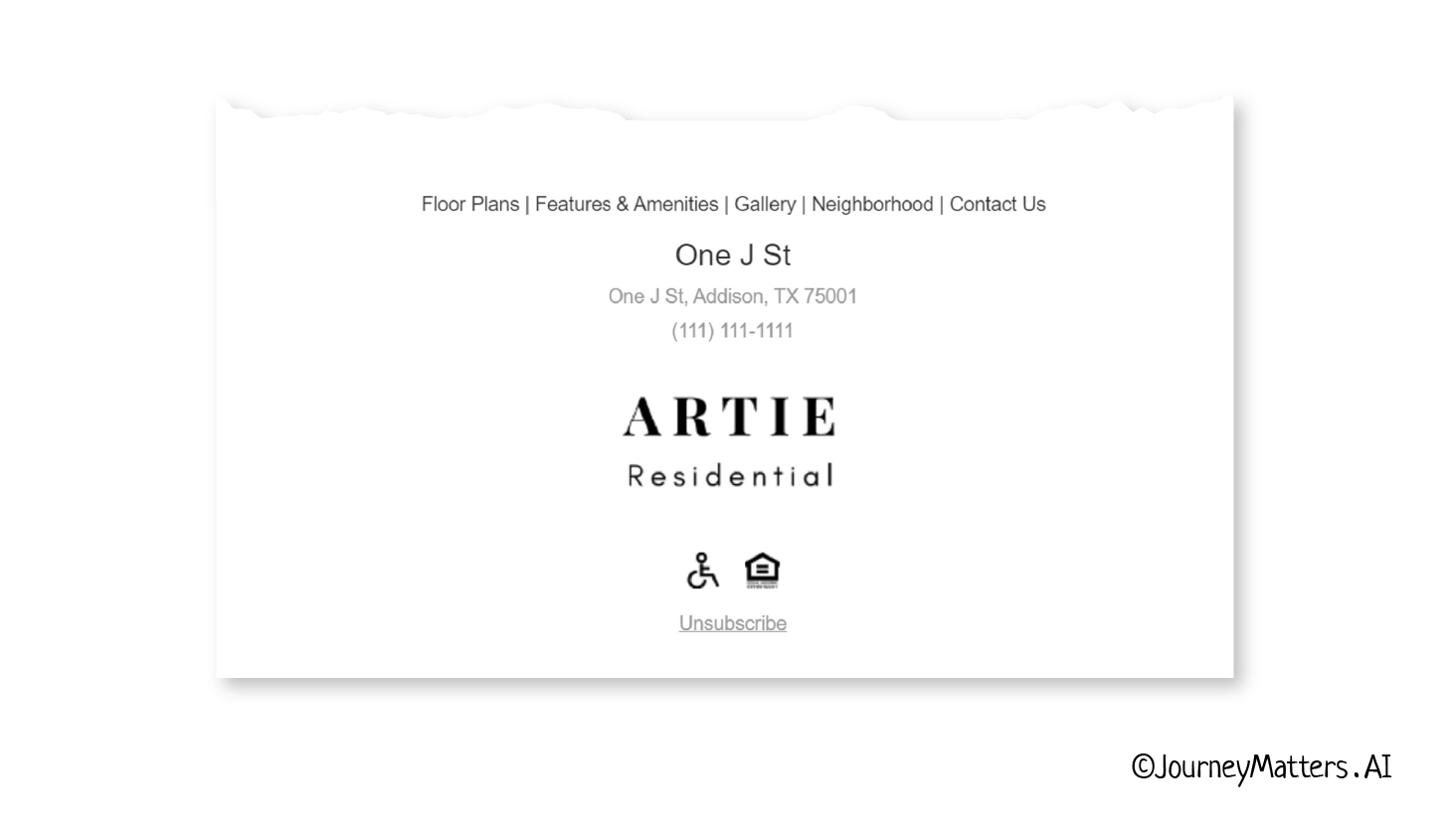 The email footer contains links to additional details about the property like address, social media handles, floor plans, neighborhood, unsubscribe link, etc. The importance of links in the email footer is often overlooked, but it can be a game-changer for lead nurture emails.
Here is why you must focus on the email footer:
The Hyly.AI Data Science Team found that prospects click on more non-CTA links in the footer than the actual email CTA.
According to the CAM-SPAM[5] commercial email law, an email must have a property address and an opt-out or unsubscribe option.
How to write effective copy for lead nurture emails?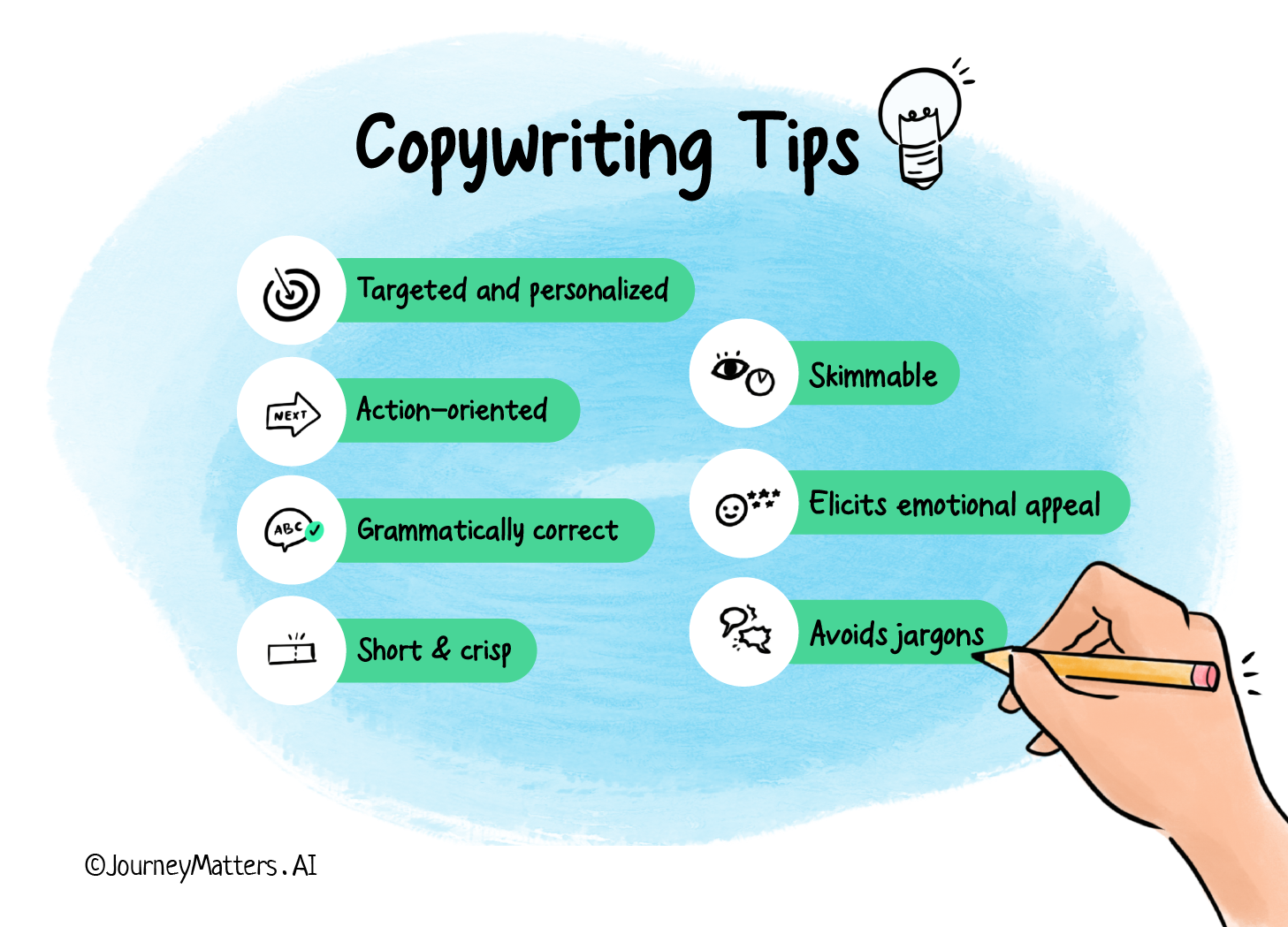 Copywriting refers to all the text that goes into your email from the subject line to the CTA. Good copywriting makes customers take the desired action.
Copywriting best practices that you should keep in mind are:
Create targeted and personalized email
Design a copy that encourages customers to take action
Write Grammatically correct copy
Use short, crisp, and clear sentences
Create skimmable emails
Create copy that elicits emotional appeal.
Avoid jargon
Conclusion
The perfect multifamily lead nurturing emails help you to engage your leads and make them schedule a tour.
You now know the best multifamily lead nurture email anatomy and best practices for each component. So, put these insights to use and reap your rewards.
Next in the series, we will discuss crafting effective subject lines for multifamily lead nurturing emails.
---
Resources