How to Solve the CDP Data Feeding Challenge in Multifamily?
To make a successful move to CDP, multifamily need to identify the data sources that will feed CDP with essential information needed for a 360-degree view.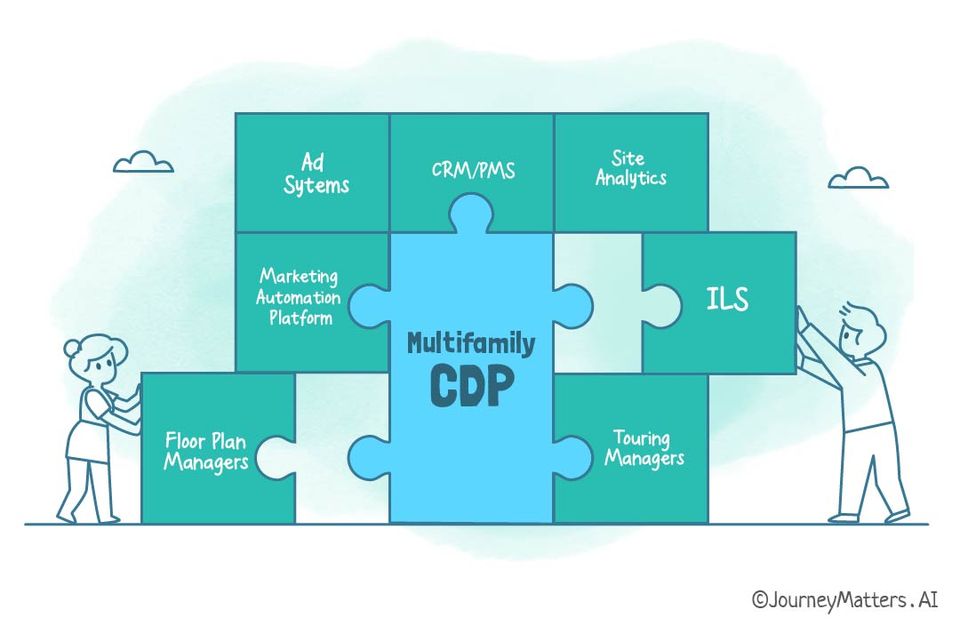 With the phase-out of third-party cookies, businesses are embracing the Customer Data Platform (CDP) to create personalized user experiences. A CDP collects zero-party and first-party data from all the prospect's touchpoints and events to create a 360-degree view of each user.
In multifamily, a CDP enables marketers and property managers to consolidate user data from multiple sources like PMSs, ILSs, Google Analytics, etc., and create a single view for that prospect/ resident.
The first step is to identify the data sources that will feed CDP with essential information needed for a 360-degree view.
💡
Data feeding refers to sending data from one system to another. It involves setting up data feeds or APIs to transfer data between systems in real time or at a defined interval.
This article will uncover the multifamily data feed problem & the CDP solution. Next, we will unveil the essential data-feeding systems & their data for an easy CDP journey.
Challenges Multifamily Faces with CDP Data Feeding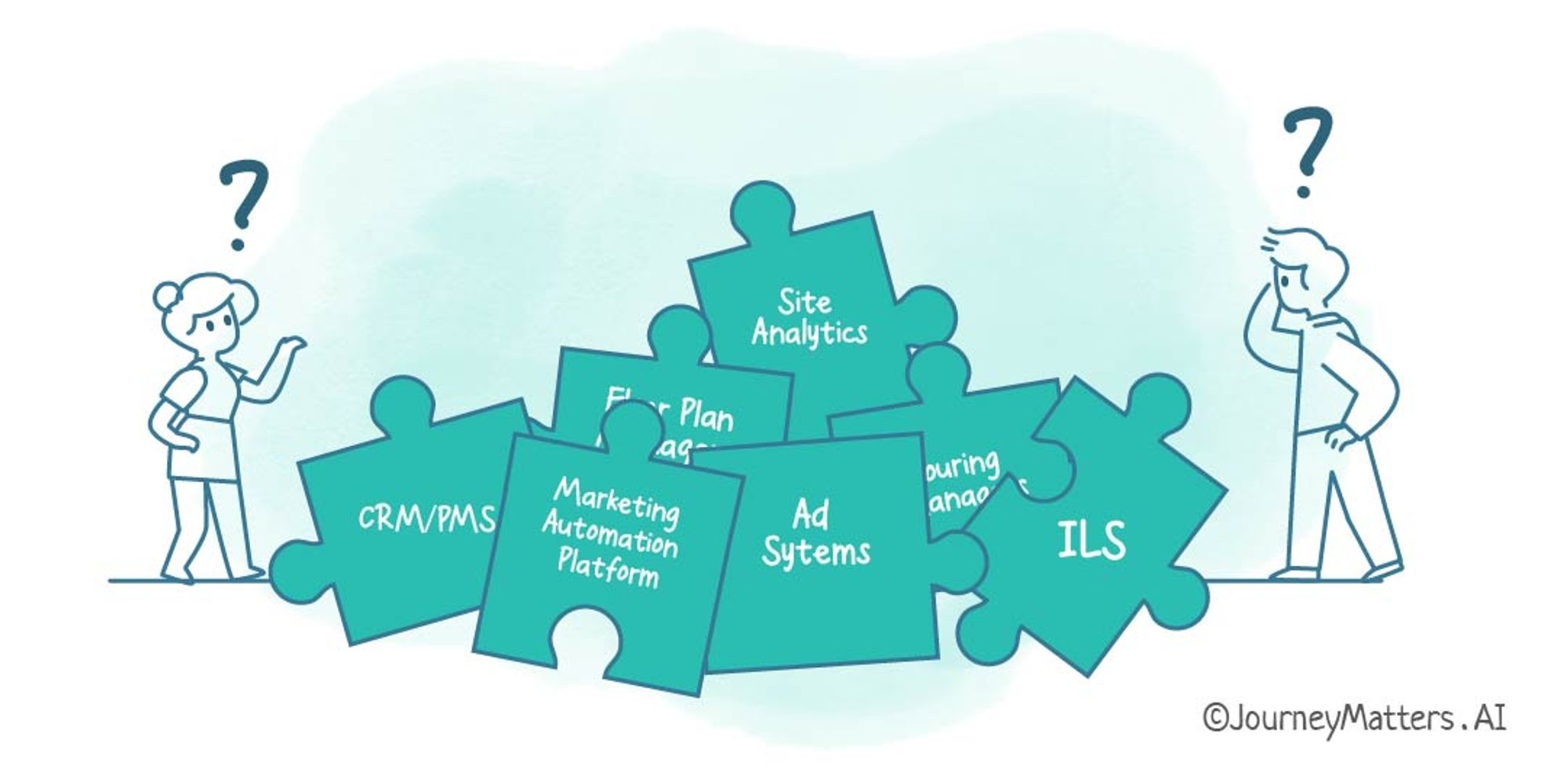 For multifamily, harnessing the value of its data[1] is as important as ever. However, there are significant challenges that the industry faces while feeding data into a CDP.
The Problem
Ever-increasing data sources: The multifamily industry is fragmented and data is dispersed across several systems. With the technological evolution, the data sources also keep evolving to store and manage the vast amount of resident and prospect information. Due to this, multifamily may find it difficult to capture all relevant data.
Unequipped marketers and agents: To activate or unlock insights from a large volume of data requires one to analyze and interpret the data, and use it to make informed marketing decisions. However, marketers and agents aren't fully aware of how to access the data, what data to collect, how to standardize and format it, and how to unlock insights that drive actions.
The Solution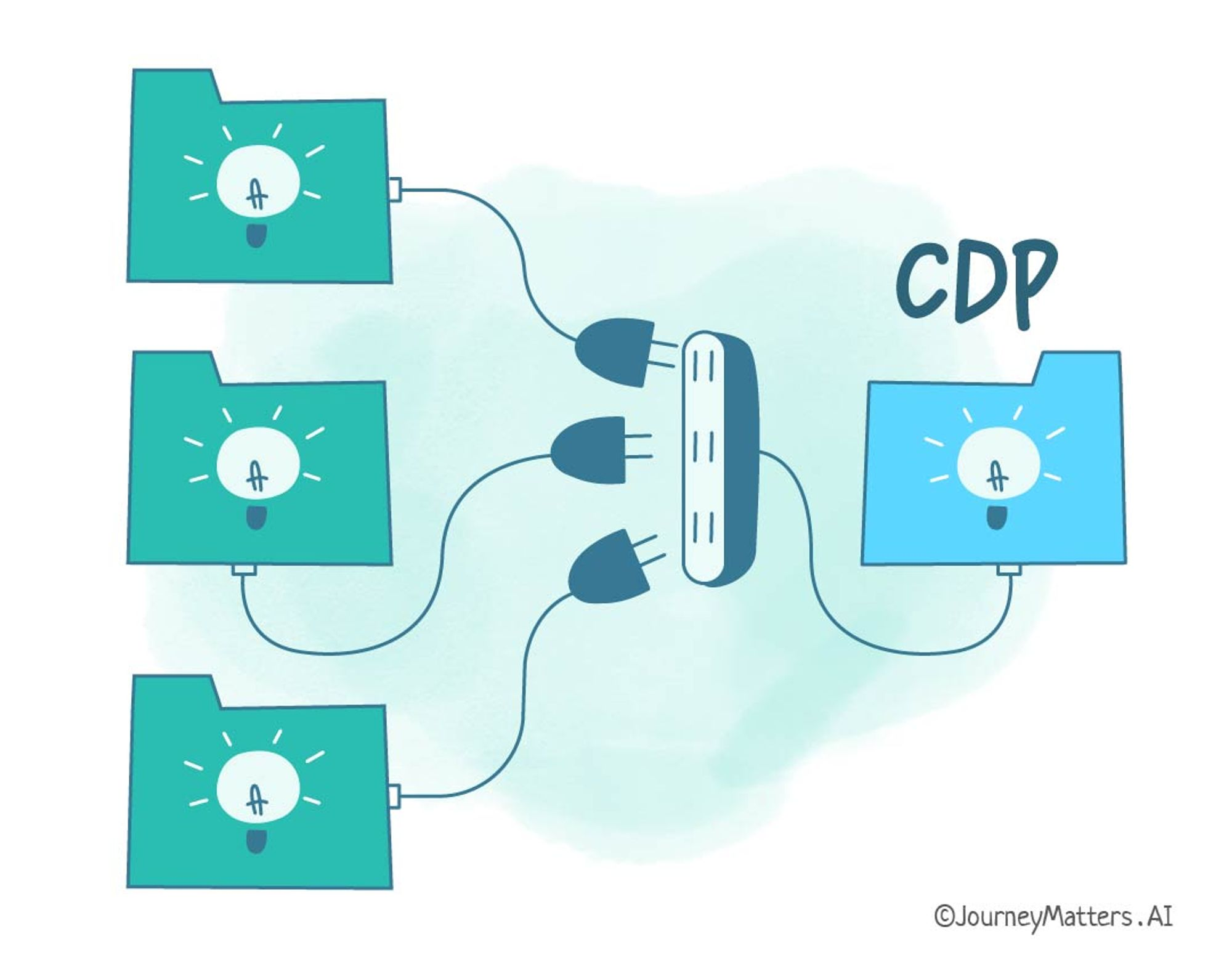 To address these challenges, multifamily needs to:
Identify data sources: The first step to feeding data into CDP requires you to identify all the possible sources containing essential prospect & resident information.
Prioritize and evaluate the data in the source systems: Creating a comprehensive view of prospective and current residents requires you to know what data resides in which sources. You can further prioritize them based on their value and relevance to your goals.
Assess CDP integration capabilities: Last but not the least, you need to ensure that your CDP seamlessly integrates data from all of your identified data sources whether it is Property Management System or Google Analytics.
Let's learn about the essential systems that will feed into multifamily CDP to create a 360-degree view of prospects & residents.
Systems that Feed the Multifamily CDP
Various systems feed the Multifamily CDP, including:
CRM/PMS - Customer Relationship Management / Property Management System
A multifamily CRM/PMS allows property managers to track prospects & residents' data, such as contact information, lease details, rent, etc.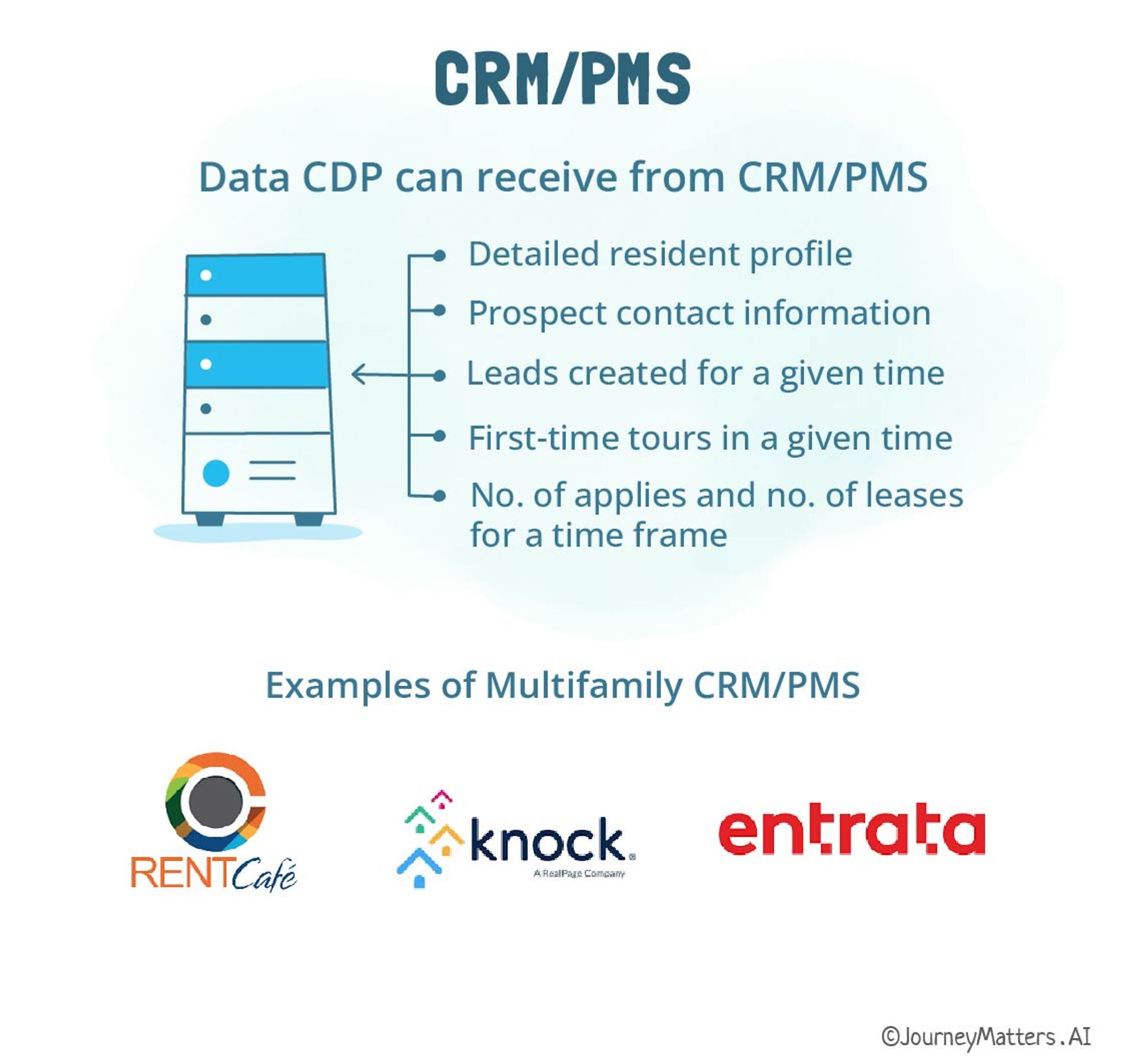 A CRM/PMS feeds CDP with detailed resident profiles, prospects' contact information, leads created, first-time tours, no. of applies, and no. of leases in a given time frame.
CDP processes the CRM/PMS data to
Attribute leads to the original source
Deduplicate leads
Create a unified view
Examples of multifamily PMS/CRM include RentCafe (Yardi), Knock (RealPage), and Entrata.
Site Analytics
Site Analytics is an analytic tool that measures different metrics like website visitors, user events, etc. It helps property managers to optimize their marketing efforts and generate more leads and conversions.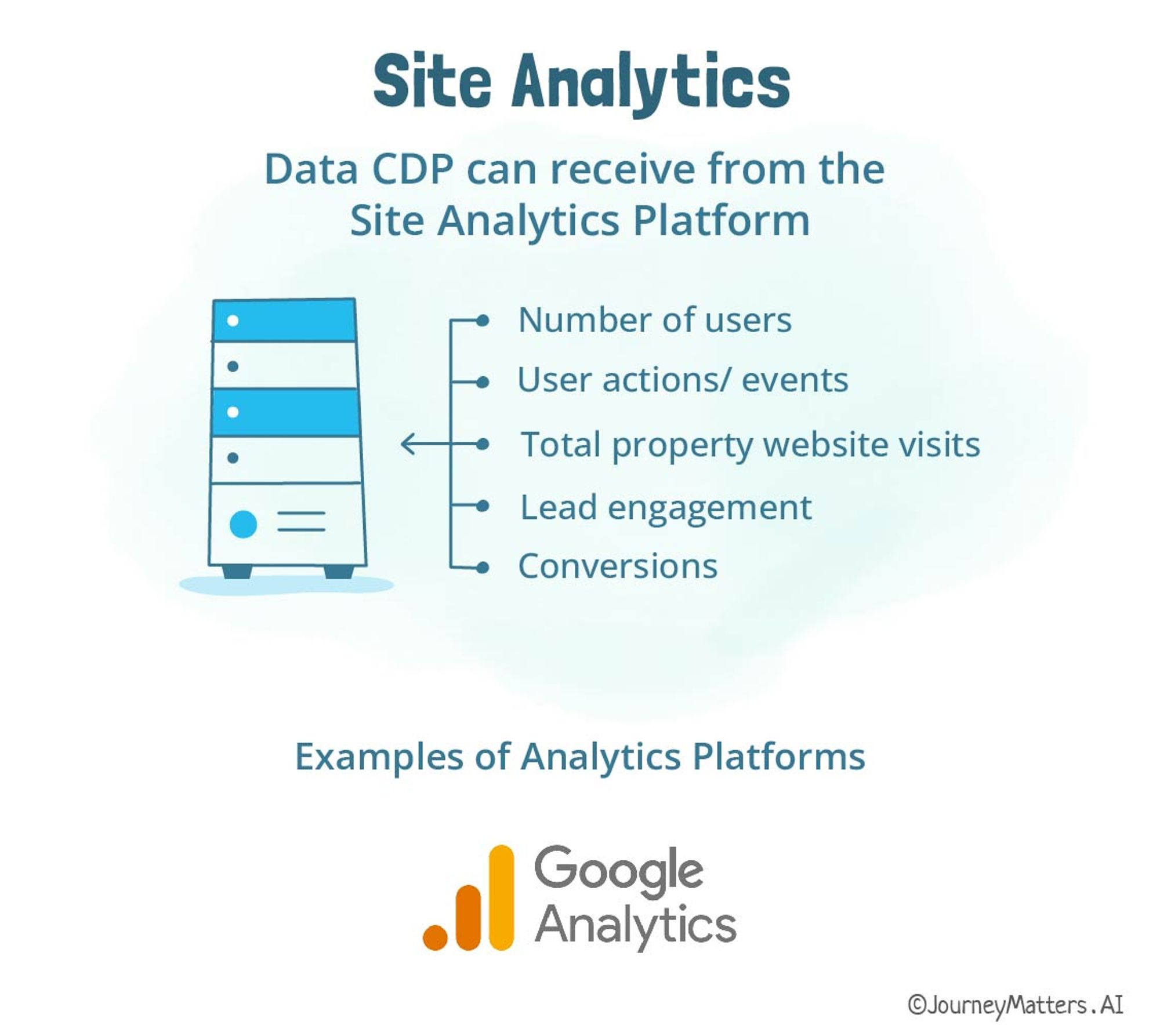 CDP receives the following data from Site Analytics: the total number of users, user actions/ events, property website visits, and lead engagement & conversion data.
And it processes the above data to:
Analyze website traffic
Organize lead conversion sources
Gather insights into engagement and preferences
Google Analytics is the most extensively used tool for site analytics in multifamily.
Ad Systems
Ad systems data helps marketers to create targeted campaigns for potential residents.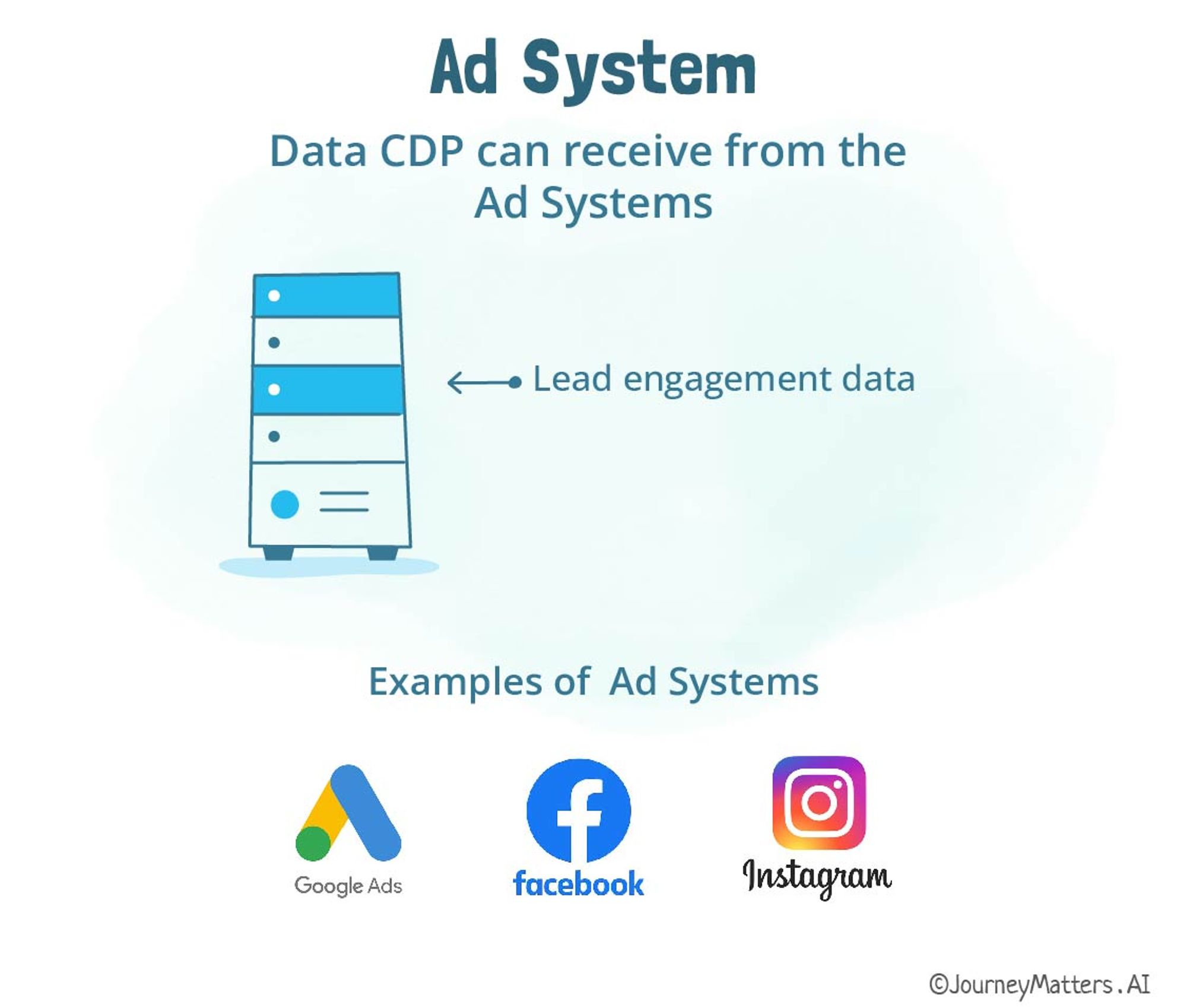 A CDP receives lead engagement data from Ad Systems.
The data consolidated from Ad systems can help CDP to:
Analyze ad spending & traffic
Monitor campaign analytics
Identify customer touch-points
Measure Ad Source Effectiveness
Examples of Ad Systems include Google Ads, Facebook Ads, and Instagram Ads.
ILS - Internet Listing Service
An ILS helps multifamily to expand their reach and attract more potential residents to their properties.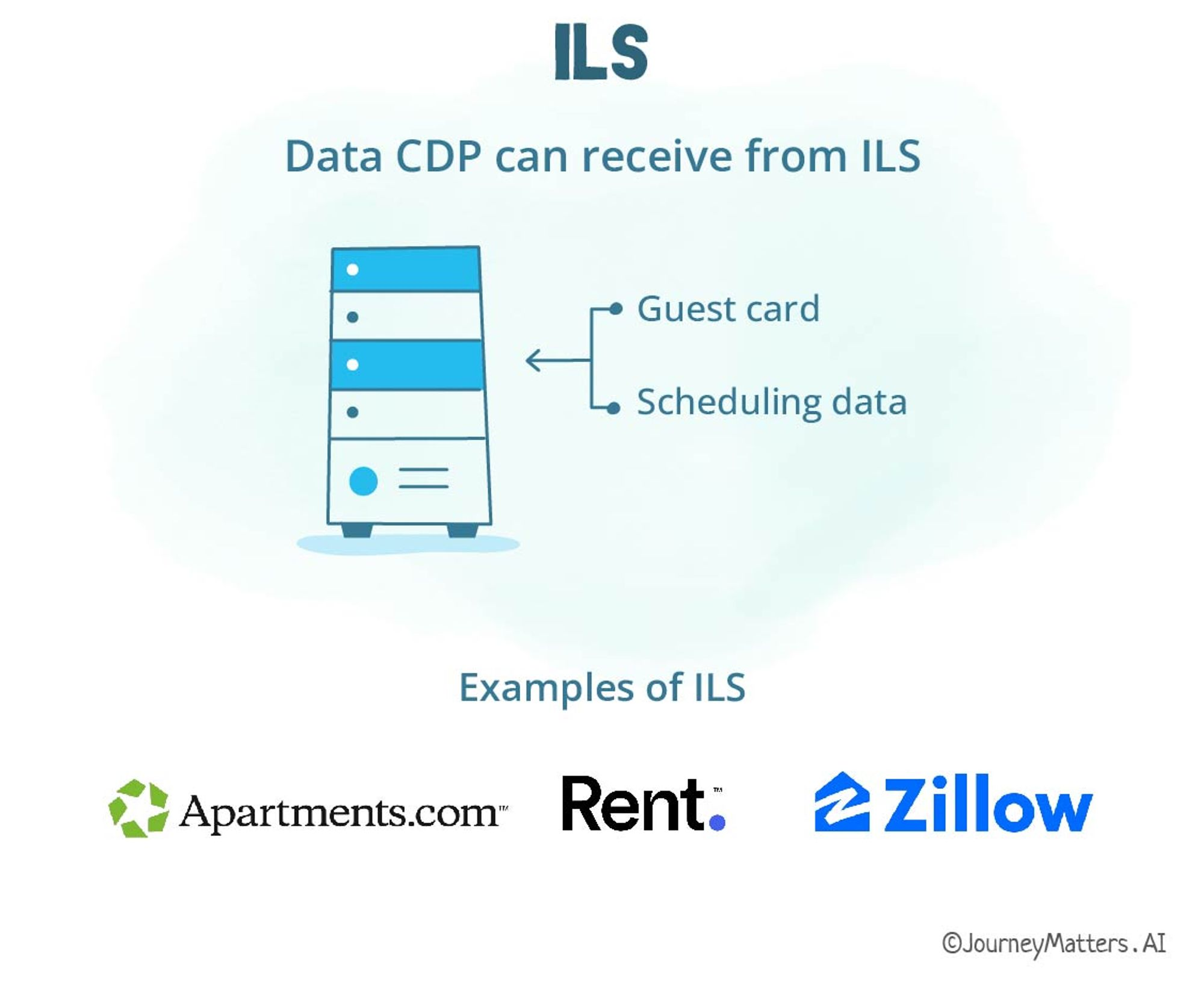 ILS feeds guest cards and scheduling data to a CDP.
CDP processes the data to:
Analyze resident & prospect behavior
Capture their property preferences
Examples of ILS include Apartments.com, Rent.com, and Zillow.
MAP - Marketing Automation Platform
A marketing automation platform enables agents to nurture leads effectively, deliver more sales-ready leads, and improve the prospect's lead-to-lease experience.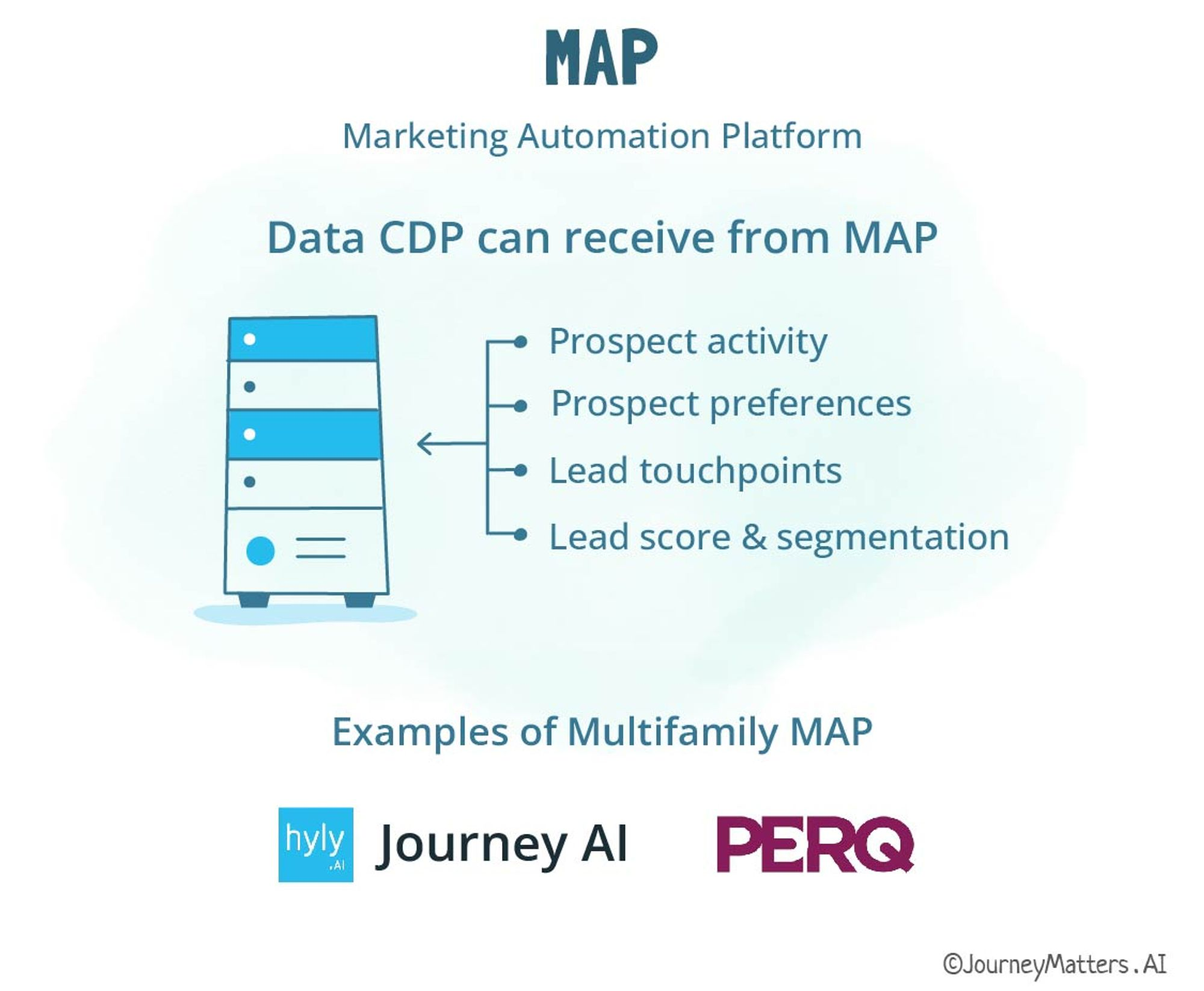 In multifamily, a MAP feeds the CDP with prospect activity and preferences, lead touchpoints, and lead score & segmentation.
CDP processes the data to:
Create a unified view of prospects
Analyze Resident & prospect behavior
Create targeted campaigns based on lead segmentation
Examples of Multifamily MAP include Journey.AI, PERQ
Touring Managers
Touring managers help multifamily streamline the touring process and enhance the prospect experience.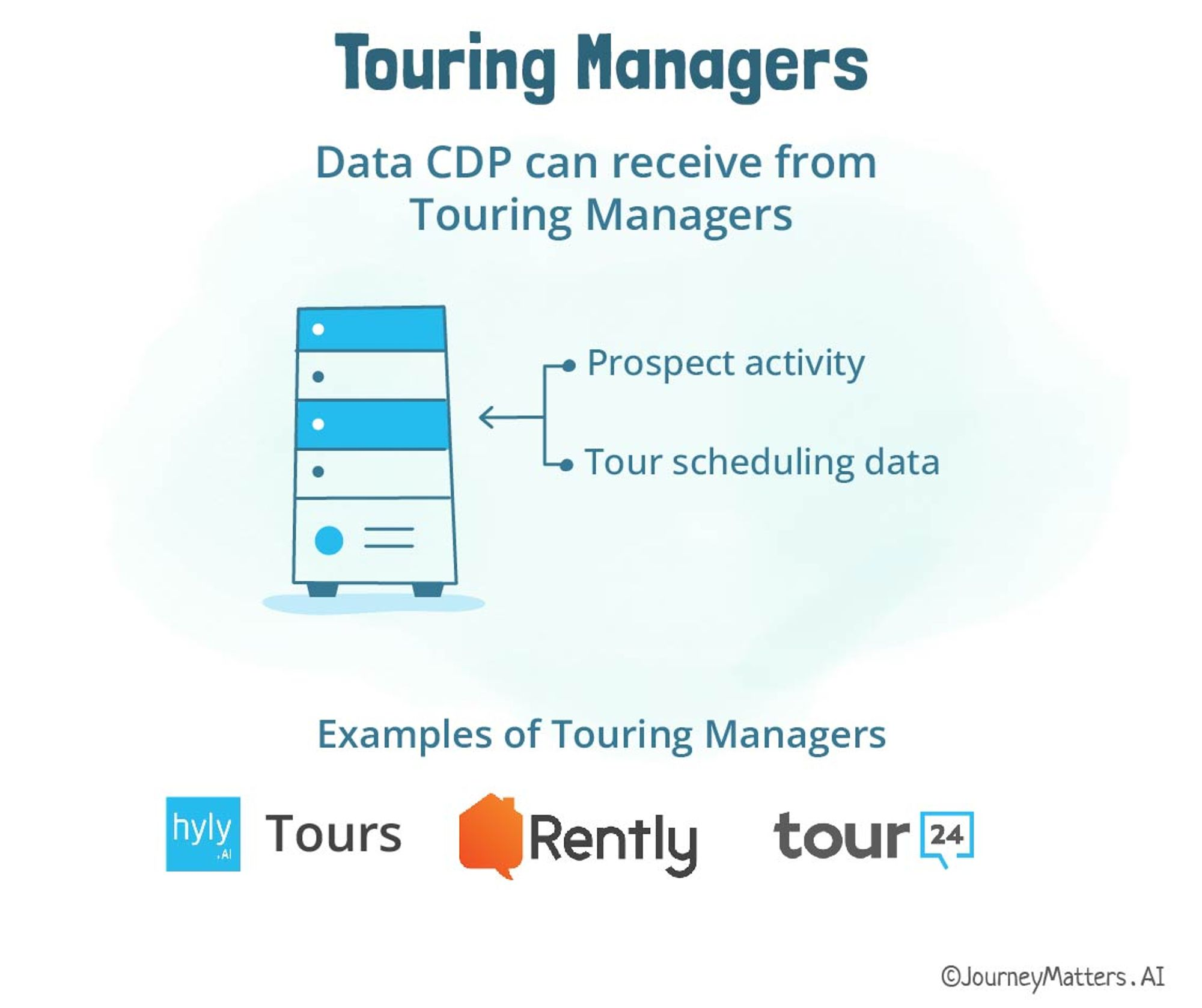 CDP can receive prospect activity, and tour scheduling data from a Touring Manager.
CDP processes the data to:
Identify high-value prospects
Identify tours that converted to leases
Source attribution for the tours
Examples of Tour Managers are Hyly.AI Tours, Rently, and Tours24.
Floor Plan Managers
Multifamily utilizes floor plan managers to show unit availability and floor plans.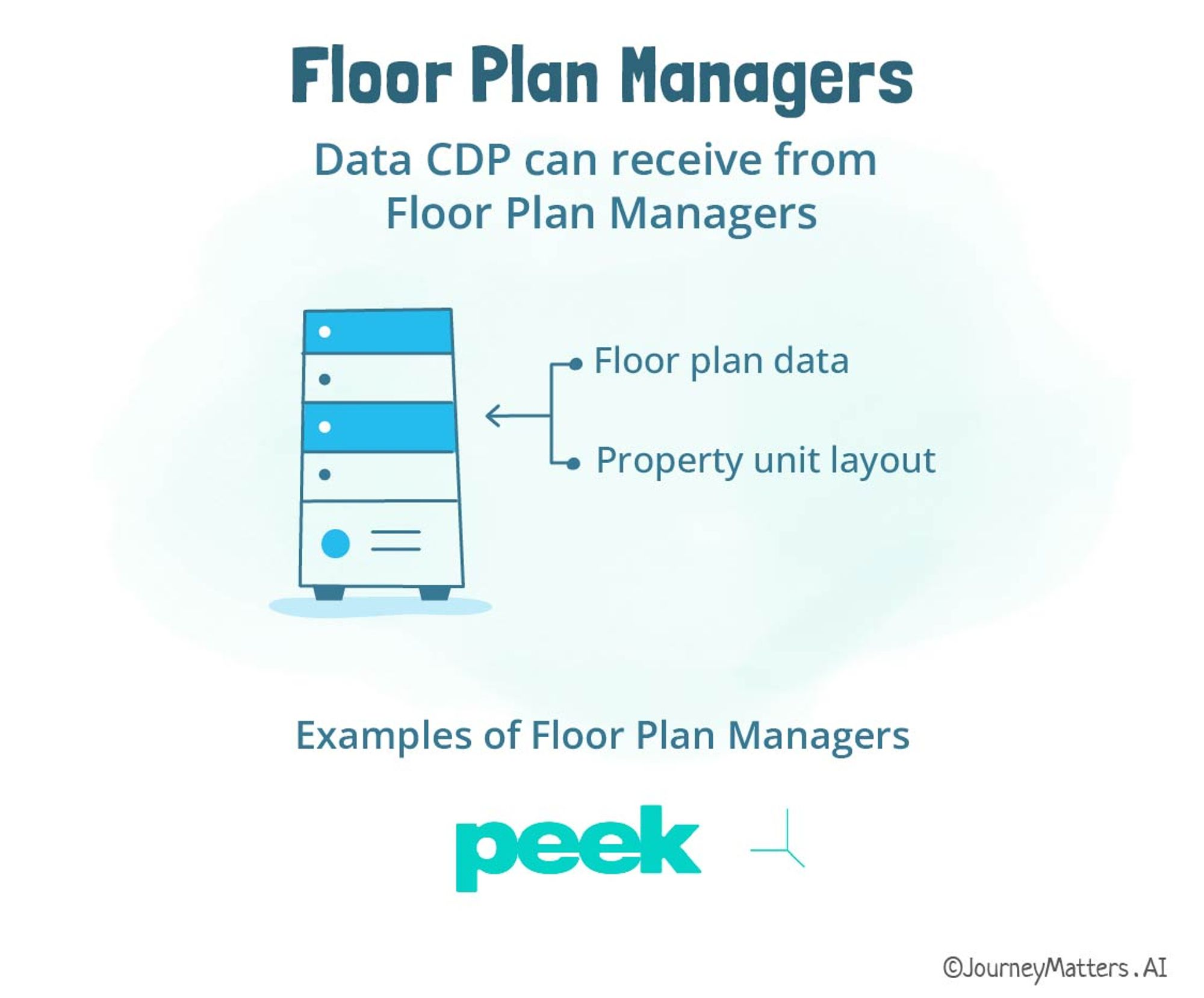 Hence, it feeds the CDP with floor plan data and the property unit layouts.
CDP processes this data to:
Identify preferred floor plans
Create personalized marketing campaigns
Peek is an example of a floor manager.
Endnote
Feeding the right data into a CDP can help multifamily to gain a better understanding of their current and potential prospects, and improve and personalize their marketing efforts.
In the coming posts, we will talk about how CDP solves the third-party data problem. We will also talk about the data activation problem and the systems that a Multifamily CDP can feed into.
Whether you have switched to multifamily CDP recently or are considering moving to one, we would love to hear your concerns, problems, or success stories.
Resources
For multifamily, is it finally time to put data on the balance sheet? -Forbes article by Dave Marcinkowski, Founder, Madera Residential and Quext.