The World of Multifamily: Introduction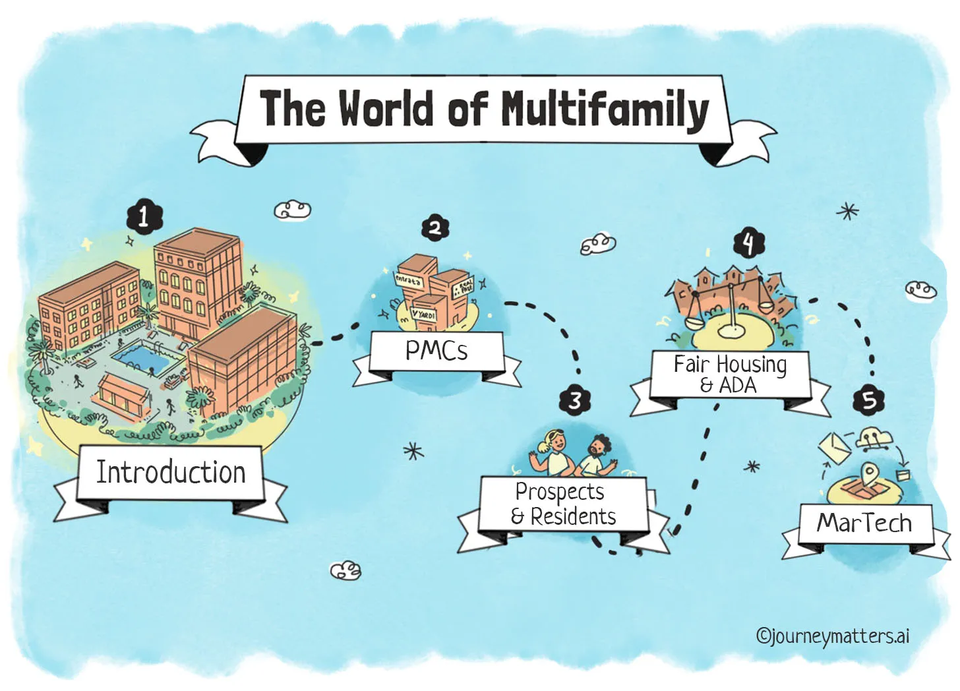 Summary
As a marketer in the multifamily industry, it's difficult to find all the basic industry knowledge in one place.
To solve this problem, we have created a five-part guide to introduce you to the basics of multifamily:
The World of Multifamily - Introduction (THE CURRENT LESSON)
The World of Multifamily - Property Management Companies
The World of Multifamily - Prospects & Residents
The World of Multifamily - Fair Housing & ADA
The World of Multifamily - MarTech
Let's dive into the first lesson! We'll answer the following questions in this lesson:
What is multifamily?
What are the important multifamily asset classes?
Which are the leading PMCs, PMSes and ILSes?
What are some multifamily organizations you should be aware of?
---
What is multifamily?
We have all, at some point, dreamt about living in one of those apartment buildings from "Friends," "HIMYM," or "The Big Bang Theory." These buildings where your favorite characters from these shows spent most of their time are called 'multifamily.'
But there's more to it than meets the eye. So, let's understand it better.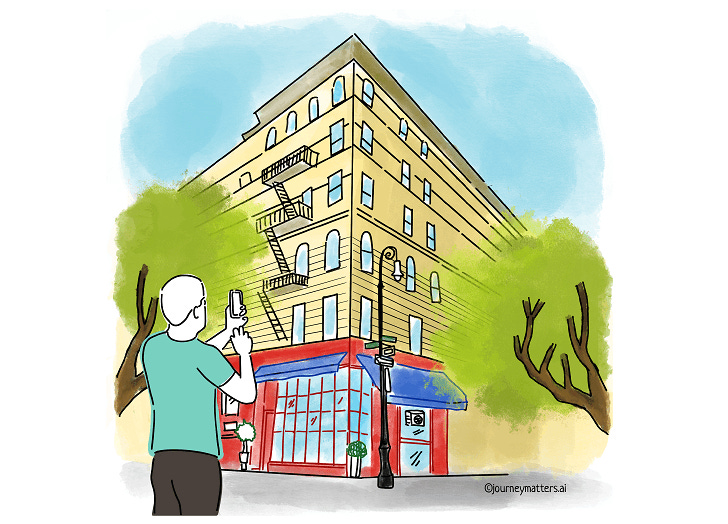 Multifamily is a classification of rental housing where multiple housing units are contained within one building or several buildings within one complex. They are called so because they are designed for more than one family. Each unit in a multi-family home is rented separately, with its own address, kitchen, and bathrooms.
What are the multifamily apartment asset classes?
Multifamily has a variety of property classes depending on the property's age, location, condition, and amenities. This classification helps understand the current state of a property. Here is how they differ from each other: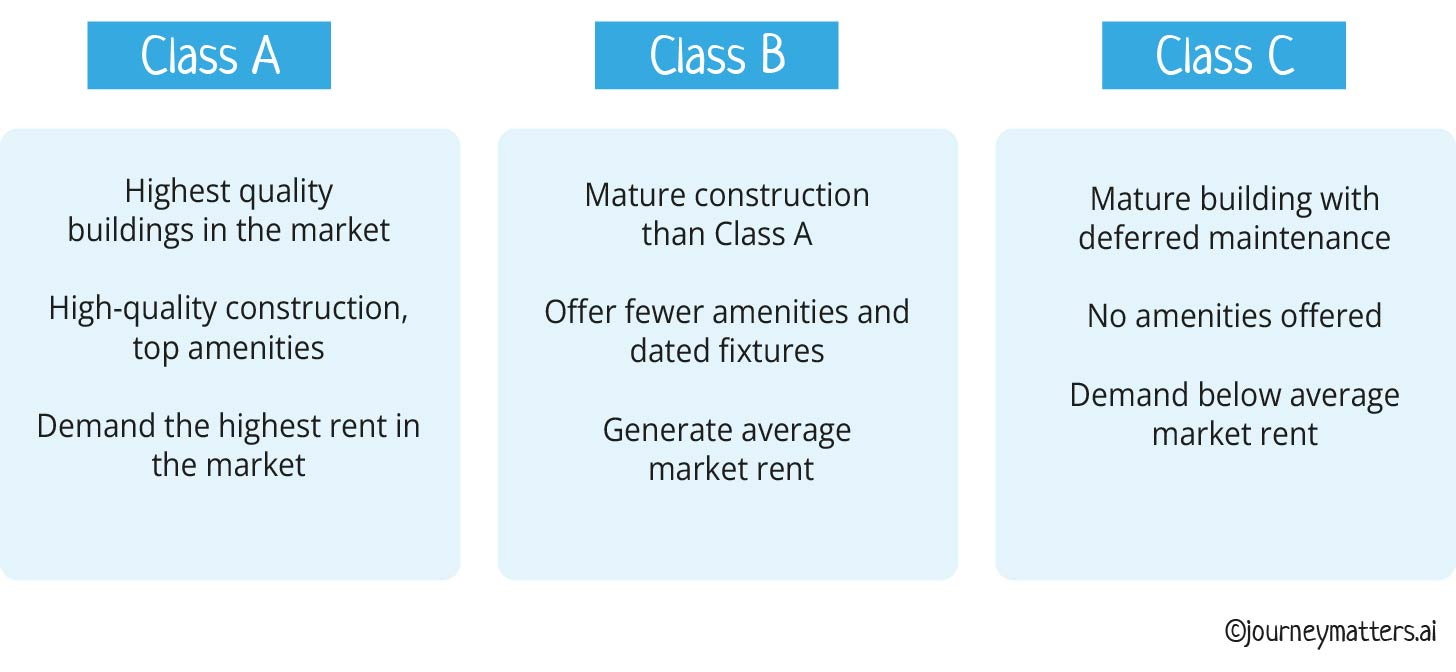 Multifamily buildings are usually classified by their location and architectural style. There are three primary categories, namely Garden, Mid-rise, and High-rise.
Let's take a closer look at each one of them.
1. High-rise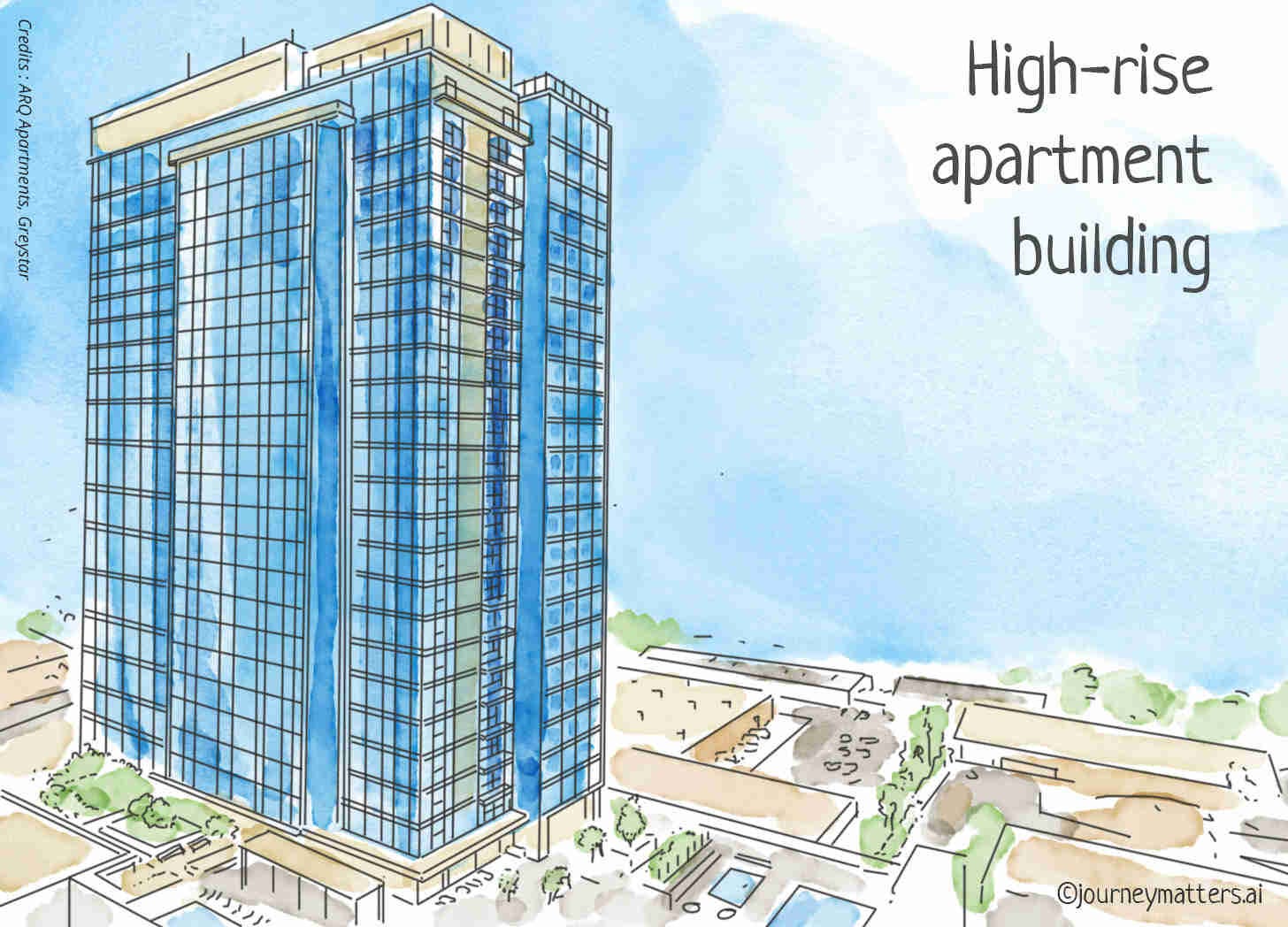 A high-rise apartment building is a multi-story residential building, typically ten stories or more. They are also known as tower blocks or skyscrapers. If you are a fan of skylines, high-rise buildings will give you the best views.
Apart from the views, high-rises often provide furnished units. The amenities in the high-rise are its major attractions, such as a sky terrace. Most luxury high-rise buildings provide round-the-clock concierge services. They also have built-in security systems to ensure maximum comfort and exclusivity.
2. Mid-rise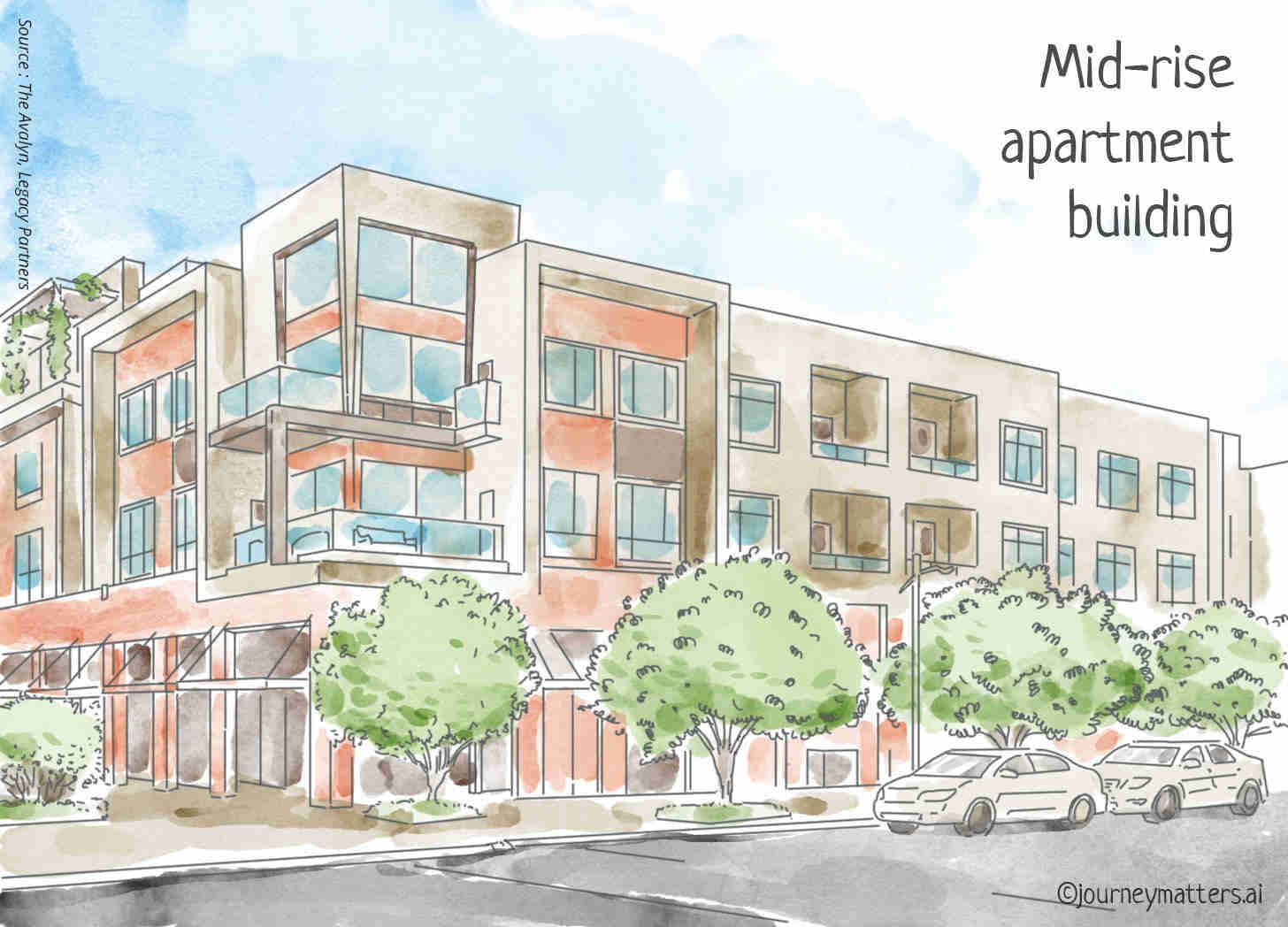 Mid-rise apartment buildings generally have six to eight floors and are equipped with an elevator. They are typically located in metropolitan areas where acreage is expensive.
They combine the best of high-rise and garden-style apartments. Their fewer floors give more privacy and less crowded elevators. They also feature central courtyards, swimming pools, and individual balconies.
3. Garden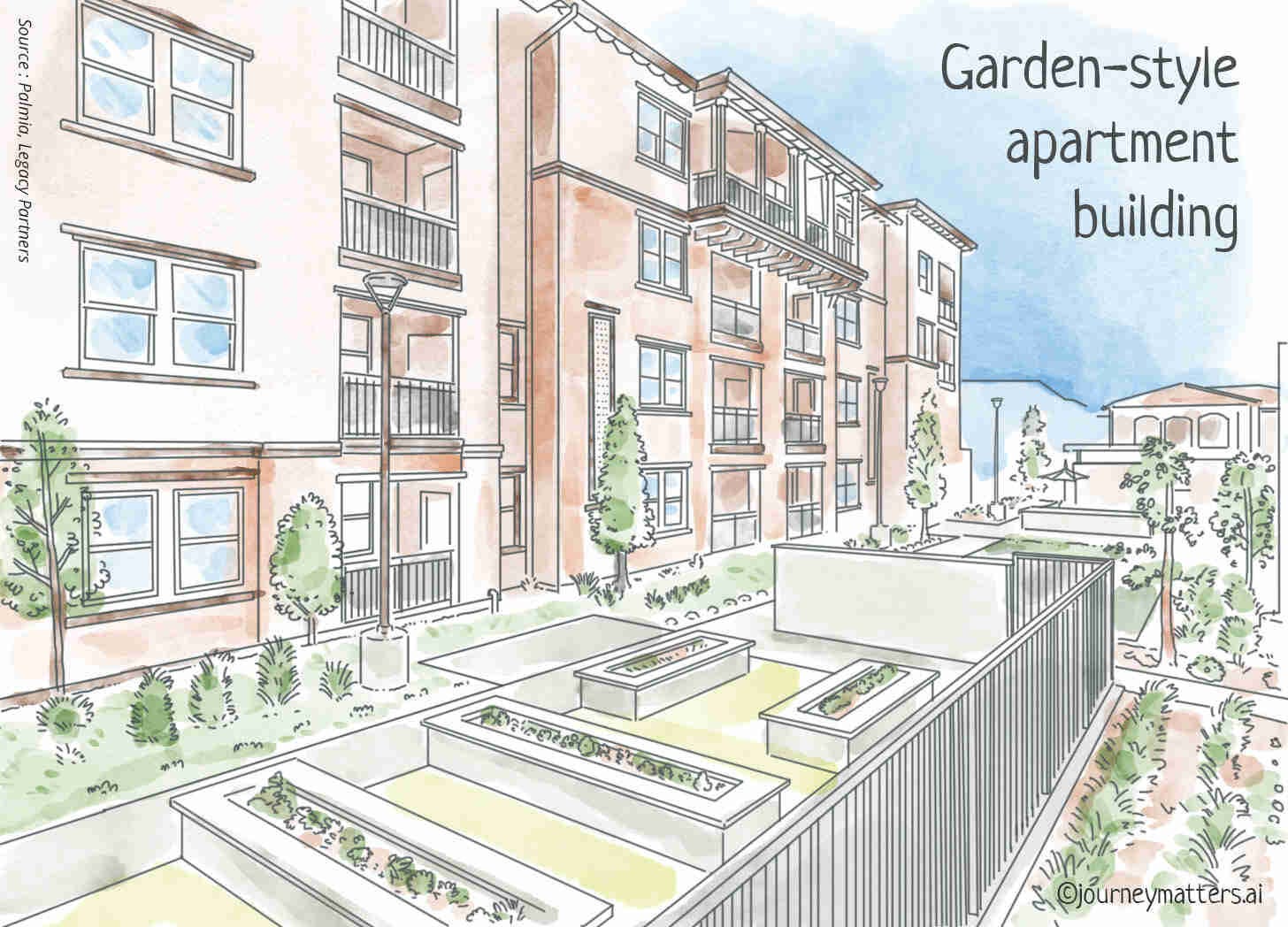 Also called a low-rise apartment complex is typically two or three floors high, with a small, landscaped area in front. Mainly found in suburban or rural settings, either in residential neighborhoods or close to main roads. Their rent is typically lower than that of a similar apartment in a metropolitan area.
They offer onsite parking, which is easier than searching for a parking place down the block. Most garden-style buildings are generally spread out, providing more privacy.
Which are the leading Property Management Companies (PMCs) in multifamily?
While there are many property management companies, here are some names you should be aware of.
Leading PMCs based on NMHC Top 50:
Leading PMCs based on their online reputation ranked by J Turner's ORA Power Ranking:
What is a Property Management System (PMS)?
PMS stands for Property Management System. It is a software application for commercial and residential property operations. It is used by property managers and owners to facilitate building operations.
Some of the leading PMS providers are Yardi, Realpage, Entrata, Appfolio, and MRI.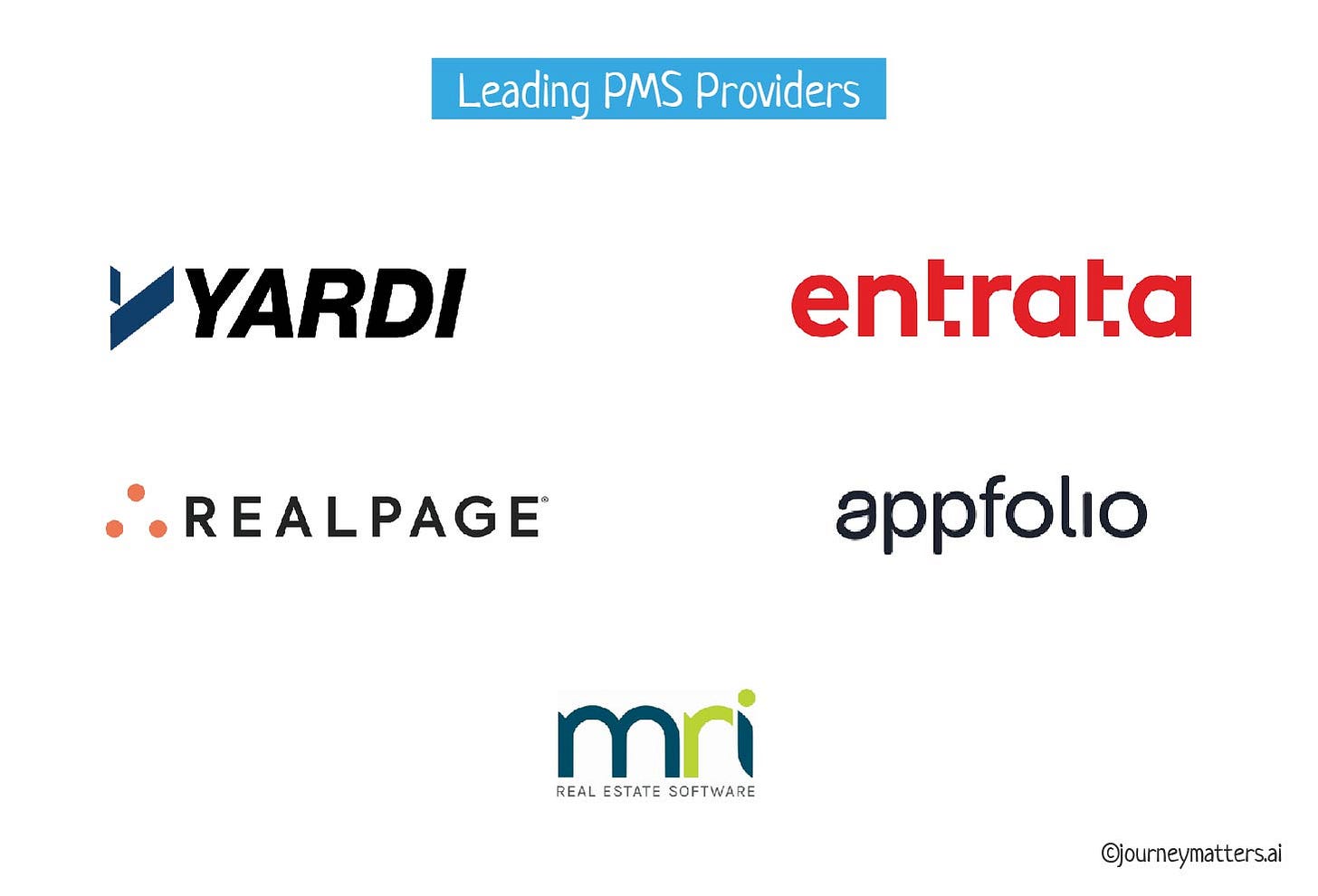 What is an Internet Listing Service (ILS)?
ILS refers to Internet Listing Service. Renters use ILS' to research what's available in their desired market. They are an excellent way to reach out to potential residents in your area.
Some of the leading ILS' are Apartments.com, Zillow, Rent. , Zumper, and Apartmentlist.com.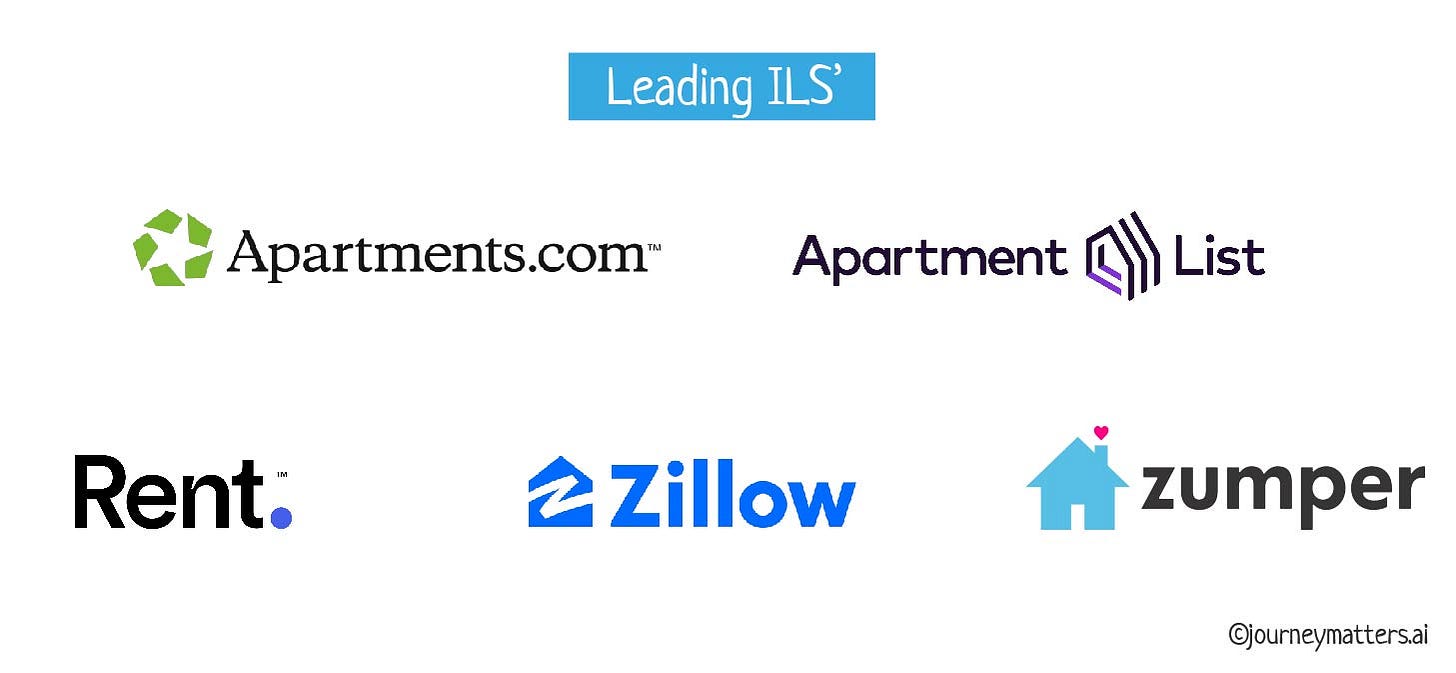 What are some multifamily organizations you should be aware of?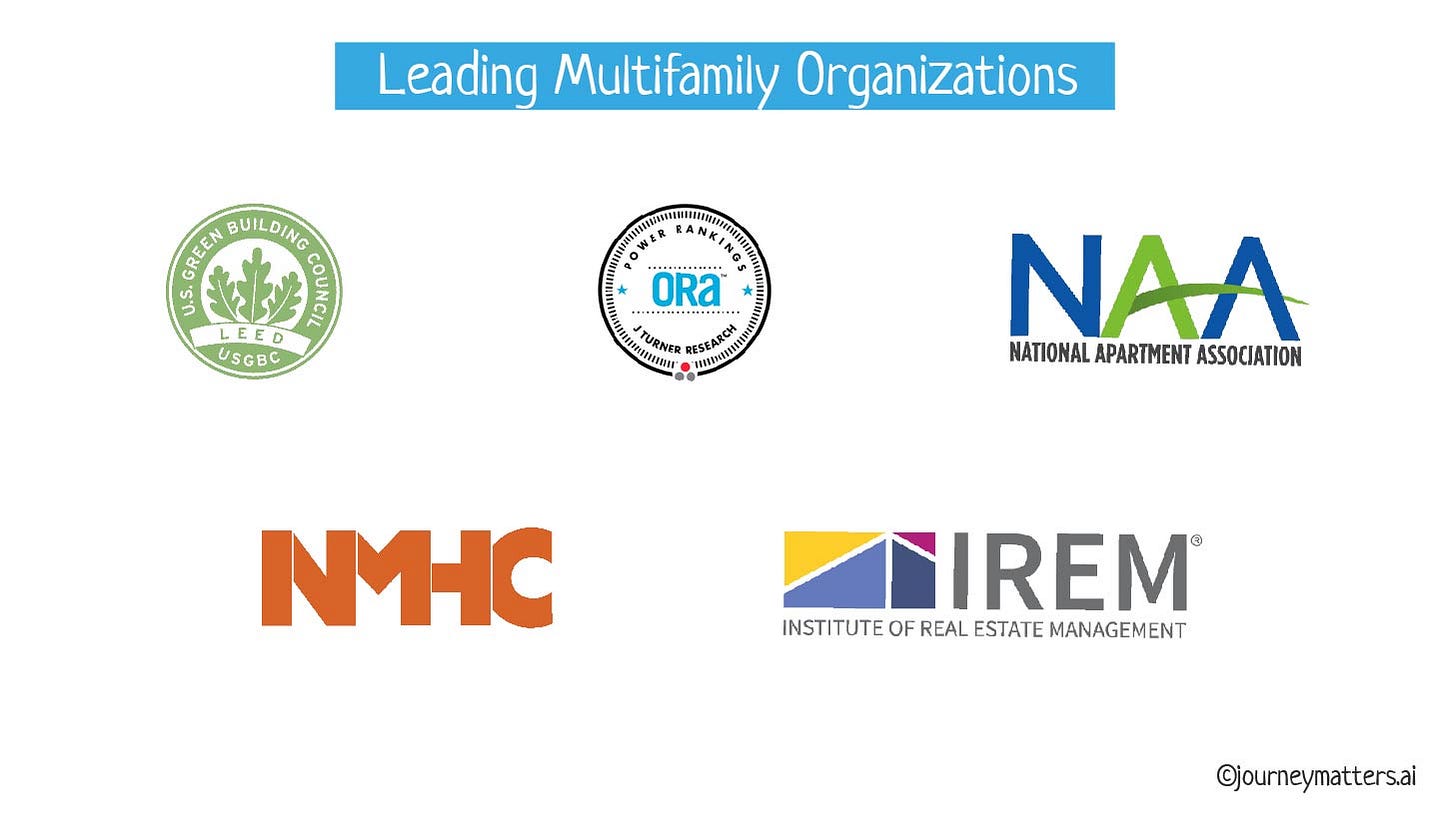 A) NAA - National Apartment Association
The National Apartment Association (NAA) is an industry trade group association for those who work in the apartment industry, including apartment owners and service providers. NAA also organizes many conferences that bring the industry's top thought leaders, trendspotters, and peers for learning sessions and collaboration.
B) NMHC - National Multifamily Housing Council
NHMC brings together the leaders of multifamily - prominent owners, managers, and developers. It provides a platform for insight, advocacy, and action, enabling members and the communities they help build to thrive.
C) IREM - Institute of Real Estate Management
The Institute of Real Estate Management is a global community of real estate professionals dedicated to advancing the profession of real estate management through education and information sharing.
D) LEED - Leadership in Energy and Environmental Design
LEED is a widely used rating system for sustainable and "green" buildings. The LEED certification is administered by U.S. Green Building Council (USGBC), demonstrating how sustainable, efficient, carbon, and cost-saving a building is.
E) J Turner ORA™ - Online Reputation Assessment
This is a trusted standard to measure and benchmark a property's online reputation published by Houston-based J Turner Research. They aggregate the ratings of properties across various review sites and rate them monthly.
Conclusion
You may be new to the multifamily industry. But you can rely on us to make you a multifamily insider. As you take on this journey, learn and upskill continuously, you'll soon be a multifamily leader guiding the next batch of new entrants.
---
Want to get this series directly in your inbox? Subscribe to Journey Matters below.
---
Time for some feedback. Did we miss an important lesson? Did we mess up on a concept? Help us improve these lessons so everyone in multifamily can benefit.