The World of Multifamily : PMCs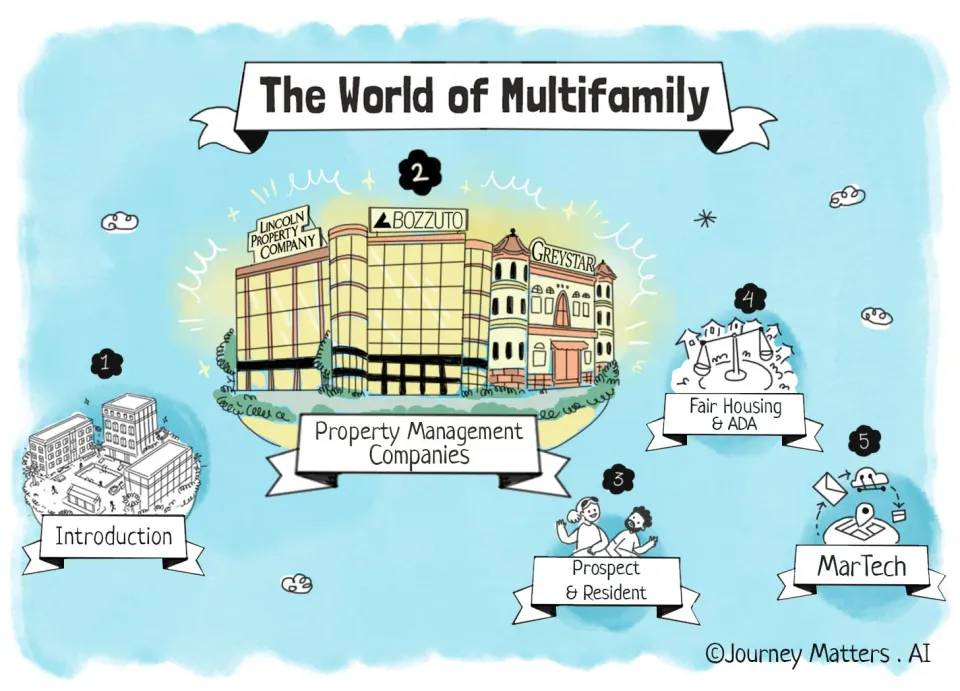 Lesson 2 : Property Management Companies
Summary
Two key players drive the world of multifamily: Owners and Managers.
Owners need a hands-on approach to managing communities across their portfolio of properties. To meet their requirements, they hire property management companies (PMCs). In return, these PMCs build long-term strategies and create value for the owners.
Come with us as we explore the world of property management companies and answer the following questions:
What is the difference between self-management and third-party management?
What do property management companies do?
What is property management, in the words of the top players?
What services do property management companies offer?
How are property management companies organized?
Subscribe to Journey Matters and get this series in your inbox!
---
What is the difference between self-management and third-party management?
An ownership group can choose to manage their properties or hire a third party to do so. The first is called "Self-management" or "Owner-managed," and the second is called "Third-Party Management" or "Fee-managed."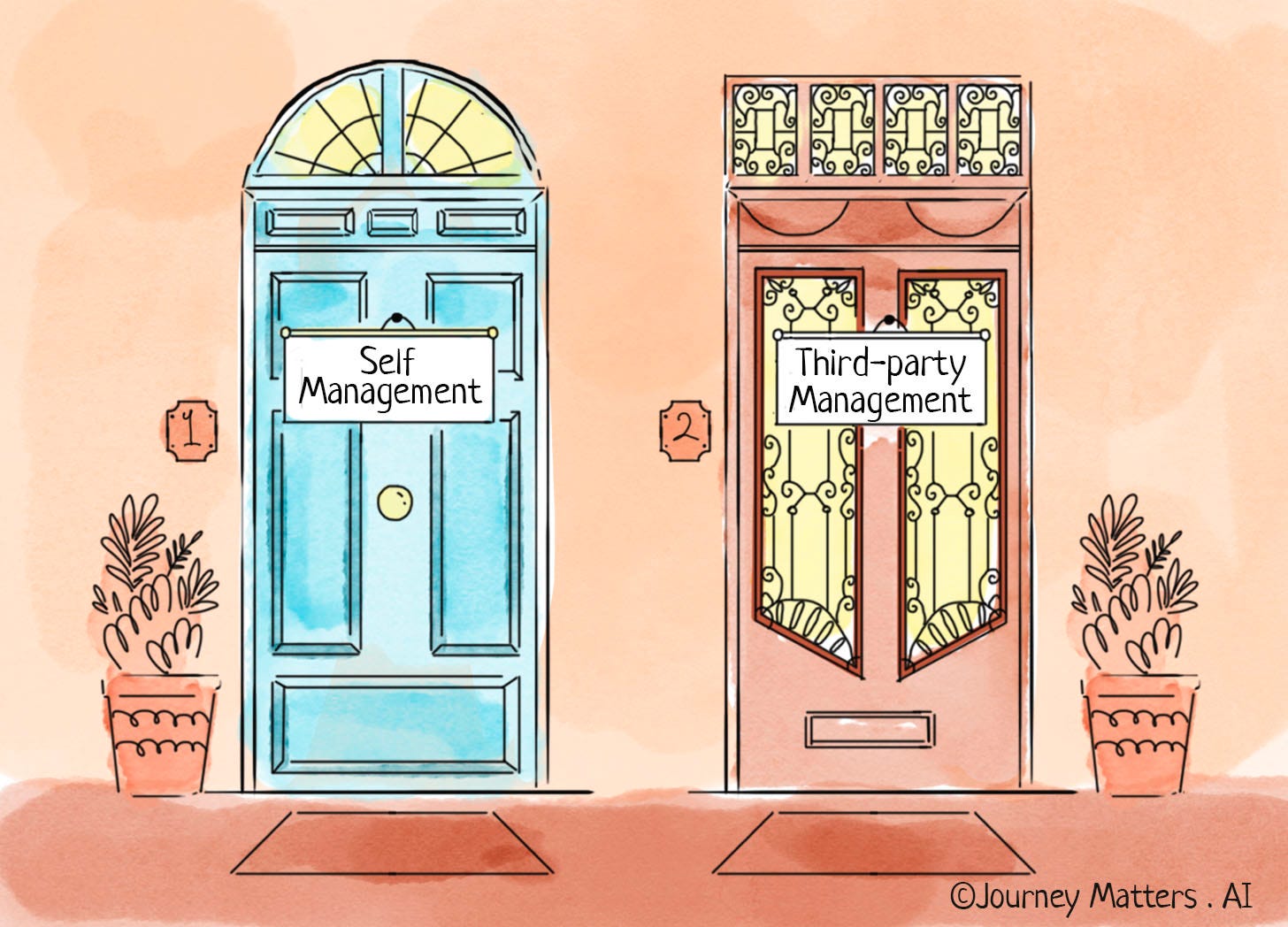 Self-Management or Owner Managed
The owners own and manage the property operations.
Self-management takes more time, but it also ensures that the investor has complete control.
The owners gain valuable experiences every day and build closer relationships with residents.
Third-party Management or Fee Managed
The owners hire a third-party management company to manage their portfolios.
The third-party PMC's fee is typically a percentage of the gross revenue.
Owners can scale their portfolios quickly and profitably through proven strategies and standardized operations.
This is a mutually beneficial partnership where PMCs get fees to manage the property while providing value to the owners.
There are two kinds of PMCs: a 100% third-party manager (who only manages the property portfolios) and others who are both owners and managers.
PMCs that are 100% fee-managed do not own any properties of their own. One such PMC is FPI Management. On the other hand, PMCs like Greystar Real Estate Partners, Bozzuto, and Lincoln Property Company are both owners and managers. They own and manage their own property portfolio while also being hired as third-party managers for other owners' portfolios.
The NMHC Top 50 together manage 4,157,303 units across the US.
What do property management companies do?
As we said earlier, multifamily ownership groups hire PMCs who create value for the residents and clients. But their primary duty is to position the assets to achieve maximum return on investment. PMCs' yearly business goals and strategies may change and evolve, but there is one perpetual goal. It is to keep the value of these assets high.
To achieve this, PMCs need to keep the NOI (Net Operating Income) high. The higher the NOI, the more valuable a property is. PMCs gather, analyze, and interpret current market trends and implement marketing and leasing strategies to achieve this goal.
What is property management, in the words of the top players?
Each PMC works towards its specific goals through its tailor-made strategies. However, one thing common among all top-performing PMCs is their passion and commitment to building neighborhoods that people are proud to call home.
Let's get to know more about property management and PMCs in their own words:
"An apartment community cannot fulfill its full potential with only beautiful architecture, amenities, and unit design, but must also deliver outstanding service provided by an on-site team who shows concern for residents and strives for perfection every day."

- Heather Wallace, Managing Director, Client Services, Bozzuto Management Company.
"We work with each client to tailor a comprehensive management plan to fit the goals of each asset. Because we think like an owner, we clearly understand that attention to every detail is essential to preserving capital and maximizing value."

- Lincoln Property Company
"Delivering exceptional resident experiences requires that care be taken, and attention be paid to each property at all times and throughout every stage of its lifecycle."

- Toll Brothers Apartment Living
You can see how these PMCs are driven by the same goal of satisfying the owners' needs while paying attention to every detail and delivering exceptional resident experiences.
Let's take a look at some of the common services they offer.
What services do property management companies offer?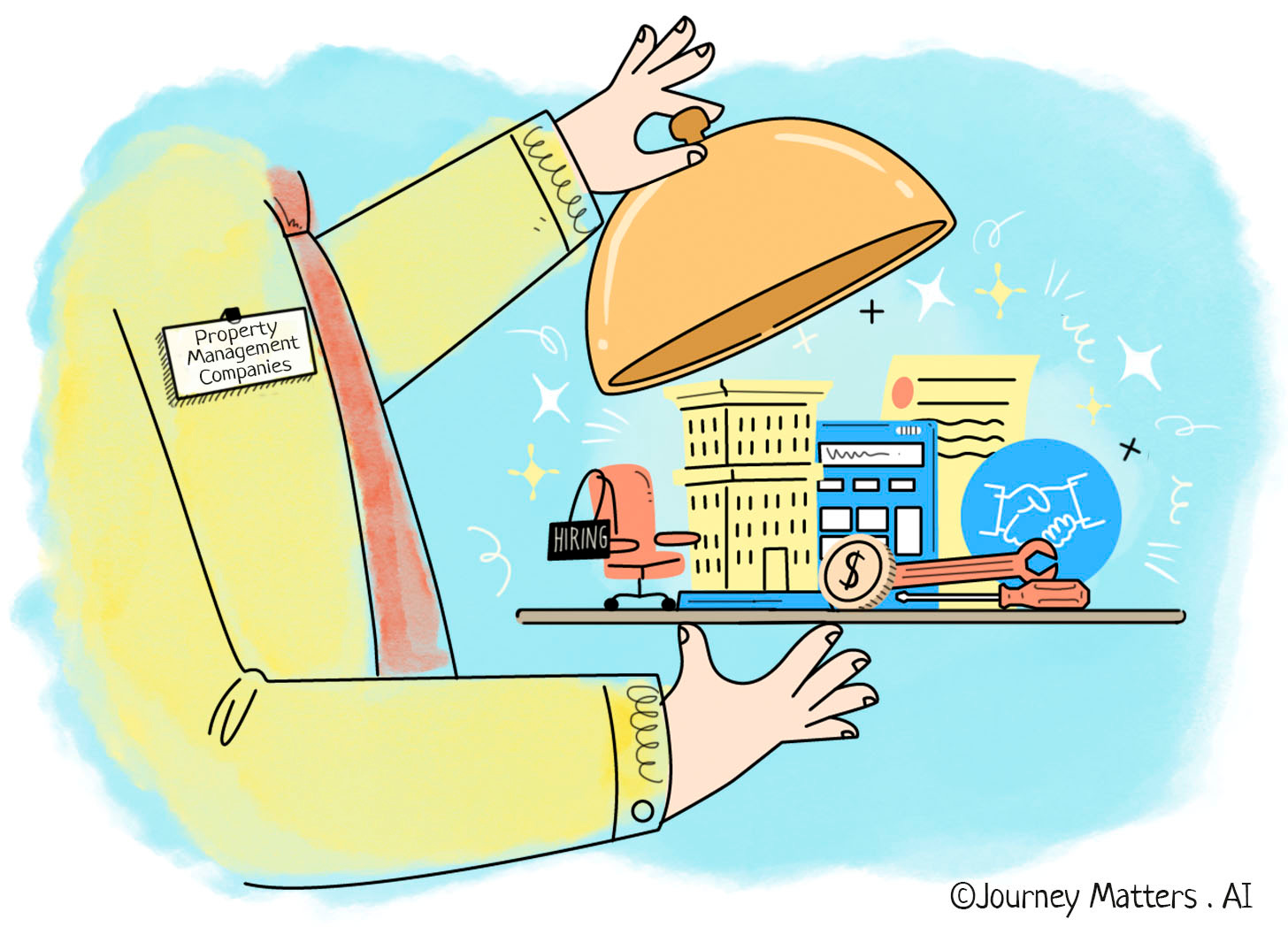 PMCs offer a number of strategic services across their portfolio. Here are some of the common ones:
1. Residential Leasing and Management
Lease up and due diligence for newly built or acquired assets.
Community management, including rent structures, lead tracking, and staffing.
Streamlined operations services to preserve and enhance the asset.
Resident relationship and retention efforts with reputation management.
2. Customized Marketing Solutions
Leasing marketing automation.
Branding & Community Marketing.
Automated Leasing.
Generating prospect and resident experiences.
3. Financial Services
Tracking property's finances and planning future spending.
Custom accounting reporting & internal audit reviews.
Choosing competitive rent prices based on market research.
4. Compliance and Risk Assessment
Developing comprehensive analysis and testing strategies.
Compliance with federal and local fair housing laws.
Evaluating property and operations hazards
Conducting property audits and inspections
5. Business Intelligence Solutions
Ensuring consistency in operations of properties.
Identifying market risk and opportunity.
Toolkits to provide delightful resident experiences.
Insights into performance across the portfolio.
How are property management companies organized?
A management team comprises specialists in each area of property management to ensure that all aspects of the investment are constantly being taken care of. They manage workloads and provide good customer service with the support of a great team structure. The teams are divided at corporate and onsite levels.
The corporate team consists of leaders, executives, and managers that are in charge of the finance, operations, and marketing across all properties in the PMC. They design actionable strategies and oversee their execution at the corporate level.
Here are the different roles within the corporate team: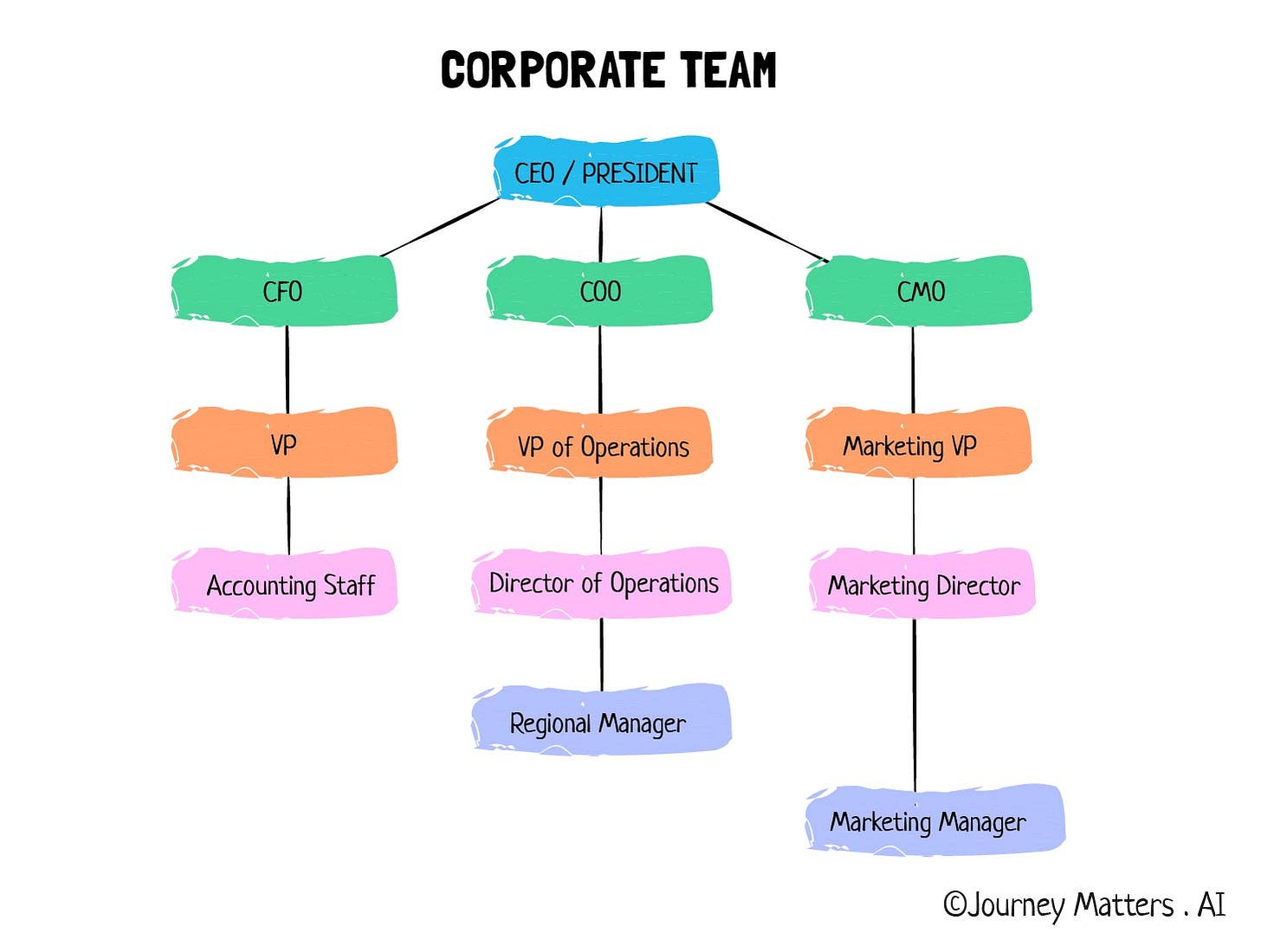 The onsite team operates at the property level. They are responsible for converting leads to leases, ensuring that the residents are satisfied, and maintaining the building. They are the ones who make sure that the strategies of the corporate team are executed.
Here are the different roles within the onsite team: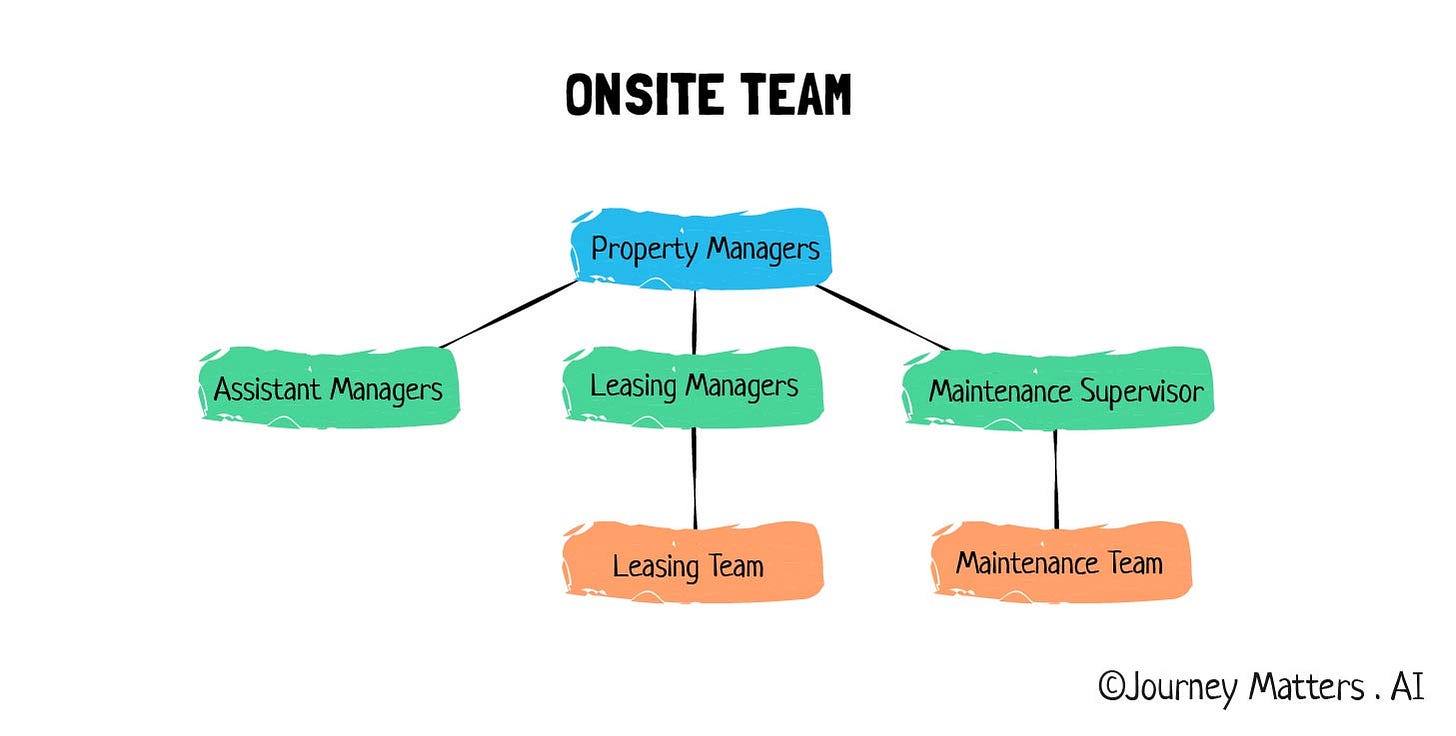 We'll talk more about the roles and responsibilities of these teams in upcoming articles focusing on PMCs.
Conclusion
We hope that by this point, it is evident how property management companies create value for their owners. Stay with us on this journey to dive into the world of PMCs and all its moving parts in our future articles.
Our next lesson will have fun interactions with our very own multifamily characters. We promise not to make you wait much longer to meet them.
Got your hands on the first lesson of this series yet? Find it here.
Time for some feedback. Did we miss an important lesson? Did we mess up on a concept? Help us improve these lessons so everyone in multifamily can benefit.