The World of Multifamily : Prospect & Residents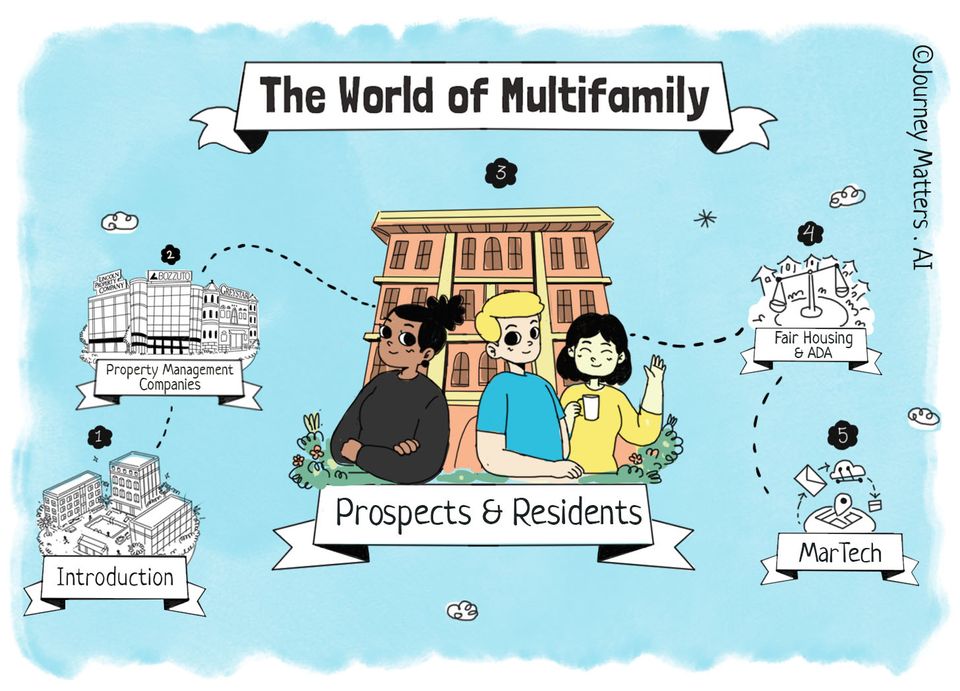 Lesson 3: Prospects and Residents
Summary
At some point in our lives, we have all been a prospect or a resident. But as multifamily marketers, we need to understand their needs to serve them best.
Come with us as we explore the world of prospects and residents and answer the following questions about them and their journeys:
Who are the prospects and residents?
What do prospect and resident journeys look like?
How can agents nurture prospects?
How can onsite teams keep residents happy?
---
Who is a prospect?
In multifamily, a 'Prospect' is a probable renter of an apartment home.
A prospect is not just looking for an apartment to rent but a home where they will live. Today, prospects spend a lot of time gathering information. They want to know more than just room dimensions and layouts. Before even considering a visit, they not only want to see what the apartment looks like but also the community and what it has to offer.
Reasons for prospects to move
Let's consider Erica's story (a prospect), who is recently promoted to marketing director. Why is she changing apartments? With added responsibilities on her shoulder, she needs to save time traveling to her office daily. She is looking for an apartment near her office.
There are other reasons prospects decide to move. They may require an extra bedroom for their growing family. They may have physical impairments that make getting to their apartment on the third floor difficult, or they may be tired of the noise from upstairs neighbors. As you see, housing needs can quickly change due to life's twists and turns.
What does the prospect journey look like?
The prospect's journey is not a straight line because each person is unique. They all have different sets of preferences and expectations.
Going back to Erica, her preferences are a ground-floor apartment, a gym, and a dog park for "Max." The key here is to understand her personal preferences.
Let's take a closer look at the prospect's journey.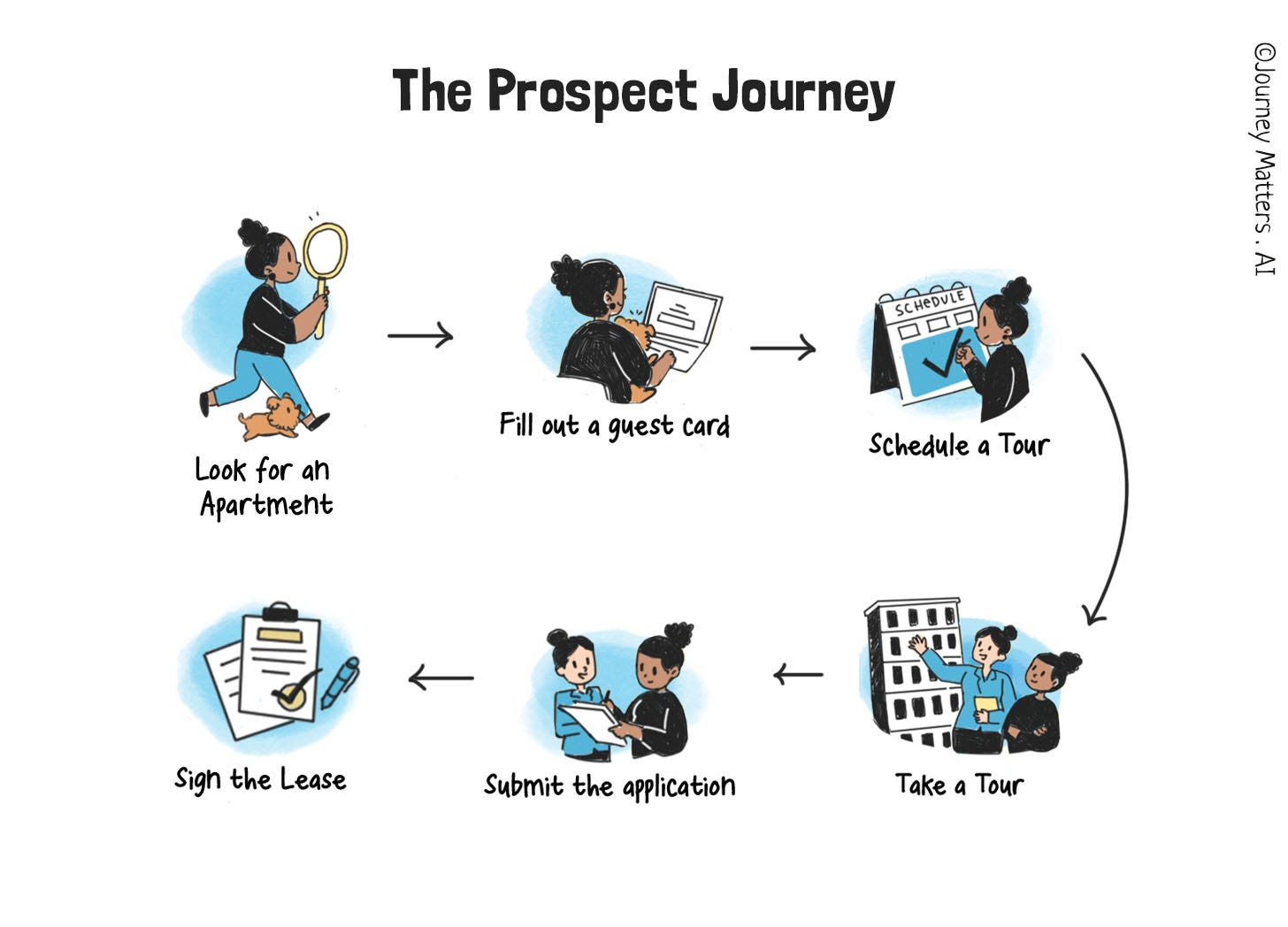 We can break the prospect journey into six parts:
1. Look for an apartment
There are various channels through which a prospect searches for their desired property:
Google Search
Paid Advertisement (SEM, SMM)
Google My Business
Social Media Platforms
Word of Mouth or Referrals
Realtors
2. Fill out a guest card
Once the prospect finds a suitable apartment, they usually fill out an inquiry form, better known as a guest card. It has basic information about the prospect and their preferences. As soon as a guest card is created in the property's CRM, the prospect nurturing process begins.
3. Schedule a tour
Before scheduling a tour, a prospect looks at the apartment's features, the property's amenities, and what the neighborhood entails. They shortlist a few properties and schedule tours for each of them.
4. Take a tour
The prospects take a tour of all the properties they have shortlisted. They make a decision based on what they see and how well it meets their expectations.
5. Submit the application
Once the prospect is convinced, they submit a formal application and documents like proof of income. They must then undergo a screening process that involves background, credit, and criminal checks. This process can take up to 48 hours.
6. Sign the lease
This is the final step to becoming a resident. Once the application process is completed, everyone living in the apartment, including a co-signer, will need to sign the lease. The duration of the lease is usually a year. Once the lease is signed, they can begin moving into the new home.
How can agents nurture prospects?
One of the significant roles of the agents is to attract active prospects and engage with them. Their primary goal is to get prospects to sign a lease.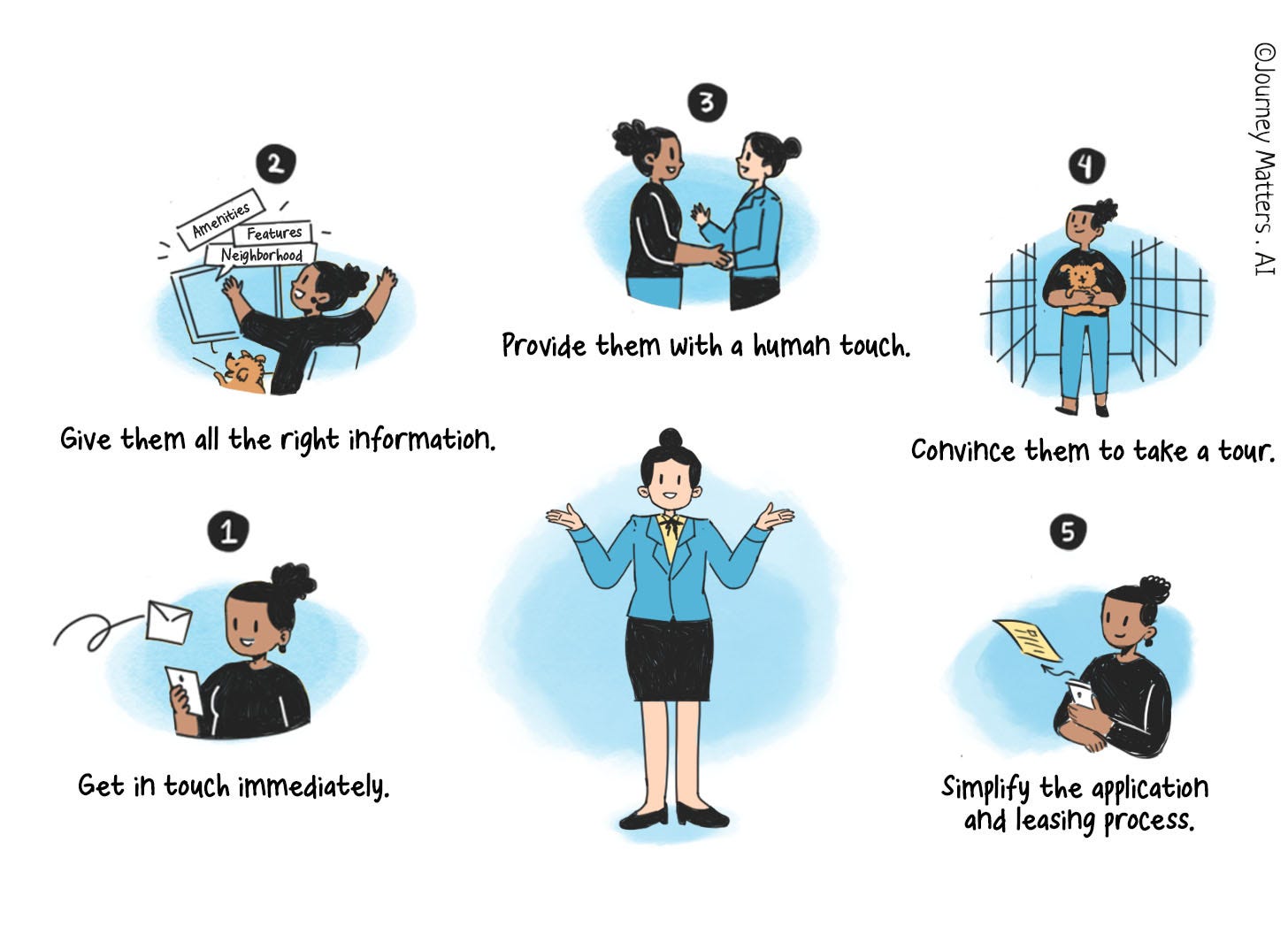 They must nurture the prospect through all the touchpoints of the journey. Let's look at the touchpoints between each milestone of the prospect's journey:
1. From Guest Card to Schedule
As soon as a guest card enters the system, the leasing agent's goal is to make the prospect schedule a tour. They can do this by getting in touch immediately and giving all the relevant information about the property.
2. From Schedule to Tour
Once the prospect schedules a tour, the agent must ensure that they show up for the tour by sending them reminders. When the prospect comes in to take the tour, the leasing agent will tour them around the community and show them the model or the actual apartment they are willing to lease. Leasing agents try to personalize the tour as per the needs of the prospect.
If the prospect is a no-show, the agent must try to get them to reschedule.
3. From Tour to Application
After taking a tour, the prospect may apply for the apartment right at the office. In this case, the leasing agent gets them an application and informs them of the required documents and applicable fees.
If the prospect needs more time to think before they apply, the leasing agent will reach back out and convince them to fill out the application.
4. From Application to Lease
Once the prospect fills out the application, the agent will run it through the screening system to assess them. Once the prospect is approved, they are then sent a lease to sign.
Who are the Residents?
Once a prospect's application for a lease is approved and they decide to move in, they are referred to as 'Residents.' They can be a single person, a couple, a family of five, or even friends who lease together.
What does the resident journey look like?
Delighting the residents is more than providing fancy interiors and state-of-the-art architecture. They seek a sense of community and quick resolutions to their queries and requests. This must be given to them from the moment they decide to move in.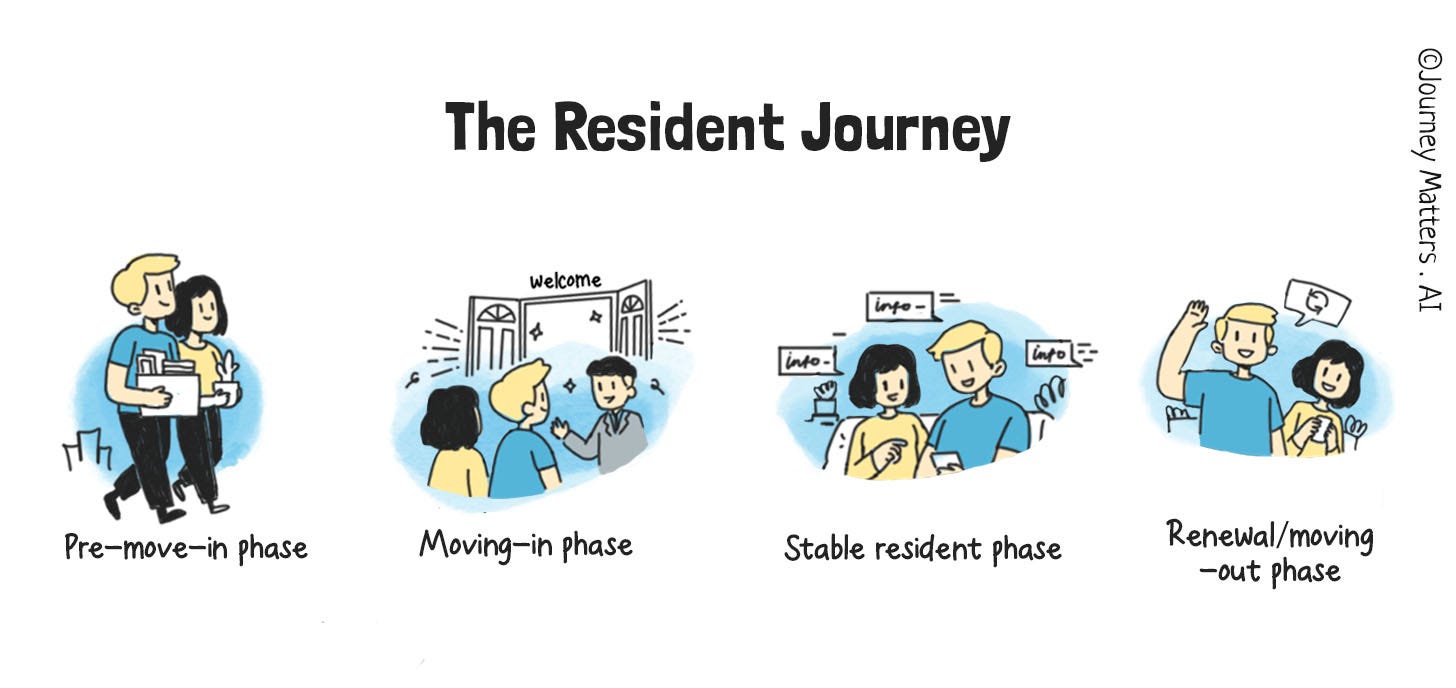 Let's break the resident's journey into major phases:
1. Pre-move-in
This is a big transition phase for a resident as they wind up their world from one place to another. They need to handle a lot of paperwork, make sure their things are moved carefully, and all the due payments are made.
2. Moving-in
Moving in is an overwhelming phase for the residents. After all, they are taking their whole life and putting it into boxes. They need a friendly guide to the new place to make their transition easier.
3. Stable
This is the phase that becomes a deciding factor at the renewal time. Was their communication with the property team meaningful and effective? Were their requests met on time? Did they feel a sense of community here? A bad experience during this phase makes them willing to move to another property, just like James and Linda.
4. Renewal
When the renewal time comes, the big question is will they renew or move out? This depends on their experience as a resident. If they are not satisfied, they will move to another property. But if they are happy and satisfied, they'll renew the lease and may also give referrals and positive reviews.
How can onsite teams keep residents happy?
The ultimate goal of the onsite team is to retain the residents and get renewals. Let's see how they can keep the residents happy through all the phases of their journey.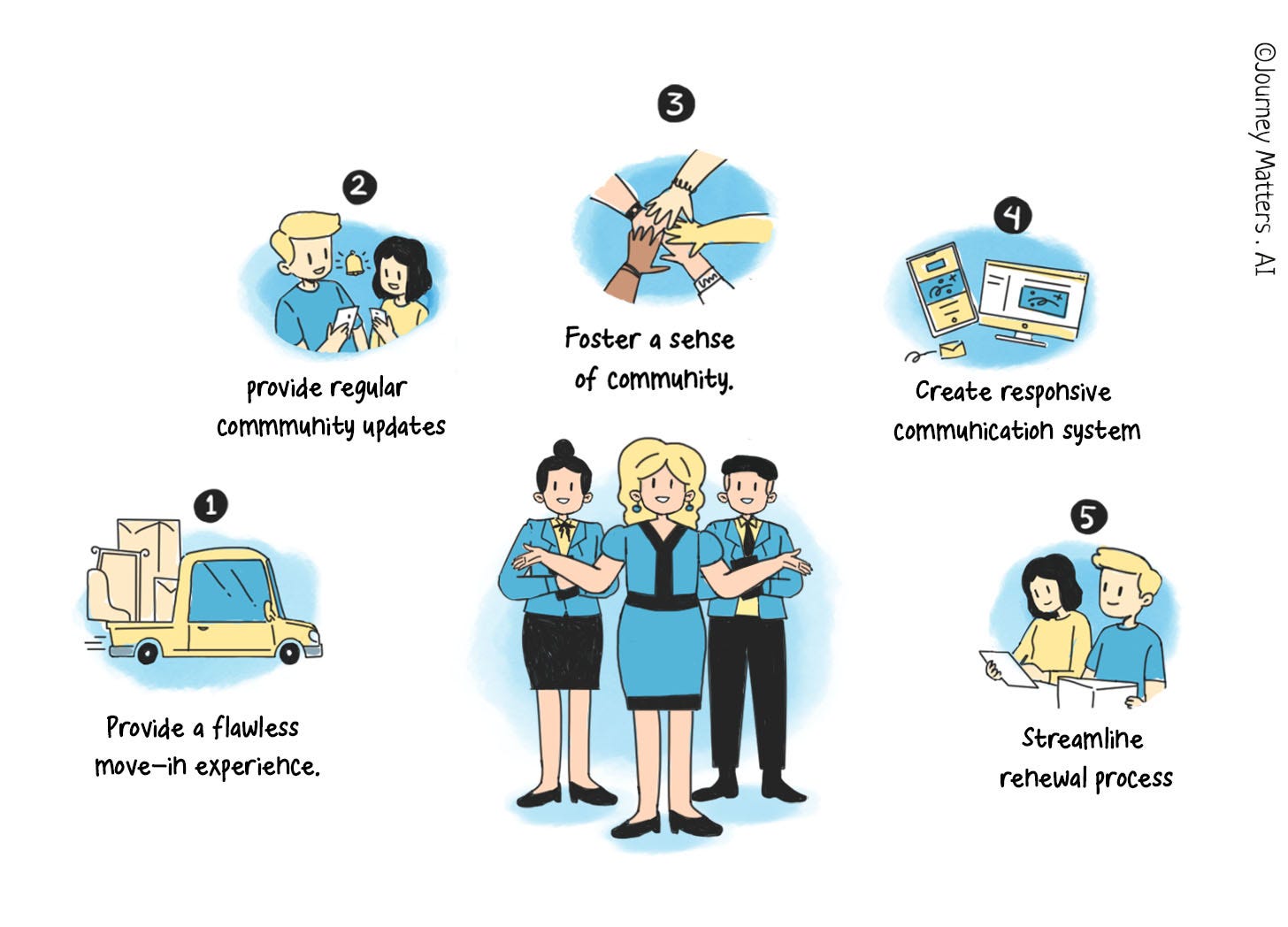 1. Pre-move-in
Moving is ranked1 among the top ten most stressful times in a person's life. The onsite staff needs to make every effort to make it as stress-free as they can. A pre-move-in checklist and breakdown of money owed the day of move-in, contact information for utilities, and renters insurance helps to make the move-in less overwhelming.
2. Move-in
As per Zego's report2, 17% of the residents choose to leave a community if the move-in process was not satisfactory. The onsite team must ensure that they create a smooth move-in experience for the residents. Immediately after moving in, residents should get a welcome home package from the onsite staff. This must include essential community info, such as scheduling a maintenance request, paying rent online, and amenity hours.
3. Stable
The next nine months are considered a stable phase for a resident. Zego's report lists the six reasons residents leave, out of which four (61%) are under the management team's control like communication & responsiveness (17%), unit maintenance (14%), onboarding (17%), and sense of community (13%). This means that the onsite staff must make sure the grounds are kept clean, queries are responded to within 24 hours, and initiatives are taken to foster a sense of community during the stable phase.
4. Renewal
The team needs to start reaching out for renewal at least 90 days before it's due. By this point, hopefully, the team has made sure they have done everything to make the resident happy so that they'll renew.
If they still decide to move out, the onsite team needs to create a smooth move-out experience for them.
Conclusion
As you see, prospects and residents are the core elements of multifamily. They must be nurtured at every touchpoint of their journey. Investing time and effort in satisfying them will result in renewals, referrals, and positive reviews.
Now that we know how much thought people put into their homes, we must also talk about how everyone deserves a home without discrimination. A home where they will be respected for who they are and feel secure in the community. Our next lesson will explore the world of "fair and affordable housing."
Have you read the previous parts of this series yet? Find them here:
Time for some feedback. Did we miss an important lesson? Did we mess up on a concept? Help us improve these lessons so everyone in multifamily can benefit.
2Zego - The 2022 state of resident experience management report