Multifamily Journeys are Broken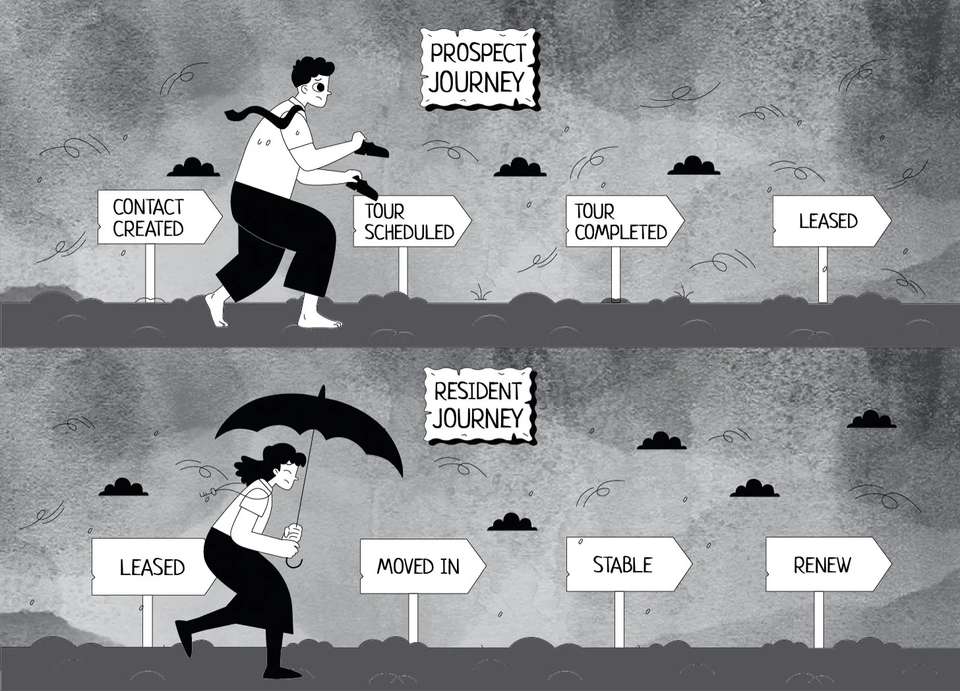 JourneyMatters.AI exists to grow the niche of those challenging the status quo and solve multifamily's toughest challenges
Summary
Multifamily journeys are broken. They manifest themselves in 3 ways: staffing issues, high lead generation costs, and low resident retention. Property Management Companies (PMCs) often strive to resolve problems by stacking disconnected technology. The result is patchy experiences for prospects, renters, staff, and ultimately revenue.
Journey Matters is a visual guide for challenging the status quo. It will give marketing leaders like you the complete roadmap to design delightful prospect and resident journeys. You will get insights on modernizing experiences using a Humans+AI approach and access to exclusive data, benchmarks, and insights into Journey KPIs.
---
Multifamily Journeys are Broken
Let's face it. Far more often than not, we see multifamily journeys filled with patchy experiences. Why? Most PMCs design experiences focused on milestones. Milestones are key transactions that renters complete within their journeys. For an average PMC, delivering these transactions means quick fixes for the obvious milestones without considering the overall renter journeys. This type of innovation is need-based, slow, and siloed, reflected in the most popular solutions - robotic chatbots, broken referral programs, and reactive reputation management programs.
For instance, meet Jamie, a chef at an Italian restaurant in New York. He is hunting for the perfect apartment home that complements his lifestyle. He picks specific neighborhoods and selects the top 5 communities that piqued his interest. He wants to choose the ideal location in the ideal community. He needs specific information before deciding which communities to tour, which communities to remove from his list, and which communities to revisit. Now you see how many micro-moments can occur between a renter's journey when they submit their deposit.
Most tech solutions available for PMCs fail to consider these micro-moments and miss the mark miserably. They end up laying down broken journeys for prospects, residents, and onsite teams resulting in the big three multifamily challenges.
The Big 3 Multifamily Challenges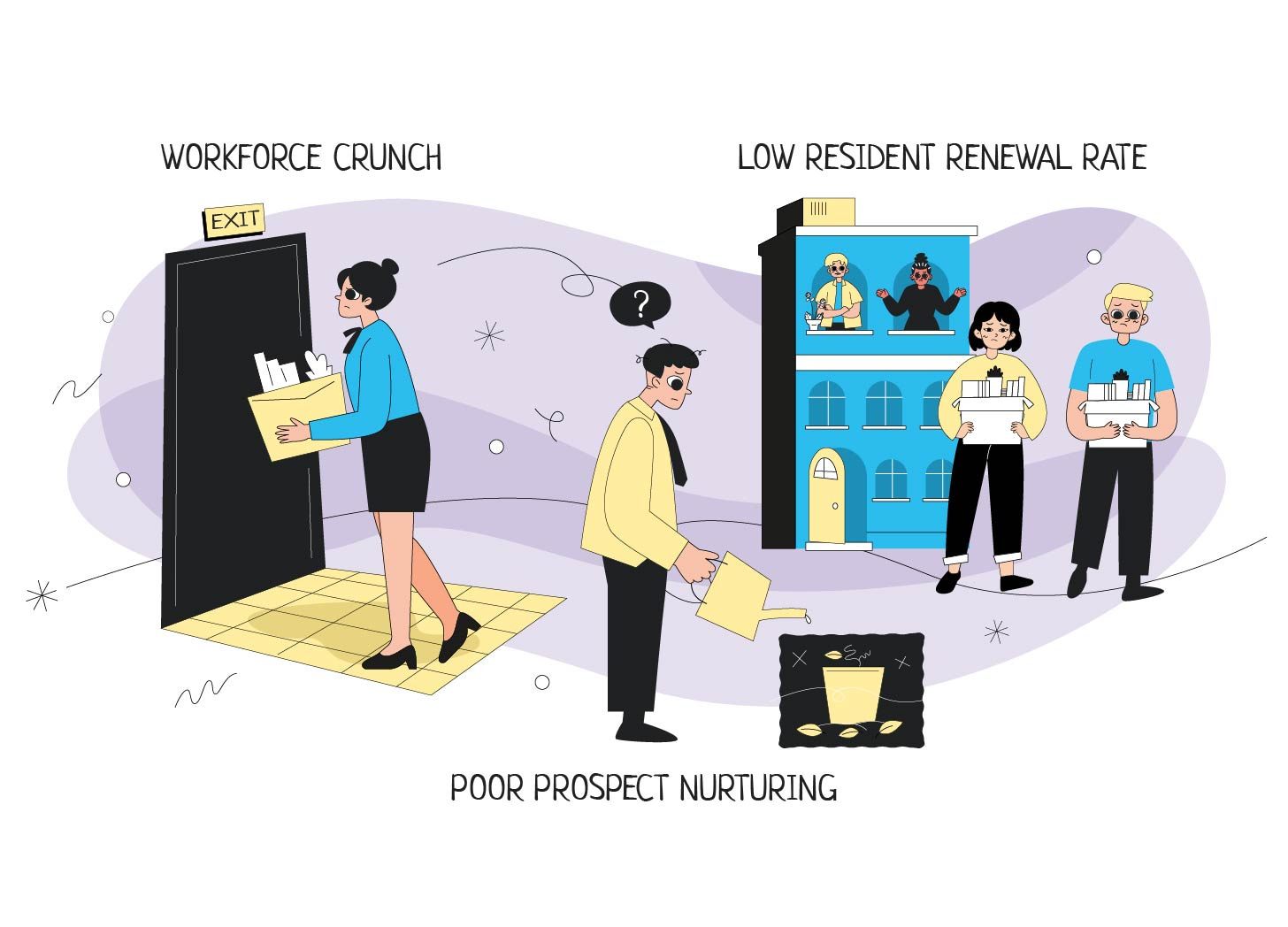 Most PMCs are fighting the trifecta of multifamily challenges - workforce crunch, high cost of lead generation, and low resident retention. Whatever your top challenge, it traces back to the broken nature of multifamily journeys. So let's unfold this story one challenge at a time.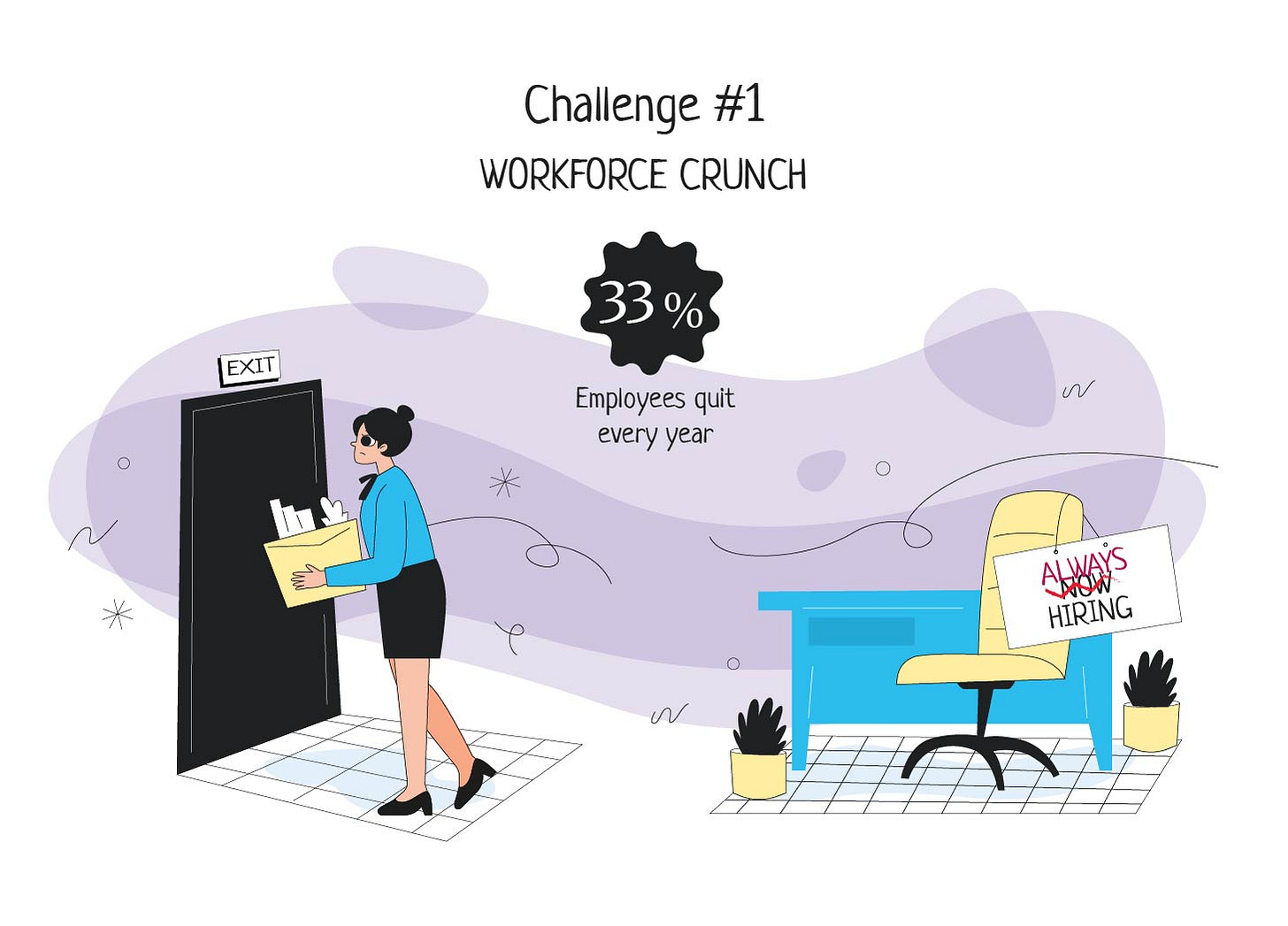 Challenge #1: Hiring, Training, and Retaining the Front-line
The MF industry has used essentially the same headcount per 100 units for 40 years. The number of requests employees receive with quick turnaround times, in a single day is ten-fold what it was before email.
Melanie French[1], Managing Principal at DLP Capital
Consider "Sharon" - the onsite agent dealing with advertising apartments, welcoming walk-ins, touring appointments, resolving maintenance issues, creating and managing resident events, addressing complaints, and much more. She is coping with enormous stress. Her company decided to add specific tech solutions to assist her. Multiple new systems to learn and monitor. Instead of a reduced workload, the task lists only get longer.
Corporate expects her to accomplish more in the same amount of time while they actively recruit. The harsh reality is that Sharon's amplified job responsibilities are unrealistic. The high-cost unnurtured leads and unhappy residents give her negative attention from her supervisors. The result? She ultimately quits for greener pastures.For every lost employee, PMCs overspend on getting new hires, with the cost of onboarding a new employee upwards of $4,000.[2]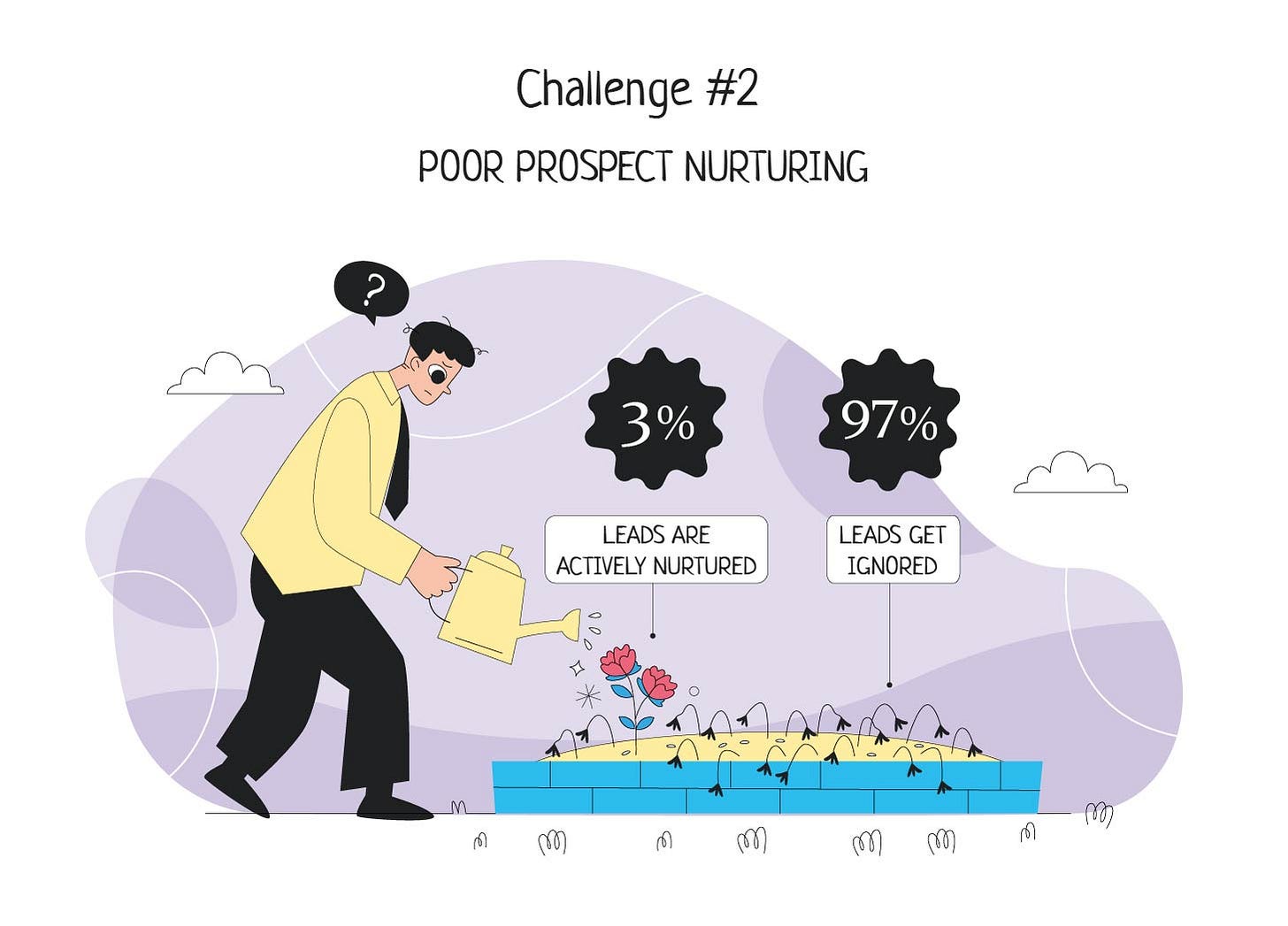 Challenge #2: Losing most of the high cost leads to poor nurturing
With occupancy at an all-time high, lead acquisition costs are also skyrocketing. Most PMCs spend $2,000 - $10,000 to acquire new leads through PPC ads, ILS listings, and referral programs. Most of them say they will continue with this high-cost lead acquisition strategy.[3] This is despite the poor follow-ups of 3% of all the heavy-on-pocket leads due to the workforce crunch (Challenge #1).
Also, the onsite teams remain unequipped and outnumbered to follow up with the volume of leads generated by marketing departments. 97% of leads are marked dead by onsite teams with minimal outreach with poor support from martech tools. Without an appropriate and timely response, renters break away from the path to your community and choose another property.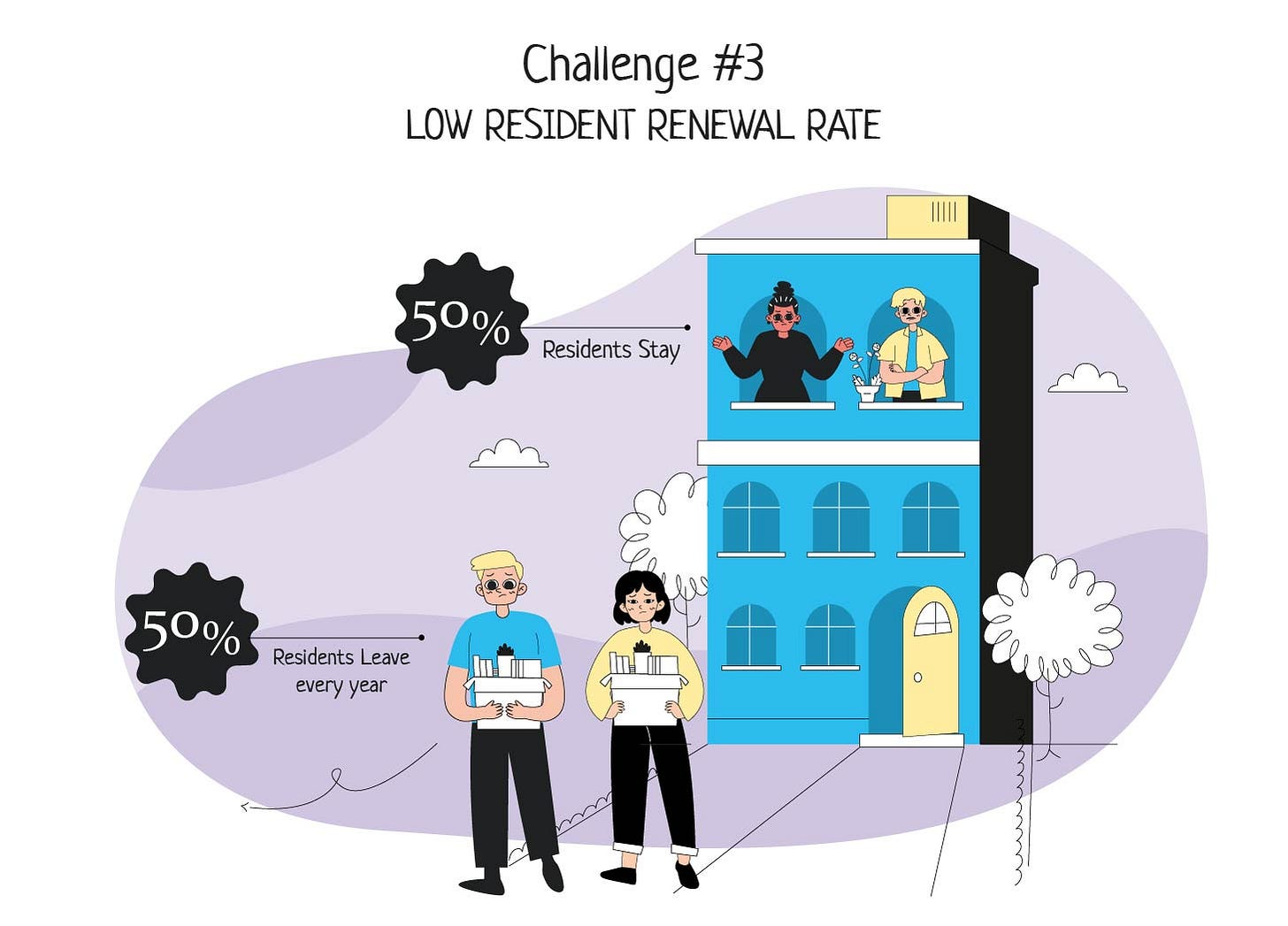 Challenge #3: Poor resident engagement results in low renewal rates
Resident retention is a challenge that keeps multifamily executives up at night. Despite achieving high occupancy, the resident turnover rate for the industry remains at an average of 50%. A 200-unit property spends $397,600[4] per year on resident turnover costs. If you think about it, this seems like an obvious result of Challenge #1.
Today's multi-touch point, multichannel, always-on residents like James and Linda demand consistent, branded experiences. Their resident journey collapses when an overworked Sharon delivers cold responses and poorly crafted messages. The "Don't Do This" communication alienates residents like James & Linda. With time, they lose interest and stop seeing value in the community. When their renewal approaches and they receive a rent increase, they do not hesitate to move down the street to a community with fewer amenities and similar pricing.
Journey Matters: A marketer's guide to changing multifamily
So, how does one begin solving all of the above issues? The answer lies in changing the perspective from the short-term to the long-term. And think, what really matters? Leads or leases? Short-term campaign metrics or long-term impact? It is clear that multifamily needs to shift its focus from "managing milestones" to "managing journeys." With Journey Matters, we take you on a journey to changing how multifamily thinks and works. We will show you how to create a new world for multifamily where human relationships are at the core of the business with a lot of help from our AI friends. This publication is about three things:
#1. A complete roadmap for designing delightful multifamily journeys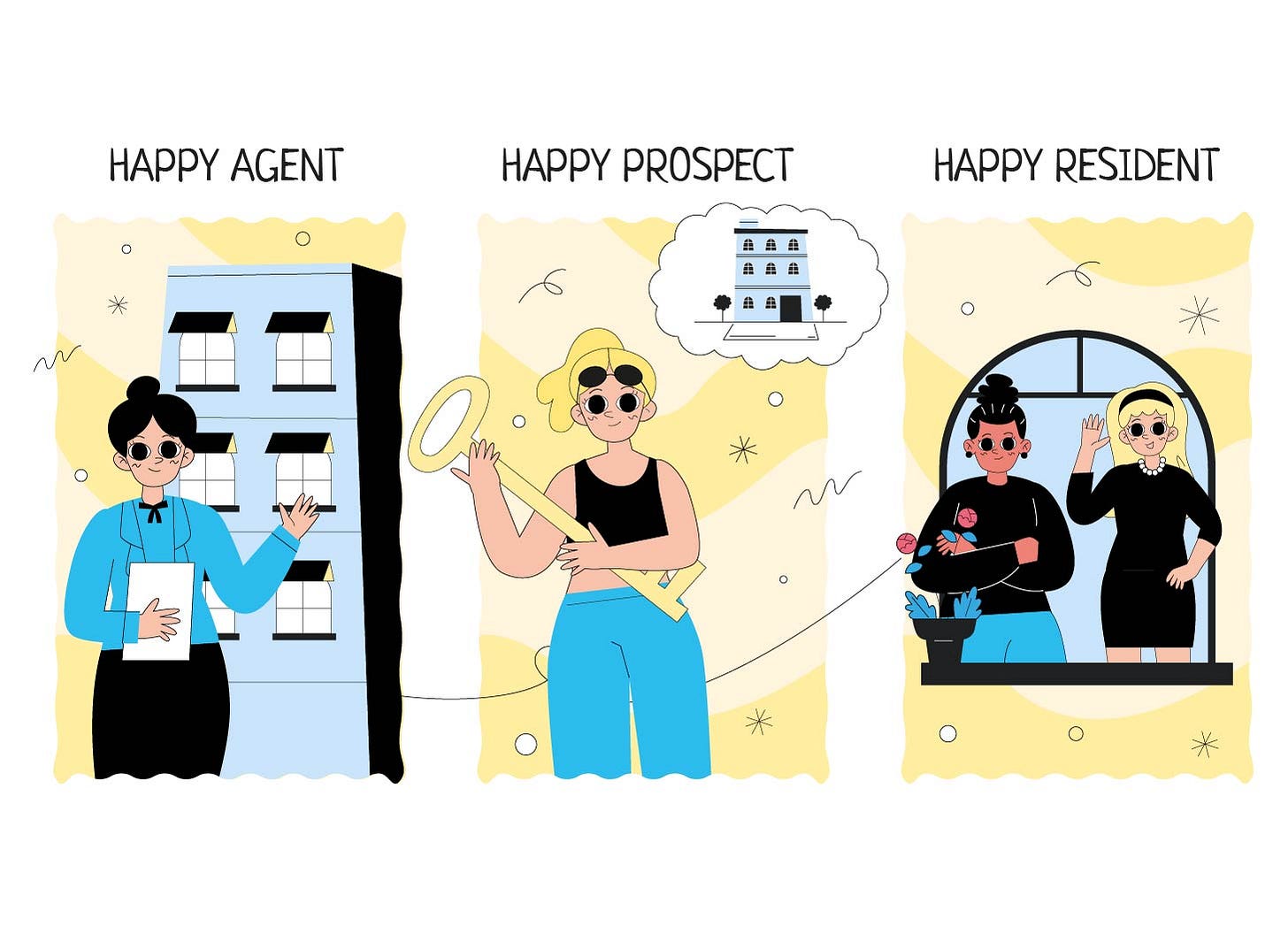 "It's easier (and far less expensive) to improve your leasing by doubling your conversion rates than by doubling your traffic."

Mike Whaling[5], Founder, 30 Lines
The journey approach has its foundations in a deep understanding of the renter's journey and the failings of the existing system. It identifies the gaps in the journey and fills them with solutions powered by Data Science & AI. Journey Matters will show you the easiest and most effective way to design and implement full journey experiences that unburden Sharon, attract prospects like Jamie, and delight residents like James & Linda.
#2. Guide to modernizing experiences using a Humans+AI approach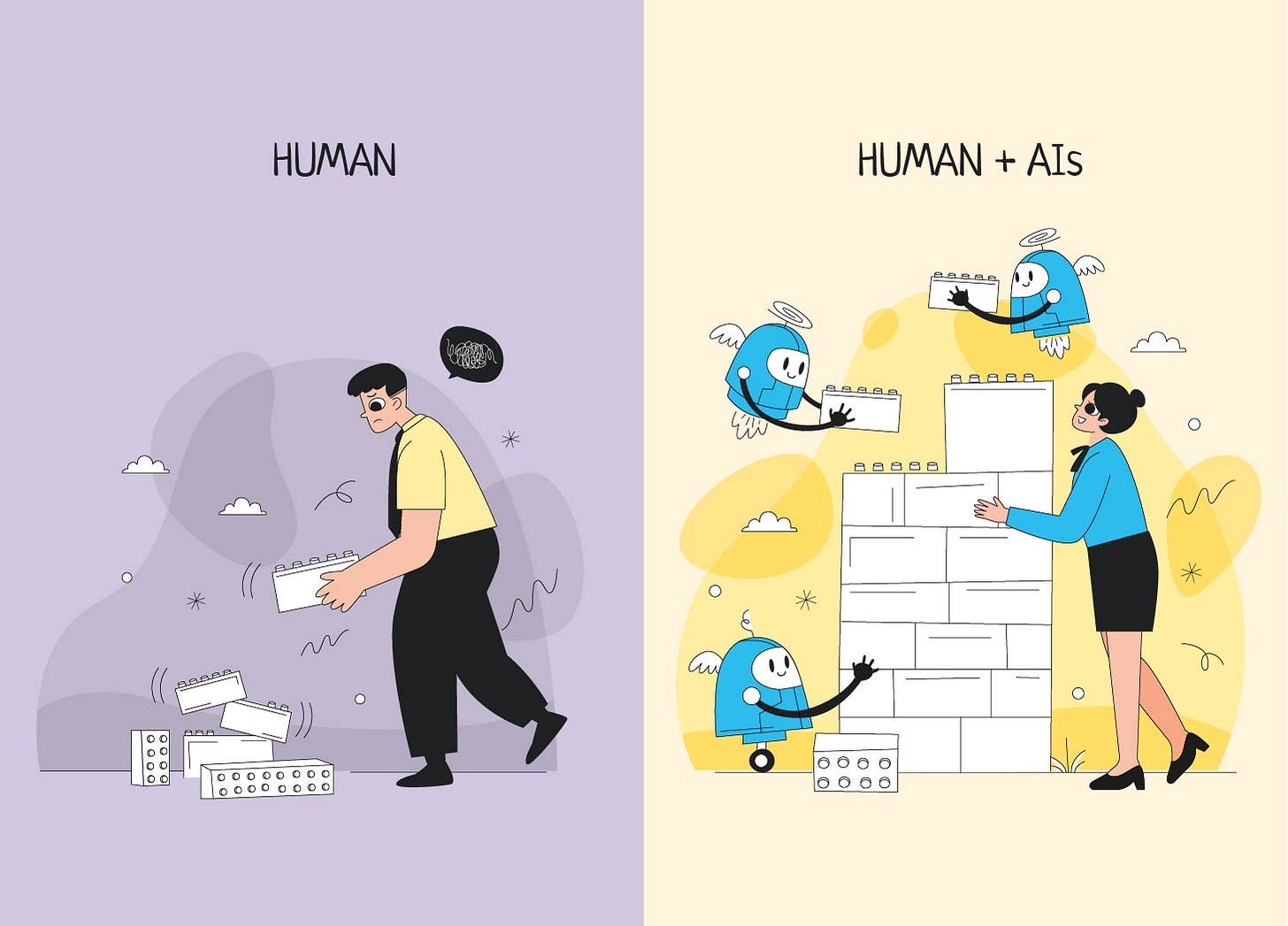 Another critical step towards perfecting the journeys is to find the right blend of Humans and AI that works towards your business goals. It begins with identifying tasks that :
a) Can be carried out independently by AI
b) Can be carried out independently by Humans
c) Need involvement of both Humans & AI
The journey approach uses this intelligence and builds modern and delightful experiences by delegating workflows between Humans & AI. It ensures that the renters get the right personalization and self-service based on their needs. Journey Matters will guide you to build a Humans + AI workforce that helps you motivate and retain your teams, convert more leases, and keeps your residents happily renewed.
#3. Exclusive data, benchmarks, and insights into Journey KPIs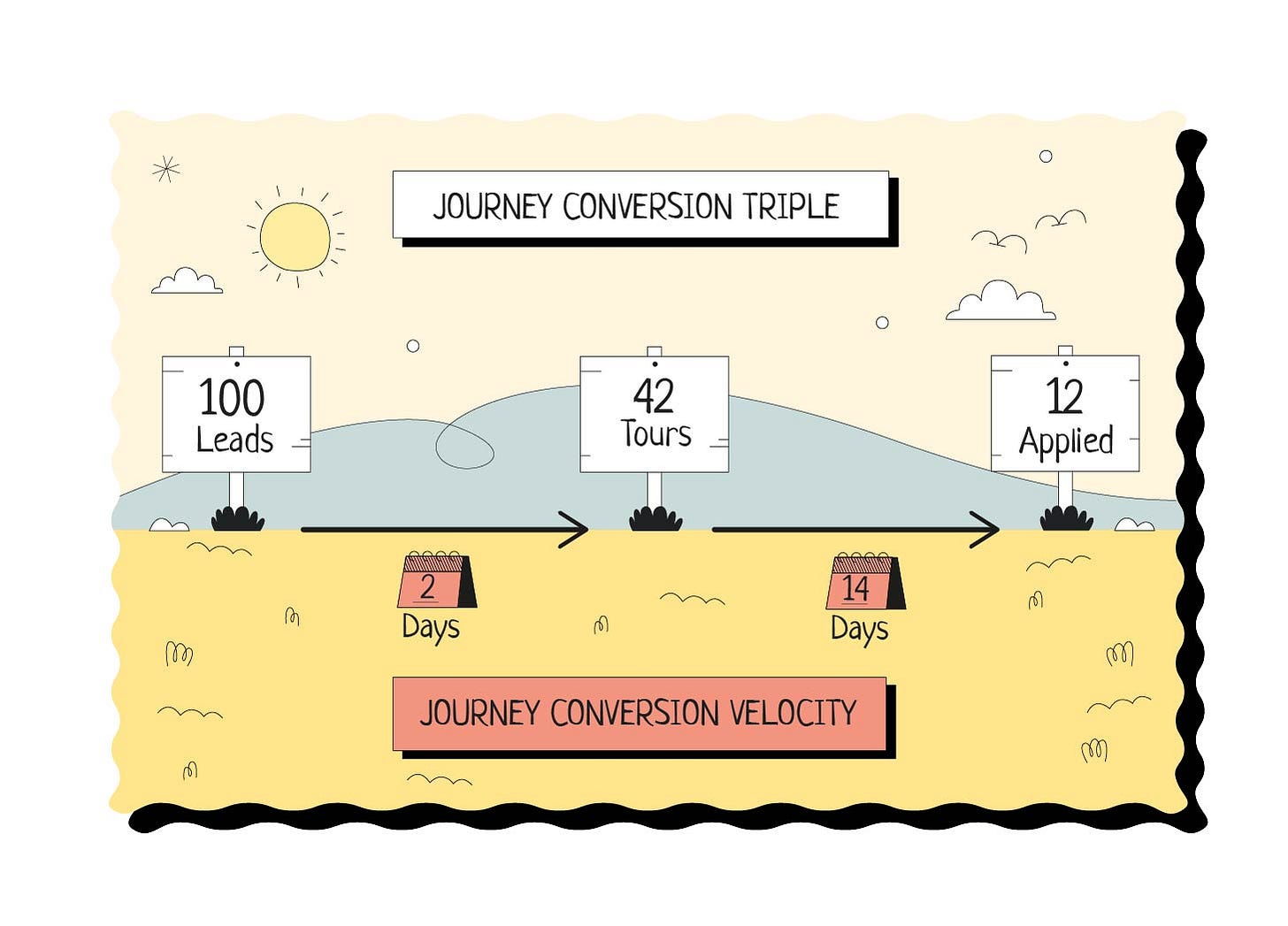 The last and the most critical pillar of the "journey approach" is data & analytics. Understanding what to measure and how to measure it is half the job. Most PMCs measure performance and base incentive programs on leases converted. However, the current tech stacks measure short-term campaign metrics instead of long-term lease impact. As a result, PMCs cannot identify which interaction in the journey led to conversion.
Journey Matters will help you set up a data & analytics strategy with exclusive data, benchmarks, and insights into journey KPIs relevant to your business. You will own your data and start achieving your success goals in no time.
Closing Remarks
This publication aims to bring together people from across the multifamily who challenge the status quo daily to build a better world for everyone. We are glad to have you join the journey community on an adventure of a lifetime. Here's to changing multifamily together!
---